Category: church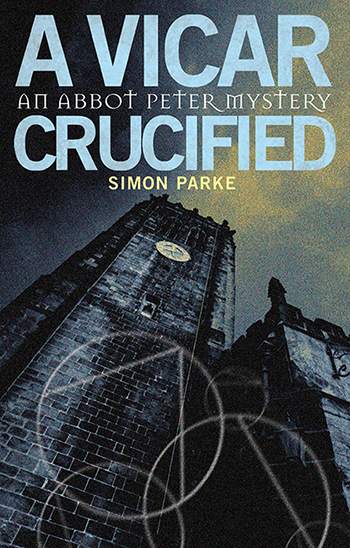 A Vicar, Crucified
Posted on 15 June 2013, 21:35
It's not often a book keeps me up late three nights in a row, but A Vicar, Crucified by author Simon Parke kept sleep at bay this week where lesser books have failed.
It's a murder mystery novel with a plot that has more twists than a hangman's noose, written by a former vicar who has the inside story on the many reasons why parishioners might reasonably want to murder their priest.
On the murder most foul scale, this is close to the far end of foul, with flippant priest Anton Fontaine, vicar of St Michael's Stormhaven (a quiet south coast town), nailed to a cross in his own vestry after the mother of all church meetings. The cast of suspects includes Bishop Stephen, who elevates himself by putting others down, Curate Sally, who likes to demonstrate she's in charge, and youth worker Ginger, whose temper is on a hair-trigger.
Helping the police with their enquiries (as witness rather than suspect) is Abbot Peter, recently returned to Britain from running a monastery in the Sinai Desert. And helping him is the enneagram, the psychological profiling tool which gives the Abbot deep insight into the motivations of the suspects.
The dialogue of the novel is especially satisfying for anyone who fantasises about telling others exactly how irritating they are. 'I sometimes wonder if you belong here, Peter?' the Bishop tells the Abbot in a savage moment of passive aggression. 'Have you ever thought of going somewhere you matter?'
Simon Parke, before he did his vicaring, was a scriptwriter for Spitting Image, and his satirical instincts are on fine display in the novel.
Most of all, though, I enjoyed the psychological insights of the book, with Abbot Peter lifting the lid on his fellow human beings as they manipulate others and reveal their own desires. That gave me plenty to think about when I wasn't engrossed in the plot or trying to beat the Abbot in the race to discover the murderer. Which I didn't, of course.
A Vicar, Crucified is the first in a series of at least three Abbot Peter novels, the second, A Psychiatrist, Screams, having just gone to the printer. I'm looking forward to some more sleepless nights when it's out in the autumn.
Comment (0)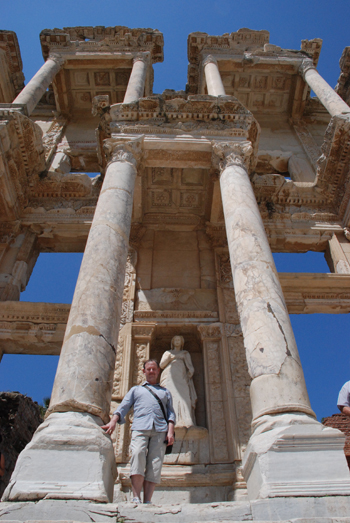 A wonder on every corner of Ephesus
Posted on 27 April 2013, 2:41
Seven churches: Intro Pergamum Thyatira Smyrna Laodicea Philadelphia Sardis Ephesus Patmos
My sets of pics for this post: Basilica of St John, Ephesus city
After a lifetime of familiarity with the Bible, it's a strange thing to see biblical names on a modern road sign. But that's what I'm seeing now as I look out the car window: a blue sign above a roundabout tells us that Efes (Ephesus) is 3km to the right, just a chariot dash.
Ephesus was one of the great cities of the ancient world, famous in its time, but more than that, it's one the 'ians' and therefore famous ever since and for ever. Galatians, Philippians, Colossians, Corinthians, Ephesians… these 'ians' of 1,000 indifferently read lessons in church have made me very curious about visiting this city.
There are two letters to the Ephesians, of course: the long one which comes after Galatians, and the shorter one by John in his Apocalypse.
We started at the (ruined, naturally) 6th century basilica of St John in nearby Selçuk, which is an inspired choice as from the west end of the church you get an angel's eye view of the geography of this place: the surrounding hills, the broad, fertile valley between them which ends in the distant sea, the small hill on the left behind which Ephesus is hidden.
By tradition, the church is the final resting place of St John and a white marble slab laid on the floor of the chancel, guarded by four columns, is the modern memorial of that.
In the church is an ancient stone baptistery which any Baptist church would be proud to have. It's set in the floor with steps leading down one side into a small, circular pool, and then steps up the other side. Next to it is a square slot cut into the marble floor which archaeologists think was once filled with oil for anointing the baptized Christians.
Since it's such an old baptistery I wonder if they followed the tradition of the early church by giving the newly-baptized milk and honey as they ascended from the pool: a sign of passing through the waters of Jordan and entering the promised land.
By the time we reached Ephesus itself, the day was hot and the tourists were out in large numbers. We worked our way down from the top of the site. Once you're through the turnstiles, you're basically following the main street down through the old town, with education, entertainment and distraction along the way.
Within a couple of hundred metres in a variety of temples, statues and carvings we met Hermes with his winged shoes, Tyche the goddess of luck, Hercules out walking a lion and the hissing hairstyle of Medusa. We saw the numerous cats of Ephesus lounging on mosaic floors or draped over column capitals. We paused at the famous bogs of Ephesus, where wealthy men sat on a marble shelf punctuated by holes and a channel of running water at their feet served in place of loo roll.
We spent a while at the Library of Celsus, which surely boasts one of the most handsome facades of all classical architecture. Looking at the way the lintels on the columns swap places between the first and second storeys, I wondered if it had inspired MC Escher in his drawings of impossible buildings.
The library opened for reading in AD 100-ish and issued its last book just 170 years later when it was demolished by an earthquake. Its columns were raised again in the 1970s. Four statues stand beside the doors welcoming readers, and I loved seeing Sophia and Episteme (Wisdom and Knowledge) among them. The whole building reads like a homage to the beauty and improvement of reading.
It's easy to get classical overload here: the baths, the market, the fountains, the theatre, the advert for the bordello just up the street carved into the pavement. The house where Anthony and Cleopatra used to meet up. After a while your imagination collapses with the effort of trying to take in the idea that these things happened here, and that if you'd been here at the right time you'd have seen them happen before your eyes.
Visiting Ephesus wasn't a spiritual experience for me. Instead it was merely amazing, with a new wonder around every street corner.
I think this place is powerful in opening you up to the classical and pagan context for early Christianity. It helps you understand why the faith of the early Christians was the shape it was. Somehow, seeing the hills John, Paul and the other first believers saw, and walking in their streets under the heat of the Asia Minor sun, gets you under the skin of the letters to the seven churches and the episodes in the book of Acts.
Even though I don't know it for sure yet, I think visiting these churches will add a lot of width (and maybe even depth) when I read the texts of the New Testament.
Comment (5)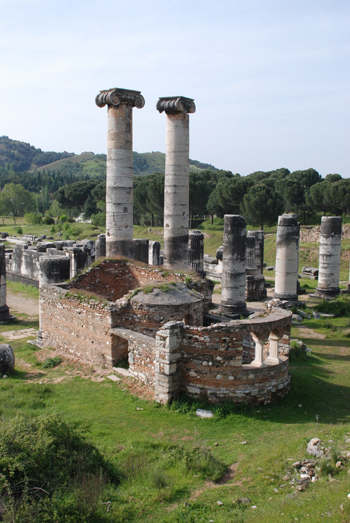 Demons and crosses in Sardis
Posted on 26 April 2013, 3:31
Seven churches: Intro Pergamum Thyatira Smyrna Laodicea Philadelphia Sardis Ephesus Patmos
My set of pics for this post: Sardis
Sardis, where John's fifth letter to the churches was sent, is now Sart, a little village lost in the folds of lumpy hills at the foot of Mt Tmolus, which in contrast is a brutal slab of stone. I just had to stop the car and stand on the side of the road to get a picture of the village and its mountain as they look so good together.
I also asked a couple of local women to let me take their picture as they were (I think) knitting, with their feet up on chairs. Their brightly coloured clothes and headscarves are worn by women throughout this region of Turkey.
Back in the day, Sardis had one of the biggest synagogues in the western world, and we called in there today. Its vast size and luxurious mosaics tell us that there must have been a very big Jewish population living here in the 4th century AD. That was a bit of a surprise when archaeologists unearthed the synagogue in the 1960s, as it had been assumed Judaism was declining at the time, with Christianity taking off.
My father just loved being here in this synagogue and could easily identify the different parts of the building, including the marble sanctuary where the scrolls of the Torah were kept. He used to be a church organist, but when he was a student, he answered a newspaper ad from a synagogue which was looking for an organist, as he needed the extra cash. They appointed him, and he's been there ever since, now over 60 years.
The place here which seized my imagination was the ruined Temple of Artemis, which is in a remote field outside town, overlooked by curious hills shaped like pointed hoods. The place is lonely, melancholy and haunted – and maybe a bit dark too.
The old temple and its columns are colossal and when you climb up onto the platform with its floor and steps infilled with grass, or walk among its avenues of broken, blackened columns, you get a real feeling for the occult potency of paganism. We were there in the late afternoon, with long shadows on the grass, which just adds to the feeling.
The worship of Artemis eventually came to an end, of course, after hundreds of years. Who was the last priest here, and what were his feelings as he left the temple, or lay dying, knowing that he was the last of his line?
When the temple was abandoned, the local Christians in the 4th century still feared the old building, thinking it was inhabited by demons. They apparently carved crosses into it to break their power. I went on a search of the east doorway to see if I could find them. At first I found only bees, which have built thriving nests at this end of the building, but then, in the massive stone doorposts I found small, roughly carved crosses.
I also found a little, brick-built Byzantine church tacked onto the southeast corner of the temple (pictured above), perhaps for the same reason, to negate the power of the old religion and celebrate the power and joy of the resurrection.
This church, like the temple before it, is also a ruin. It's depressingly like finding the graveyards of two religions next to each other. The only religion in town is in the mosque. I can't find a church, congregation or gathering of any kind (Orthodox, Catholic, Armenian or Protestant) in modern-day Sart when I look on the Net.
'I know your deeds; you have a reputation of being alive, but you are dead. Wake up! Strengthen what remains and is about to die,' says Jesus in the letter to the church in Sardis. But nothing remains now.
I found some interesting stuff on the Net about the state of Christianity in Turkey: Christians in Today's Turkey (2012); The Armenian Weekly's List of Churches in Turkey (2011); Jesus in Turkey by Christianity Today (2008).
Comment (1)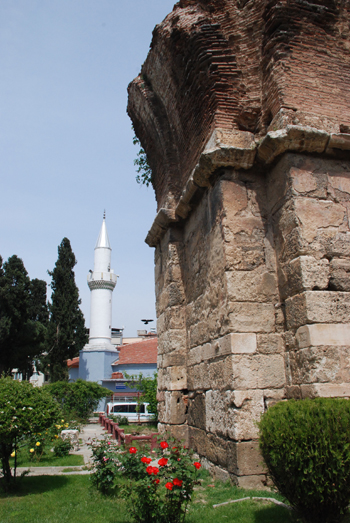 Wreck of faith in Philadelphia
Posted on 25 April 2013, 1:28
Seven churches: Intro Pergamum Thyatira Smyrna Laodicea Philadelphia Sardis Ephesus Patmos
My set of pics for this post: Philadelphia
There's not much left of Philadelphia, despite it having the most modern-sounding name of all the seven churches of the Apocalypse. All that remains is a piece of ground the size of a postage stamp, and on it the noble wreck of a gigantic church in a garden neatly tended with rose bushes and palm trees.
The church is dedicated to St John, in keeping with its spiritual link to the visionary exile of Patmos. Churches with the St John name keep cropping up on this tour, with branches of the franchise in Ephesus and Pergamum as well as here. The names of ancient churches say a lot, and these ones tell us that the St John connection was deeply felt and treasured.
We drove to Alaşehir (Philly's modern name) this afternoon after lunch outside Laodicea in a roadside restaurant the size of a palace, with its own luxury swimming pool. We luckily arrived just before a couple of coachloads of Japanese tourists debouched into the restaurant and began raiding the vast buffet of delicious Turkish food. These restaurants are definitely the way to go if you're ever travelling in Turkey.
Ninety minutes of driving later and we pulled up at the St John's postage stamp. It's set in a sleepy neighbourhood of houses, trees, birdsong, men sitting out on the pavement talking and one or two shops. The little blue mosque opposite the church gate has a minaret that looks like Thunderbird One.
Beyond the gate, three massive piers which once marked the great church's crossing erupt from the ground and tower over the garden, while only the footprint of the fourth pier remains in a great hole five or six metres deep. The piers were originally lined with slim slabs of fine marble, but now their naked Byzantine brickwork provides a nesting place for birds.
In a little office at the back of the site, Umit, a tall, handsome gentleman, the guardian of the monument, sits at his desk enjoying a quiet smoke and a cup of mud-like Turkish coffee. He tells Seher, our guide, that before the separation of the Greek and Turkish populations in 1923, the Muslim and Christian families here lived happily together, and remarkably, that some Turkish people became Christians.
He directs us to gravestones in the gardens which witness to this. They were brought here from the local churches when the Greek families left and the churches were turned into mosques. One of them from 1890 has the surname Lokman in Greek lettering. 'It's a very Turkish name,' Seher tells me.
The sad exodus of the Greek population from their ancestral homes in Turkey to modern-day Greece marked the final full stop of the Christian mission to Asia Minor led by St Paul and St John in the 1st century.
'These are the words of the one who opens and nobody shuts, who shuts and nobody opens,' says Jesus in the letter to the Philadelphian church.
What does it mean when the most dynamic region of growth in the early church – this region of the seven churches – is shut with no possibility of opening 20 centuries later? What does it mean when the living faith of the Philadelphians ends up as a giant brick wreck in a garden?
I suddenly realise something obvious: every one of John's seven churches is now dead. But it feels most obvious here in Philadelphia. Thankfully, we leave before the call to prayer can bang in the final nail.
Comment (0)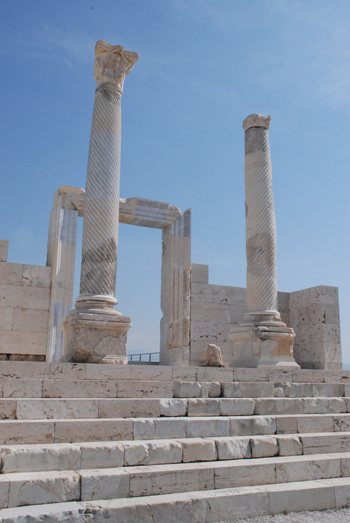 Hydraulic cranes of Laodicea
Posted on 24 April 2013, 2:54
Seven churches: Intro Pergamum Thyatira Smyrna Laodicea Philadelphia Sardis Ephesus Patmos
My set of pics for this post: Laodicea
Laodicea is a bad place to build a town. You wouldn't think so as you drive up the low ridge it sits on, overlooking the flat and fertile valley floor with distant snow-capped mountains floating magically above the nearer hills.
Today, as we pass between the stone towers of the eastern gate, we're surrounded by dense banks of spring flowers, the poppies the deepest red you could think of, and birdsong sweet and intense.
It must once have seemed a good idea to build here. The town is slap on the major east-west commercial road across Asia Minor and made itself rich in trade and banking just by putting itself in the right place.
The Laodiceans must have loved everything about their beautiful and prosperous setting – except for the earthquakes. Quakes visited the city in the 1st century reigns of the Emperors Augustus, Claudius and Nero, and that final one in the year 60 was a raze. Nothing was left standing. The city was rich enough to rebuild itself without outside aid, but it toppled again around the year 500 and then again around 600, after which they called it a day. There have been no Laodiceans in the 1,400 years since.
But one of the first things we see as we walk here today is a giant yellow hydraulic crane raising and positioning huge blocks of ancient stone. Sending one of those babies back in time would be an untold blessing to the ancient builders, I can't help thinking. Turkey is putting vast sums of money into excavating and reconstructing the ruins, with hundreds of workers onsite. Laodicea is rising one more time, until the next seismic twitch.
We walk up the main street, the sun beating down, the lizards flicking between stones. Either side of us is an avenue of free-standing columns, and behind them are the broken walls and doorways of the shops which once did a roaring trade here. The arrangement of columns and shops is very contemporary and I feel at home.
For some reason, my eyes are drawn to the marble threshold slabs in the doorways, worn to a polish by the feet of customers whose shopping days are long gone, with the deep ridge cut in the stone where the vanished shop door would have shut tight. In the back rooms grass grows where wine, olives, fabrics, furniture and fruit were once stored.
At the top end of town we turn left and the street ahead is choked with large chunks of marble. Broken columns, snapped lintels carved with flowers, smashed slabs inscribed in Greek and even one or two battered crosses lie where they fell on a day of doom centuries ago.
We've seen a lot of ancient rubble the past couple of days, but the sight of this ruined street is oddly moving. All the beauty, ingenuity, aspiration and dignity of the Laodiceans lies wrecked here, down to the last little chip of stone with a bird carved in it, ground to forgotten gravel by the earth-shaking machine of time. Looking at it, you know it is also about you, and how you and your all-important life and culture will look a couple of millennia from now.
Having said that, Laodicea remains impressive and beautiful, from its elegant and spacious forum to the two theatres carved into the hillsides and positioned just right so they get air-conditioning from the afternoon breezes. The town had water piped in from the hot springs of Hierapolis, 8km up the road – although it arrived lukewarm. We see the terracotta pipes running down many of the streets.
That plumbing detail is an abrupt reminder of John's letter to the Laodicean church, and it's the most memorable of all the seven letters. 'I know your works,' says Jesus in the letter. 'You aren't hot and you aren't cold. I wish you were one or the other, but instead you're lukewarm. That's why I'm going to vomit you out of my mouth!'
The ballsy language of that passage has always appealed to me. When you look at the wreck of the human home that was once Laodicea, you know that hard to hear, colourful language is sometimes the only thing that will do.
But actually, standing today in one of the empty streets, facing a doorway that was once someone's welcoming home, but behind which is now a waist-high bank of earth carpeted in poppies, it's the last section of John's letter I hear in my head. The words are also famous.
'I stand at your door and knock. If you hear my voice and open the door, I will come in and eat with you, and you with me.'
As long as we have doors to call our own, as long as we have ears to hear a voice, as long as we have love to open our hearts, God can come to us.
But only that long.
Comment (2)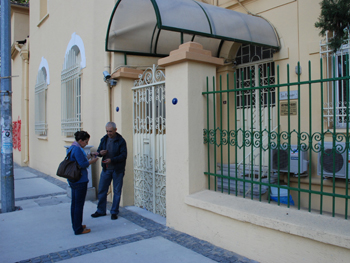 Smyrna on a dead speakerphone
Posted on 23 April 2013, 2:42
Seven churches: Intro Pergamum Thyatira Smyrna Laodicea Philadelphia Sardis Ephesus Patmos
My set of pics for this post: Smyrna
We knocked off two of the seven churches of the Apocalypse yesterday – Pergamum and Thyatira – but we've been staying in Izmir, which is ancient Smyrna, another of the churches. The trouble with Smyrna is that it was never abandoned to become a ruin, but instead became a busy port and the third most populous city of modern Turkey. So there's not a lot of the Roman town left on the ground.
Our guide, Seher, had given this some thought, though, and took us this morning to a living church, St Polycarp's on Necatibey Boulevard, just a few blocks from our hotel. It's a Catholic church, one of the oldest in Izmir, and has a splendidly ornate interior. However, 'I don't think we'll be able to go inside,' Seher told us, 'as you need to make an appointment many days in advance.'
This sounded a bit odd for a church, and when we arrived there was a speakerphone on the metal gate which picked up and then went dead when we buzzed.
On the immaculately painted church wall I spotted some large graffiti in red paint and wondered whether that could be a clue about why the church is security conscious. A church member came up to us on the pavement and gave us some embroidered crosses which he and his wife had made – and this sweet gesture more than made up for the unresponsive speakerphone.
The church is named for St Polycarp, who was a disciple of the apostle John back in the 1st century and was martyred here in Smyrna around the year 155. I've always loved his heartfelt and spirited answer when he was challenged by the local Roman proconsul to swear by Caesar: 'Eighty-six years I have served him and he has done me no wrong. How can I blaspheme my king and my saviour?'
The proconsul's response was to have Polycarp burned alive.
In the letter to Smyrna in the Apocalypse, Jesus says, 'Don't be afraid of what you are about to suffer… Be faithful, even to the point of death, and I will give you life as your victor's crown.' It's clear that St Polycarp lived those words. They could have been written for him.
Like everything in John's Apocalypse, Jesus's words are sharp and challenging, whether you're a Christian living comfortably in the West, or the church of a minority faith on Necatibey Boulevard with a speakerphone that goes dead.
Comment (4)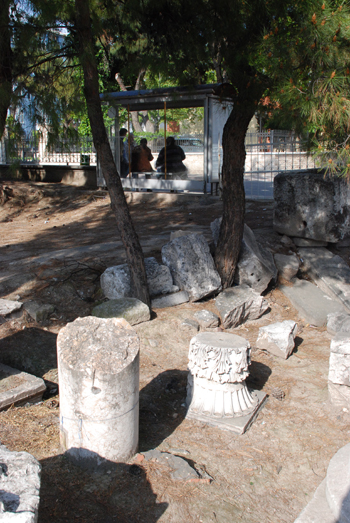 Call to prayer in Thyatira
Posted on 22 April 2013, 4:43
Seven churches: Intro Pergamum Thyatira Smyrna Laodicea Philadelphia Sardis Ephesus Patmos
My set of pics for this post: Thyatira
This afternoon, our driver Pala drove us for an hour from Pergamum through dramatic mountains to the town of Akhisar, which was once Thyatira, a town famous for indigo, purple and the dyeing industry in general. It was bathos to be here after the feast that was Pergamum, though: just the ruin of a church founded in the 2nd century that is bang in the middle of a busy shopping area.
While I was looking at the fallen masonry, the call to prayer from a local mosque started up, and within seconds, two other mosques joined in. I find the call to pray beautiful and beguiling in its way, but it was a sharp reminder here of how Christian faith can die and fall into dust; how it can become the fulfilment of the letter to Thyatira in the Apocalypse.
Comment (0)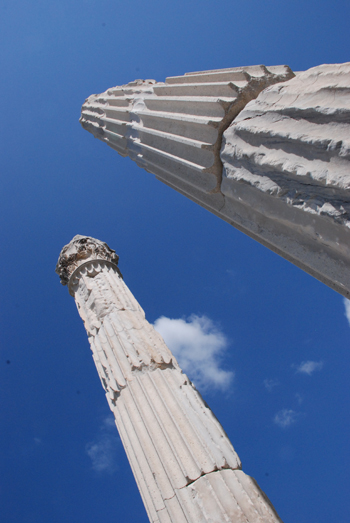 Walking in Pergamum
Posted on 22 April 2013, 2:29
Seven churches: Intro Pergamum Thyatira Smyrna Laodicea Philadelphia Sardis Ephesus Patmos
My set of pics for this post: Pergamum
We were on the road out of Izmir by 9 o'clock, and Pala, the driver of our white people carrier who looks a lot like MP George Galloway and drives with the same sort of take-no-hostages philosophy, soon had us speeding away from the city. Our guide Seher started briefing us about the day ahead and showed us an excellent book we should have read before coming here, Mark Wilson's Biblical Turkey.
Izmir is ancient Smyrna, the first of Revelation's seven churches, but it's now a city of 3 million people with houses densely carpeting the little hills, and precious little is left of the old Roman town. We stayed here last night, lulled to sleep by the neighbourhood mosque's call to prayer and then rudely woken by it before breakfast.
Just over an hour later we stepped out in a wash of spring sunshine at the Pergamum cable car. Pergamum is perched on a rocky hill 300m above the valley floor and was once the ruling city of the region. It's now a toppled ruin, with the modern city of Bergama sprawled across the valley below.
Exiting the cable car at the top, we were greeted by a small bazaar of colourful shops selling fruit, hats, postcards, t-shirts and little statues of the goddess Diana of the Ephesians. Handy if you want to take one home to worship.
Ignoring all that, we were soon on the ancient city's acropolis, poking around the beautiful and melancholy fallen masonry of the Greek world. In the 1970s, some of the marble columns and lintels of the Temple of Trajan were raised from the grass where they had fallen centuries earlier, and they now crown the hill. There's something timeless and dreamlike, seeing these gleaming white pillars against the deep blue sky.
The letter to the church in Pergamum in John's Apocalypse says, 'I know where you live – where Satan has his throne.' John is highly hostile and exclusive in his faith claims, and all the temples, altars and shrines we saw today here – to Athena, Zeus, Demeter, Dionysus and the Emperor Trajan – must have riled John to bits and help explain his 'Satan' remark.
My imagination was snagged, though, by the Library of Pergamum, or what is left of it. The library was second only to the Library of Alexandria in the Greek world, and held 200,000 works in scroll and book form. In fact, Alexandria was so infuriated by its rival that it banned the export of papyrus in the hope that Pergamum's supply of books would dry up. Pergamum responded by inventing parchment (the word derives from 'Pergamum') made of calfskin.
None of the works held by this amazing library remain here, though. All I could see was an avenue of broken columns where scholars once walked, and a wide pavement where the reading room once stood, with the wrecked base of a statue of Athena, the goddess of wisdom. Athena is now in Berlin – she was carried off there by zealous German archaeologists in the 19th century – while the 200,000 books were all handed over to Alexandria in the end, when Mark Anthony gave them to Cleopatra as a wedding present. The librarians of Pergamum must have died of grief as their books were carted off for ever.
We walked down to the dramatic hillside theatre, the steepest of the ancient theatres, where 10,000 spectators once watched Greek dramas; down to the vast gyms, which were on three levels, for boys, young men and adults; and on through acres of ordinary housing which now lie under mounds of grass.
We found a decent-sized tortoise stuck in the upended stones of one house and rescued it. In a hall next to the temple of Demeter we saw fine floor mosaics with theatres masks – grinning and grotesque – depicted in medallions.
The vastness of the site gave me an appreciation of the splendour and power of Pergamum, and what the young church here was up against. To be a Christian in the early years of the faith, dissenting in such a potent cultural context, would require a lot of courage. Reading John's letter again with the temples, roads, altars, gymnasia and theatre in mind, I can see him giving his readers some help by putting fire into their faith.
Comment (2)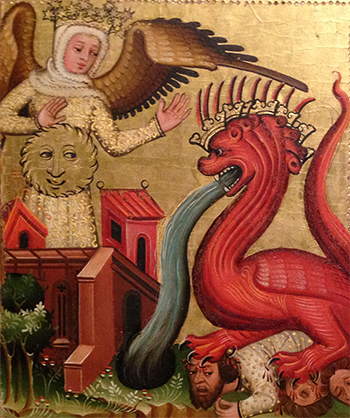 Off to the Apocalypse
Posted on 20 April 2013, 3:41
Seven churches: Intro Pergamum Thyatira Smyrna Laodicea Philadelphia Sardis Ephesus Patmos
Early tomorrow morning, my father and I fly to Izmir in western Turkey for a week rediscovering the seven churches of the Apocalypse. We travelled together last year to Germany, visiting the towns where JS Bach lived in the 18th century, but this time we're going back to the world of 1st century Asia Minor, to the roots of his faith and mine.
Aside from having our hearts strangely warmed, the temperatures are going to be in the mid-20s (or mid-70s in the old currency) and it's going to be good sitting outside for seafood and wine after so many months of winter.
The Apocalypse, better known as the book of Revelation, was written on the Greek island of Patmos. It opens with a series of mini letters – almost postcard in length – written to seven churches on the mainland of what is now Turkey. The letters are colourful and strongly worded, with a mixture of praise and promise, criticism and warning for each church.
We're going to be visiting each of the seven towns (most of which are in ruins) and then sailing to Patmos for the final couple of days. John the Divine, the author of the book, was exiled here for his faith in the 1st century, and a highlight will be visiting the Patmos cave where it's believed he received his visions and prophecies.
The Apocalypse was a book which almost didn't make it into the New Testament because of its bizarre and nightmarish content. It has choirs of saints and angels, beasts with multiple heads and on each head a crown, a pitched battle between the forces of light and darkness, a smouldering lake of fire for the wicked and paradise regained for the righteous.
The Eastern Orthodox still won't allow the book to be read aloud in church for fear of its horrors and mysteries upsetting the faithful. This is probably wise.
I visited the Victoria and Albert Museum in January and spent time looking at a vast 14th century triptych they have from Hamburg. It's covered with scenes taken from the Apocalypse, and I snapped one of them, seen above. It gives an idea of the dense and fevered atmosphere of the book.
Will Self, in his combative introduction to a pocket edition of Revelation in the King James Version, says he found it 'a sick text… a guignol of tedium, a portentous horror film.'
Aside from all that, I'm looking forward to immersing my head into the world which gave birth to the Jesus movement in the 1st century. Towns such as Ephesus are really familiar to me from reading the book of Acts, and the idea of actually walking those ancient streets is intoxicating. I'm hoping to blog about the experience day by day, so long as the bandwidth of Asia Minor holds up.
Comment (1)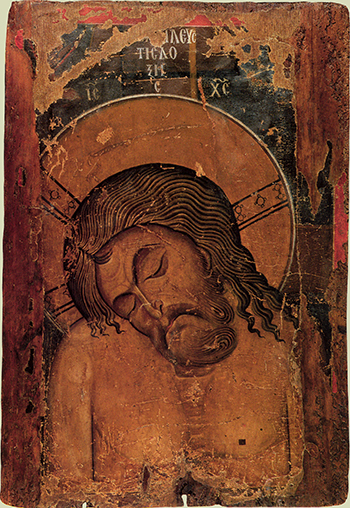 Holy Saturday
Posted on 30 March 2013, 21:46
Holy Saturday is the forgotten middle day of Easter. Where Good Friday and Easter Sunday are full of action (and church services), Saturday is simply the day when Jesus lay dead in the tomb. It is the eye of the hurricane of Easter.
I was powerfully drawn to this 12th century Greek icon for Holy Saturday (above) when I first saw it in the 1980s. Greek icons normally show Jesus as a powerful, commanding figure. Even icons of the crucifixion are entitled, 'The King of Glory'. But here we see Jesus broken in the ultimate weakness of death.
The image puts us in the tomb with Jesus. And there we see suffering. This dead face is set in a frown. There are dark shadows under the eyes – the shadow under the left eye is like a bruise. The shoulders are hunched and tense, while the arms are limp and useless. The body of Jesus looks like a media image of a torture victim.
But we also see vulnerability here. Jesus has the mouth of a sleeping child, with the lower lip sucked under the top lip, for comfort. The head is bent as if in sleep. We see the openness of Jesus to suffering and death. We see God made poor, weak and helpless. I don't think there is any other image which shows this with such depth of emotion and insight.
The icon shows us the beauty of Christ in his obedience to the will of God, at vast cost to himself, and also in his unconditional love for us. Because it is for us, for our sake, that he is here like this. And this creates longing. The Orthodox liturgy for Holy Saturday, the day when this icon was carried through the streets, has a prayer which gives words to longing.
'O faithful, come, let us behold our Life laid in a tomb to give life to those who dwell in tombs. Come, let us behold him in his sleep and cry out to him with the voice of the prophets: You are like a lion. Who shall arouse you, O King? Rise by your own power, O you who have given yourself up for us, O Lover of mankind.'
Comment (1)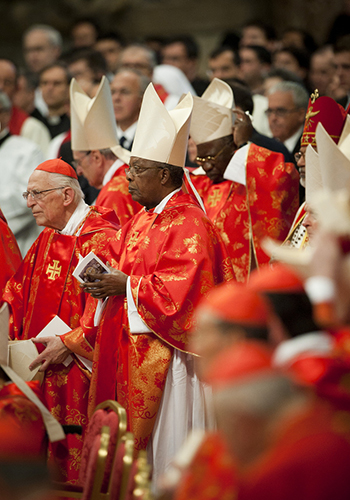 Cardinals who tweet
Posted on 26 February 2013, 6:25
Late last week, one of the cardinals who will shortly be incarcerated in the Sistine Chapel to elect the next Pope, said that the new occupant of St Peter's chair will have to be a tweeter. 'Probably the most important aspect of my ministry, and I would project that into the ministry of the Holy Father, is bringing the gospel into the next generation,' said Cardinal Donald Wuerl of Washington DC.
The trouble is, the cardinal has not himself 'Don Wuerl' at tweeting (forgive me father, I have punned). Cardinal Wuerl has just 21 tweets to his name, and the last time he hit the Tweet button was over a year ago. Perhaps this is his way of signalling that he's not in the running.
I've been able to identify just 13 20 cardinals (out of a total college of 208) who are tweeting or have a Twitter account. Top of the list is Cardinal Timothy Dolan (age 63), Archbishop of New York, who has over 84,000 followers. His tweets are direct and upbeat and it looks like he writes them himself. 'We've got a Lord who's not so much concerned with what we've done in the past as with what we're doing today – so cast out into the deep!' he tweeted in January.
In second place (follower-wise) is Cardinal Gianfranco Ravasi (age 70) with over 42,000 followers. He's President of the Pontifical Council for Culture in the Vatican, and is currently being talked up as a possible next Pope (he was on at 14/1 with tipster Paddy Power when I last checked).
Ravasi is a frequent tweeter. He posted several times a day last week because he was leading a series of spiritual exercises at the Vatican called 'The Face of God and the Face of the Human Person in the Prayers of the Psalms'. He tweeted extracts from the meditations, beginning with '1st Meditation: breathe, think, struggle, love: the verbs of prayer'.
A couple of days later he tweeted: '[The Christ] is an abyss of light. You need to close your eyes not to fall in (Kafka)'. His meditations are being praised for their cultural connectedness, and hopefully will become available in English.
Ravasi is especially interesting because he has two Twitter accounts, in Italian and English, with 39.7k and 2.5k followers apiece. His English account was opened in September last year and maybe it served as a forerunner for Benedict XVI's @Pontifex account, in nine languages, which launched three months later.
Next is Cardinal Odilo Scherer (age 63), Archbishop of São Paulo, Brazil, who has tweeted more than any other cardinal (1609 tweets in 18 months). Scherer posts in Portuguese, with quotes from the Gospels, greetings and encouragements to individuals, plus pictures which look like his own smartphone snaps. 'Good Sunday to all "followers" by twitter!' he tweeted over the weekend.
I've listed the 18 cardinals below (thanks, Fr James Bradley, for the extra cardinals since I first posted this), with the most-followed at the top. Fr James has a Twitter list of all the tweeting cardinals. Their average age is 70, while the average age of the college as a whole is said to be 78. Please let me know if you discover others not on the list and I'll add them.
Noteworthy are Cardinal Mahony, retired Archbishop of Los Angeles, who is under pressure not to attend the conclave because of his actions in the child abuse scandal; and Cardinal Christoph Schönborn, Archbishop of Vienna, who has opened a Twitter account but has not yet issued forth a single tweet and is not accepting followers.
It's the safest of safe bets that a Twitter silence will descend on all these accounts when the cardinals disappear into the conclave. But it will be fascinating to see which cardinal is first to tweet once the white smoke starts pumping from the Sistine Chapel roof. Maybe the tweets will be watched as keenly as the smoke.
Follow the cardinals to find out.
Cardinal Timothy Dolan
Archbishop of New York, USA
First tweet: May 12 | Followers: 84.1k
Cardinal Gianfranco Ravasi
President, Pontifical Council for Culture
First tweet: June 11 | Followers: 42.2k
Cardinal Odilo Scherer
Archbishop of Sao Paulo, Brazil
First tweet: July 11 | Followers: 24.1k
Cardinal Seán Patrick O'Malley
Archbishop of Boston, USA
First tweet: Oct 10 | Followers: 10.5k
Cardinal Norberto Rivera
Archbishop of Mexico
First tweet: March 11 | Followers: 4.1k
Cardinal Wilfred Fox Napier
Archbishop of Durban, South Africa
First tweet: July 11 | Followers: 3.7k
Cardinal Lluís Martínez Sistach
Archbishop of Barcelona, Spain
First tweet: March 12 | Followers: 3.0k
Cardinal Nicolás de Jesús López Rodríguez
Archbishop of Santo Domingo, Dominican Republic
First tweet: Jan 12 | Followers: 2.8k
Cardinal Francisco Robles Ortega
Archbishop of Guadalajara, Mexico
First tweet: Mar 11 | Followers: 2.4k
Cardinal Luis Antonio Tagle
Archbishop of the Philippines
First tweet: Nov 11 | Followers: 1.6k
Cardinal Roger Mahony
Retired Archbishop of Los Angeles, USA
First tweet: Jan 13 | Followers: 1.3k
Cardinal Willem Jacobus Eijk
Archbishop of Utrecht, Netherlands
First tweet: none yet | Followers: 1.0k
Cardinal Jean-Louis Tauran
President, Pontifical Council for Interreligious Dialogue
First tweet: Feb 13 | Followers: under 0.5k
Cardinal Angelo Bagnasco
Archbishop of Genoa, Italy
First tweet: Jan 13 | Followers: under 0.5k
Cardinal Tarcisio Bertone
Secretary of State, Vatican
First tweet: Feb 13 | Followers: under 0.5k
Cardinal Donald Wuerl
Archbishop of Washington DC, USA
First tweet: July 11 | Followers: under 0.5k
Cardinal Rubén Salazar Gómez
Archbishop of Bogotá, Colombia
First tweet: Dec 12 | Followers: under 0.5k
Cardinal Christoph Schönborn
Archbishop of Vienna, Austria
First tweet: none yet | Followers: under 0.5k
Photo: Cardinals at the Mass for the election of a Roman Pontiff by the Catholic Church (England and Wales)
Comment (3)




Hymns in a strange land
Posted on 13 January 2013, 2:09
One of the most enjoyable aspects of going to atheist church last Sunday was singing the hymns.
After a lifetime singing along to Charles Wesley, John Newton and Mrs Cecil Alexander, it felt thrillingly transgressive to stand up in church and launch into 'Why do you build me up, buttercup baby?' plus two other inappropriate songs which have certainly never graced the pages of a hymn book.
The songs we sang weren't especially relevant even for an atheist service, as all of them were individualistic love songs. But when I watched the video clip above today, of a flashmob singing 'Here Comes the Sun' in a Spanish unemployment office, I saw how a song of hope can have a powerful effect.
In the middle of Europe's horrible economic winter, in a job centre, the place where the freeze cuts most deeply, here is a song which dreams of ice melting and the sun returning. 'Here comes the sun, and I say it's all right.'
Christian hymns and spirituals have been a powerful source of hope and inspiration in our culture especially since the 18th century revivals. Several of them linger on in cup finals and rugby matches: 'Abide with Me', 'Guide Me O Thou Great Jehovah', 'Swing Low, Sweet Chariot'. They're wonderful songs, but their language and imagery, steeped in stories of the Bible, come to most people from long ago and far away. They are disconnected from today's world.
In contrast, what seems to be happening in the Spanish job centre is a song of our times, a song you've heard on the radio, a song you actually understand, coming to life in an unexpected way. It's a moment to feed on something truly good. This lovely Beatles song is doing the work of a hymn.
As a Christian, I'm fascinated to see this happening. I've seen it in other flashmobs, where a kind of gospel joy breaks out in a train station or a shopping centre. How do I account for it, or think of it, when it seems to have broken free of the Christian culture which first shaped it? I've no answer for that, but the question is intriguing.
The Israelites in exile in Babylon asked (in Psalm 137) 'How can we sing the Lord's song in a strange land?' Maybe that's our situation today. What do you think?
While I'm here, just to say that I'm going to be interviewed on several BBC local radio stations early tomorrow morning, Sunday 13 January, talking about my experience of atheist church last week. Here are the stations and times…
0710 3CR (Beds, Herts and Bucks)
0720 Humberside
0730 Hereford & Worcester
0740 Sussex and Surrey
0750 Lancashire
0800 Ulster
0820 Bristol
0830 Leeds
0840 York
0850 Derby
Looking forward to it, despite the early start. I'll be cooped up in a self-service studio in the bowels of Western House, the home of Radio 2. If you hear one of the interviews (they happen live, in sequence), do tweet to let me know.
Comment (5)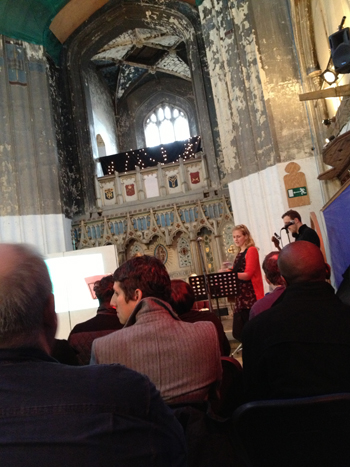 Church for atheists
Posted on 08 January 2013, 2:40
I've often wondered what would happen if you took the religion out of a Sunday church service.
For stratospherically religious services, the kind which run on gallons of incense, with bells ringing, deacons bowing, jewelled crosses being marched from A to B and priests scuttling behind screens, there wouldn't be much left without the religion, of course, aside from the after-service gin.
But for a low church service, with vicars in cardigans, lots of chat from the front, jokes in the sermons and a spot or two of worsh-u-tainment from the band, religion could quietly slip out of a side door without anyone really noticing it had buggered off.
I got the chance to test out a religionless church yesterday when I went to the opening service of The Sunday Assembly, London's new atheist church. The church was dreamed up by comedians Sanderson Jones and Pippa Evans who discovered on a car journey they were both interested in starting a local community for 'anyone who wants to live better, help often and wonder more'.
Sunday's service was in a big, old deconsecrated church in Canonbury, north London. The choice of building was quite brilliant. It had blistered plasterwork, crumbling gothic arches, gloriously shabby walls and basically looked like a set for a film called Wreck of Christianity II.
It's not often that I've ever had to queue up to get into church, but amazingly 250 other curious souls had turned up for the service and there was a bottleneck at the door. Once inside I found a seat, but at least half the congregation sat on the floor, stood at the back or perched up in the precarious-looking balcony.
A small band – just like in real church! – was warming up at the front, led by Pippa Evans who launched into singing the service's theme song in a voice which reminded me of Millicent Martin opening satire show That Was The Week That Was back in the 60s.
Sanderson Jones, sporting red trousers and a bright tie, took to the stage and led the service with energy verging on the Pentecostal and comedy which was genuinely funny. He is several inches over six feet tall and has the kind of long, fundamentalist beard which makes his claim, 'I'm not trying to start a cult,' flat-out unbelievable.
I only say that because he pointed it out himself, to a lot of laughter from the congregation. And then he added, 'But that's exactly the sort of thing I'd say if I was starting a cult.'
We stood to sing our first hymn. I was hoping it would be that rousing old Victorian standard, 'At the name of Dawkins, Every knee shall bow…' but instead we had Sam Cooke's 'Don't know much about history, Don't know much biology…'
It struck me as an ironic choice, since atheism stakes its claim on knowing a heap of stuff about history, biology, science book, etc. But then The London Assembly turned out to be refreshingly unpushy about its atheism.
As a believer myself I felt perfectly OK listening to the reading (an extract from Teddy Roosevelt's The Man in the Arena speech), singing the other two hymns ('Don't Look Back in Anger' and 'Build Me Up Buttercup') and putting something in the collection.
The collection was notable, actually. I've never heard anyone actually thank a congregation for what they've just given. Jones was overwhelmed by the response and thanked us all very warmly. It was one of several rewarding moments when the Sunday Assembly shone and which revealed the tiredness of church as I know it.
I don't think it's a coincidence that the service has been launched by two comedians. I've thought for a while that standups have displaced preachers in popular culture. They spend a lot of time reflecting on the way humans behave, and in observational comedy it's the jokes that are true to life which connect with people and move them to laugh.
Jones and Evans are most at home running a show with an audience, rather than a service with a congregation, so most of The Sunday Assembly ran as a sort of thoughtful comedy show. But in the service's most fascinating moment, Jones bravely stepped out of his comedy persona and invited us to close our eyes and imagine how we might change over the coming year.
He paused for silence and I thought to myself, he won't be able to leave us in silence for very long, as a quiet audience to a standup is like green kryptonite to Superman. And sure enough, 15 seconds later he said, 'Well, I don't know how long you want to think about that for…'
He needn't have worried, though. As far as I could see, most people were ready for some quiet thought. As far as I could see, actually, there was quite a lot in the service which you could take as religion, even if it was presented under a different name.
After some post-service tea and helping to stack the chairs, I came away liking the Sunday Assembly and I hope it does well. I missed the familiar, faith-based aspects of meeting with others, but also realised that a good percentage of church – any church – is made up of friendship, listening, singing, laughter, giving, receiving and cups of tea.
It's good to sit with atheists in their space and feel welcome. It's challenging to think about living better, helping often and wondering more. I think this is a place where Christians should be.
Comment (37)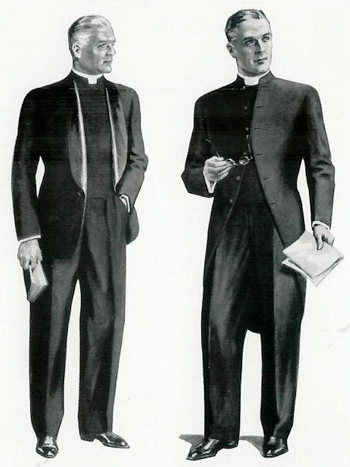 Clergy chic
Posted on 14 November 2012, 4:30
I love these illustrations from a clergyman's fashion catalogue published in 1966. In the year when the Beatles started recording Sgt. Pepper's Lonely Hearts Club Band and mini skirts were all the rage, clergy were being told, 'The clerical frock coat suit is still the correct wear for strictly formal occasions'. See scans of the pages here, including clergy raincoats, cardigans and dressing gowns.
They are from the May 1966 catalogue of clerical outfitters Vanheems. They were scanned by Steve Goddard, whose uncle, Canon Sydney Goddard, had kept the catalogue since the 60s.
Comment (0)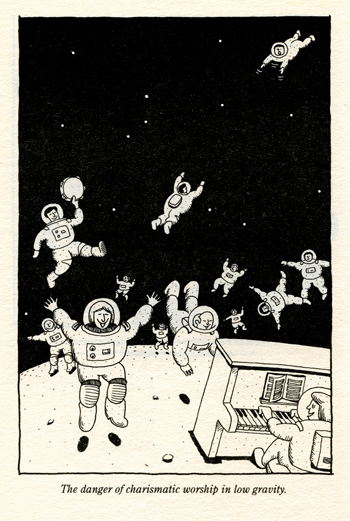 Low gravity communion
Posted on 14 September 2012, 4:17
A lovely and intriguing piece in the Guardian today by my friend Matthew Cresswell, on how Nasa imposed radio silence on Apollo astronaut Buzz Aldrin when he took communion shortly after the first moon landing.
Nasa was being sued at the time for the religious content of the Apollo 8 mission, when 10 verses from the first chapter of Genesis were read out on Christmas Eve while the astronauts orbited the moon, so Buzz was told to play down his private act of communion.
Aldrin's description of the moment caught my eye: 'I poured the wine into the chalice our church had given me. In the one-sixth gravity of the moon the wine curled slowly and gracefully up the side of the cup.'
It reminded me of a cartoon I drew for my 1991 book of cartoons, When Clergymen Ruled the Earth, about the perils of hitting escape velocity during Pentecostal-style rave-ups on the lunar surface. Since the book's out of print (although used copies are selling for one penny on Amazon, hallelujah!) I'm posting it here in celebration.
See it in glorious hi-def on Flickr
Comment (0)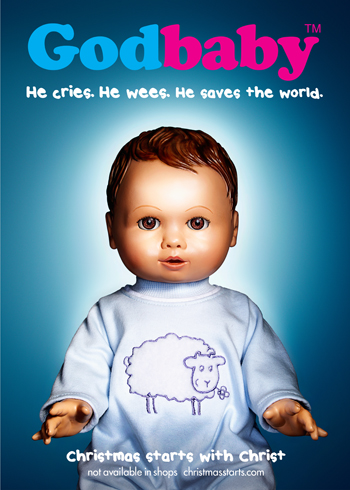 Godbaby
Posted on 05 September 2012, 5:05
I'm a member of the team behind ChurchAds.Net, which has been producing national advertising campaigns for Christmas and Easter in the UK for almost 20 years. We've been running our 'Christmas starts with Christ' campaign for the past three Christmases, and the 2012 poster, featuring Godbaby, was launched yesterday. In the week or two leading up Christmas Day, Godbaby will be up there on billboards and bus shelters and outside local churches.
The poster comes with a choice of straplines. For a no-nonsense take on the incarnation, there's 'He cries. He wees. He saves the world.' But for the faint of heart, which will probably include some churches, there's the alternative version: 'The gift that loves you back'. See both versions here.
I admire the poster for doing two things. First for talking in the language of today. During the autumn, advertising on buses, billboards and TV screens will be full of toys and products promising to make Christmas better. This poster will raise the same expectation, but it points to the Bethlehem baby as the one thing that can save us. And it undercuts commercial Christmas by saying in effect, 'It's not products you need, but Godbaby'.
Second, I appreciate its strong take on the God who becomes one of us to the point of bodily functions. For me, 'He cries. He wees' is a brilliant and unexpected connection between the world of dolls, where the hair 'really grows', and the world of the Christian faith, where God really becomes a living, breathing, crying, sneezing, weeing human being.
Some Christians will heartily dislike the boldness of that, which they'll argue is irreverent or even blasphemous. In fact, hostile comment has already started to arrive, with someone emailing to call the poster 'awful and repulsive'. That's fair enough, as all Christians are entitled to have strong feelings about how their faith is publicly portrayed.
What do you think? Do you like the poster for its risk-taking attempt to communicate Jesus today? Do you disagree with it for portraying the Son of God as a plastic doll? Or what?
Comment (3)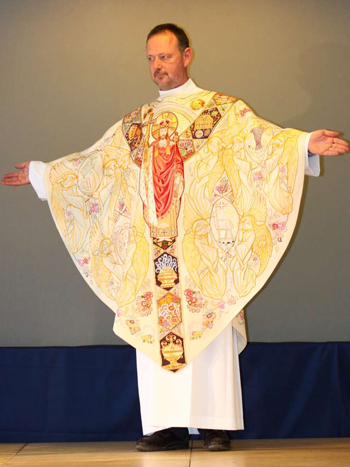 Holy haute couture
Posted on 10 May 2012, 18:43
In the most surreal moment of my year so far, I took a trip down a catwalk yesterday at the Christian Resources Exhibition, which is a sort of Ideal Church Show.
The exhibition features everything a church could need, from bells and steeples to gospel puppets and motorcycle hearses, and whenever I've been there in past years, it's been a happy hunting ground for holy hardware in every shape and form, with the Floating Cross Boxers somehow sticking in the mind. I snapped a few trinkets yesterday.
We ran a stall for Ship of Fools at the exhibition a few years back and served visitors to the stand rum and pineapple cocktails from a Baptist communion glass tray. Happy days.
But yesterday, the exhibition staged a fashion show called Clergy on the Catwalk, where a collection of haute couture vestments was taken for a swish along the runway before an admiring audience. Which is how I got to dress up in a crisp white cassock alb and put myself about a bit in three ecclesiastical creations.
The first piece was a stole featuring the 12 apostles in richly dark embroidery from Jackie Binns. The last piece was a very comfortable cope (which I guess is a sort of bishop's overcoat) in glowing red and gold by Juliet Hemingray... and for that I got to fling a thurible about while the front rows scattered for cover.
The second piece was the crowning glory, however, and was a chasuble hand embroidered with minutely detailed images from oil paintings, by Vanpoulles. I've never been greeted with lots of people saying 'oooh' and 'wow' as I walk into a room, so that was a nice change. That's me in it in the picture above, just after I was cleared by air traffic control for takeoff.
I noticed last year at the Royal Wedding that some of the most glittering frocks in the house belonged to the Dean and Bishops greeting the Queen at the door, and I've often wondered how these fabulous creatures feel as they float around. So thanks to the three design houses for letting me find out for just a few minutes yesterday.
Photo: Laurence Cremetti
Comment (3)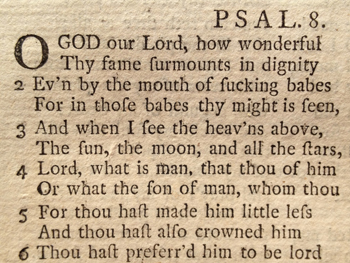 Psalm surprise
Posted on 05 April 2012, 5:29
Visiting relatives in Warwickshire on Sunday, I was handed a lovely old copy of the Prayer Book, with a publication date of 1760 on the title page. I dipped in, marvelling that Morning Prayer 250 years ago is exactly as I've experienced it myself – except that the letter 's' is frequently shown as a 'f' (or a character very like an 'f'), in that fweet old 18th century ftyle.
It's not often that my mouth hangs open in slack-jawed astonishment, but when I turned to the back of the book, with its section of metrical Psalms, I encountered Psalm 8 in a version I've never seen before (and which I snapped above). The first few lines tell the story.
Now I know 18th century congregations could easily read an 'f' as an 's' and would be able to sing the Psalm without any difficulty… but they also knew and loved the same Anglo-Saxon words we cherish today. And so surely, surely, even the most pious worshipper would have sprayed their communion wine over the pew in front when they read these words?
Comment (11)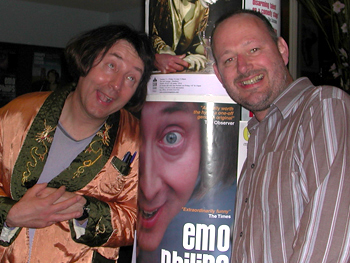 Baptist on a bridge joke
Posted on 23 March 2012, 5:54
I get Google alerts whenever Ship of Fools appears in the news, and tonight we got a rare mention for a competition we ran back in 2005 called The Laugh Judgment. We asked our readers to send us their favourite religious jokes in two categories: funniest and most offensive. The winner of the funniest religious joke was a gag created by American comic Emo Philips.
The news item picked up by Google was for the reopening of a comedy club in Vancouver, where Emo is taking the first spot. The report said: 'The 56-year-old American has been a staple of comedy clubs since the 1980s, but the highlight of his career might be having a joke that was rated "the funniest religious joke of all time" by the Christian humour website, Ship of Fools.'
Well, if true, that's an unexpected career highlight for Ship of Fools too. In fact, we judged Emo's joke to be the best religious joke not only of all time, but of all eternity. Here it is…

Once I saw this guy on a bridge about to jump.

I said, 'Don't do it!' He said, 'Nobody loves me.'

I said, 'God loves you. Do you believe in God?' He said, 'Yes.'

I said, 'Are you a Christian or a Jew?' He said, 'A Christian.'

I said, 'Me, too! Protestant or Catholic?' He said, 'Protestant.'

I said, 'Me, too! What franchise?' He said, 'Baptist.'

I said, 'Me, too! Northern Baptist or Southern Baptist?' He said, 'Northern Baptist.'

I said, 'Me, too! Northern Conservative Baptist or Northern Liberal Baptist?' He said, 'Northern Conservative Baptist.'

I said, 'Me, too! Northern Conservative Baptist Great Lakes Region, or Northern Conservative Baptist Eastern Region?' He said, 'Northern Conservative Baptist Great Lakes Region.'

I said, 'Me, too! Northern Conservative Baptist Great Lakes Region Council of 1879, or Northern Conservative Baptist Great Lakes Region Council of 1912?' He said, 'Northern Conservative Baptist Great Lakes Region Council of 1912.'

I said, 'Die, heretic!' And I pushed him over.

Emo Philips very kindly contacted Ship of Fools after the competition and offered us tickets to his show at the Newbury Comedy Festival, which is where the pic above of him and me came from. If you're a fan (or if you're not yet) visit his website to see where he's playing after Vancouver.
Comment (1)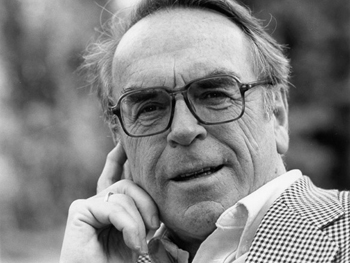 Interview with a theologian
Posted on 02 March 2012, 6:19
It's not every day you get to meet a 24 carat theologian, but next week I'm doing just that. I'm off to Tübingen in Germany to interview Jürgen Moltmann, who's up there with Bonhoeffer, Barth, Bultmann and the other pin-ups of 20th century theology. The interview is for Third Way magazine, but some of the interview will be published on Ship of Fools and here.
Moltmann is probably most famous for his books Theology of Hope and The Crucified God, published in 1964 and 1972. But the things which have caught my eye so far in preparing for the interview are his experiences during and after the Second World War, where he fought as a soldier in the German army.
In his autobiography, A Broad Place, which I'm currently devouring, he says that he had no Christian faith then, but after he was captured by allied troops and held in a POW camp in Scotland, he started to read the Bible soon after he and his fellow POWs learned the terrible truth of what had been happening in Belsen, Buchenwald and the other concentration camps. 'For me,' he says, 'every patriotic feeling for Germany – "holy Fatherland" – collapsed and died.'
In the early 60s, he travelled to Poland for the first time. He writes…

The most deeply emotional experience was to walk through the Maidaneck concentration and death camp, near Lublin. The plank beds in the barracks were the last resting places of starving and tormented men, women and children. Behind glass lay the little shoes of the murdered Jewish children, and hair that had been cut off from the gassed women. We saw the pits in which more than 10,000 people had been shot on a single day.

At the time I wanted to sink into the ground for shame, and would have suffocated in the presence of the mass murder, if on one of the roads through the camp I had not suddenly had a vision. I looked into the world of the resurrection and saw all these dead men, women and children coming towards me. Since then I have known that God's history with Auschwitz and Maidaneck has not been broken off, but that it goes further with the victims and with the perpetrators. Without hope for the 'new earth in which righteousness dwells' (2 Peter 3.13), this earth, which has suffered Treblinka and Maidaneck, would be unendurable.

The experience profoundly shaped Moltmann's theology in the 60s and 70s, which on one level responds to the question, How can you speak about God after the Holocaust? Where was God in the midst of that unimaginable suffering? His striking vision of 'looking into the world of the resurrection' is a pointer towards his theology of hope, where the kingdom of God breaks into the present from the future.
I'm hugely looking forward to meeting and talking with Jürgen Moltmann. If any readers of this blog would like to suggest questions to ask him, please post them here.
Comment (1)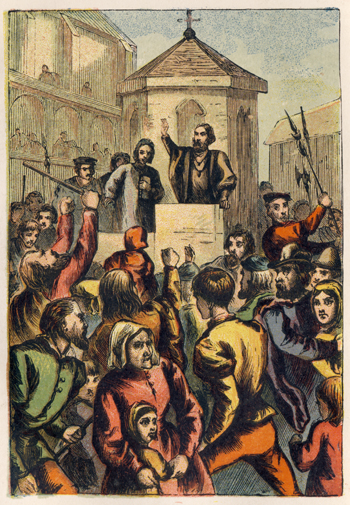 Crucible of debate and dissent
Posted on 03 November 2011, 6:54
Yesterday afternoon I took the tube into London for a first look at the Occupy London protest camp. Walking with the crowds from the station to the cathedral, I fell in with a group of older men with posh accents, joking with each other.
'Have you got your camping stove?' asked one. 'Have you brought the champagne?' laughed another.
One of them quickly waded into the camp, loudly asking any young protestors who caught his eye why they weren't working and how dare they desecrate this hallowed place.
But to my eye, the cathedral has never looked better, with colourful tents lapping up against the steps of the great west front, and with an impromptu community of young people bringing warmth and life to Wren's often chilly looking building. I've posted my pictures of the camp on Flickr. Despite its hippy feel, the camp is highly organised, with tents for information, first aid and food, notices posted by the protesters' assembly strictly banning alcohol from the site, and even disinfectant handwash dispensers gaffer-taped to a pole in the waste recycling area.
Everywhere I went, I was never out of earshot of debate. Capitalism, poverty, Jesus, the Kurds, freedom of speech, the church, corporate lobbyists, and much more, discussed loudly and quietly, passionately and rationally. I really love hearing debate on the streets of London. It reminds me of something from the days when the early church was debating the trinity, and a Greek theologian complained how the arguments had spilled out onto the streets:
'If you ask a shopkeeper for change he will argue with you about whether the Son is begotten or unbegotten. If you inquire about the quality of the bread, the baker will answer, "The Father is greater, the Son is less." And if you ask the bath attendant to draw you a bath, he will tell you that the Son was created out of nothing.'
Seeing large crowds milling around cathedrals was once a common sight. In medieval times, fairs were pitched around them, festivals were celebrated here and they were places of news, debate and entertainment. St Paul's is a highly appropriate place for people to gather, protest and argue the big issues of the day, because that's how it was for centuries. St Paul's always was the cathedral of London's common people, leaving Westminster Abbey to do its royal thing.
Just a few yards from the eastern edge of the camp is a monument marking the spot of St Paul's Cross. Originally a stone cross where preachers stood, and later an open-air pulpit (see picture above), it was the place where Londoners gathered for several centuries in folkmoots, or general assemblies of the people.
Paul's Cross was where you heard news and announcements and took part in debate and dissent. This is where victories were cheered, heresies condemned, Papal Bulls proclaimed, and where the people were sometimes required to swear allegiance to the king. Copies of Tyndale's New Testament – the first section of the Christian scriptures to be printed in English – were rounded up and burned here by the Bishop of London in 1526. At Paul's Cross, people who had fallen foul of the church or state were made to do fearful public penance.
But as well as being a place of propaganda and control, it also witnessed popular protest and new ideas. The revolutionary doctrines of the Reformation, which overturned the established Catholic faith, were first argued here before large and noisy crowds. London was converted to the Protestant faith at Paul's Cross by anti-Catholic preachers. They made it the most famous pulpit of England.
In her book, Politics and the Paul's Cross Sermons, Mary Morrissey says that access to the pulpit was controlled by three authorities: the Crown, the Church and the Corporation of London. Each of them had their own agendas and sometimes used the pulpit to attack each other. So it was here that the people of London were educated in conflicting ideas and interests and learned to make up their own minds.
It's fascinating that the area where the protesters have camped is still owned by two of those authorities: the Church and the Corporation. Both were threatening to evict the camp, but the Church has now apparently dropped that approach, leaving the protesters to the all-powerful Corporation, which runs the City. George Monbiot gave an excellent exposition of its unrivalled powers a couple of days ago. It is a formidable foe. Even the government bows before it.
On my way back home, I stopped at the lonely monument where Paul's Cross and all its tumult once stood. It's in the cathedral churchyard and I have never seen any activity around it… until now. On the side of the monument is this inscription:
'On this plot of ground stood of old "Paul's Cross" whereat amid such scenes of good and evil as make up human affairs the conscience of church and nation through five centuries found public utterance.'
As then, so now. I hope St Paul's Cathedral keeps its word and wholeheartedly embraces its young protesters, welcoming them to this home of English debate and dissent, and seeing their presence as an opportunity for well-argued mission. It's a big ask for an established church to welcome dissenters, but this is also an invitation to engage in a highly visible way with the biggest issues of the moment.
Picture: Foxe's Book of Martyrs
Comment (3)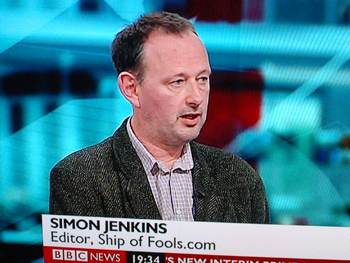 St Paul's loses the plot
Posted on 01 November 2011, 3:54
I know the workings of the BBC are utterly mysterious, but when I got a call late this afternoon from the BBC News channel asking me to get into a studio and talk about the implosion of St Paul's Cathedral, I was left wondering why they had chosen Ship of Fools for comment.
Bishop Nick Baines has helpfully blogged today about why the UK's bishops have taken an oath of silence on the matter which even Tony Soprano would admire, and my guess is that since the media can't get a cleric to talk, they've had to resort to lesser fry like me.
The request from the BBC was a bit urgent, since a third clergyman threw himself off Chris Wren's famous dome today, careerwise. I think the Occupy London camp would have considered it a result if their protest had prompted a few bankers to leap to their deserved doom off the NatWest Tower, but the cathedral resignations have probably been as much a surprise to them as to everyone else.
As far as I can discover, Graeme Knowles is the first Dean of St Paul's (and there have been a lot of them, including the poet John Donne) to resign. Many of them have moved on to become bishops and even archbishops, and it will be fascinating to see what job the C of E rustles up for him next. Will the church reward failure in the same way as the banks?
St Paul's has lost the plot. Their PR, which for Byzantine reasons is run from the obscure town of Brough in East Yorkshire by Rob Marshall's 33rpm, was taken to the cleaners in PR Week a few days ago. Their fake concern about health and safety was exposed as a ploy to get the protesters out in the New Statesman. But worse than that, St Paul's has lost the Christian plot, the whole reason it is there.
What happened two weeks ago on Ludgate Hill is that people came to church. The protesters turned up at St Paul's by accident and decided they wanted to stay. There, on the cathedral's doorstep, they set up camp. And in doing that, they gave the church a new congregation. Here was a fabulous opportunity for St Paul's to shed a bit of pomp and hauteur, to bring the faith out of doors, to do some services outside, to be a bit spontaneous, to provide the protesters with some spiritual nourishment, to rediscover a connection with ordinary people, to have a conversation.
Lucy Mangan, the Guardian columnist, wrote about this fantasy version of the cathedral with real feeling last week in her piece, St Paul's – embrace your new flock. 'These are your people,' she told the cathedral.
But instead of rising to the occasion, and to huge disappointment, the cathedral's instinct was to shut up shop and get in the lawyers. It's hard to think of anything more negative and dispiriting than St Paul's actually shutting itself down. Christians around the country of all traditions have been left banging their heads against the wall in frustration at the sight of the church behaving so badly.
What makes it worse is that church leaders don't seem to understand just how epically they are screwing up. ('Screwing' isn't quite strong enough, but this is a family blog.) There was no word in this direction in Dean Knowles' resignation statement, which was instead full of personal and institutional self-pity. And as Nick Baines knows, the silence of other C of E leaders is a huge let-down for Christians across the country. It's actually a betrayal in the name of not rocking the boat. The bishops have lost the plot too.
It is hard to imagine Jesus in the Deanery, sherry in hand, consulting his lawyers. On the other hand, it is easy to imagine him in the camp, sitting in a tent, talking to the people who have no voice but who want to find it and be heard.
But beyond Jesus' compassion and engagement with ignored people, there's something else. Jesus threw the money changers out of the temple because they filled their own pockets by ripping off the poor. He was angry with them and treated them like the dirt they were. The Occupy London protesters are making the same point about the bankers, but the church, the advertised followers of Jesus, are telling them to shut up, pack up and go home.
With the welcome departure of Dean Knowles, St Paul's now has an opportunity to reconsider its position and find not merely 'new leadership' as the Dean put it, but a new direction. Is it too much to hope that a cathedral could start taking some creative risks for the gospel? If St Paul's fails to seize the moment, then its mission is lost, and its inspiring building an empty icon.
I've always loved St Paul's – ironically, the church of the tentmaker. I've found it a place of wonder and mystery ever since my first visit to London at the age of nine. I believe it can recover its mission, but only if it dramatically changes course. Whether the people now in charge of this glorious architectural Titanic have the imagination and strength to steer it through the icebergs remains to be seen. They deserve our prayers.
Comment (23)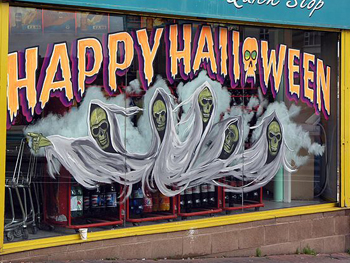 Welcome a Halloween ghoul to church
Posted on 30 October 2011, 6:51
Coffin-shaped sandwiches, anyone? Or how about a battery-operated grim reaper – only £10? Yes, the frightful festival of Halloween is upon us, although the supermarkets, in their eerily efficient way, have been flogging the grizzly merchandise of the season for several weeks.
Like Christmas, Halloween has a tangled story. Its roots can credibly be followed back to the Celtic festival of Samhain, which means 'summer's end'. The medieval church dressed it up in Christian clothes (as it did for Yuletide), and declared it to be All Hallows' Eve, the evening before Hallowmas, or All Saints.
The church's creation of Halloween was intended to divert people from telling Celtic horror stories, and instead to get them thinking about the heroic stories of the saints. The clerics of the time must have rubbed their hands over their cunning plan. Paganism was defeated. Job done. But a peek into a supermarket now shows that the strategy has failed spectacularly.
In more recent times, the church has been fighting back against the advance of Halloween. Christians in the more excitable pews paint the festival in the most lurid colours, condemning its imagery of death and horror, accusing it of dabbling in the occult, and sounding the moral trumpet at its naughty pranks.
And they have another cunning plan. They want to give Halloween a second baptism. Most attempts to do this come down to running 'Bright parties', or the marginally more inviting 'Saints & sausages' parties, where activities for kids are organised by grown-ups. Mercifully, these plodding attempts to domesticate Halloween are doomed to failure because they misread what it is all about.
Halloween is a feast of fools, where the normal rules are reversed for one night. Kids go out after dark. Frightening others is good. You might bump into a ghost. You can dictate terms to a grown-up with trick or treat. You can expect lots of sweets. For a child, this is exhilarating stuff.
This is why Christian attempts to impose an adult-led, rules-based alternative is so misconceived. It misses the point with pinpoint imprecision.
What happens at Halloween is play. The themes of this, like all the best play, are serious: darkness, horror, monsters, decay, phobias, danger, fear and unpleasant surprises. Children want to think about these things – in fact, they need to, if they are going to grow up as people who can cope in a threatening and uncertain world. They play in the dark in order to tame it.
Halloween derives its appeal from an unreconciled relationship with death, and the playful elements of the festival are, however trivial, an attempt to make terms with the great enemy. In northern latitudes, it is the steady creep of autumn evenings, leading us into the approaching gloom of winter, which turns our thoughts to Last Things, and which also lends Halloween its Gothic flavour. Just as spring turns us to life and love, autumns turns us to death and the dark.
Perhaps the church needs a new cunning plan if it wants to engage successfully with Halloween in its natural season of the year. Invite all the little witches and werewolves, zombies and ghosts into church. After all, your church is probably the most Gothic and spooky building in the neighbourhood. It's the perfect place for Halloween.
So how about Halloween in the crypt, with hideous laughter? It's such a shame that churches have crypts, but don't know how to ham them up. If some churches can welcome Santa Claus into the service on 25 December, why not ghouls and mummies on 31 October?
Like Christmas, Halloween is one of those rare moments in the year when gospel and culture share the same space. It is a moment when Christians have good and positive things to say in response to what is happening on the streets and in people's homes.
If churches can let Halloween playfully ask its big questions about the dark side, and welcome people as they are – costumes and all – then there is a golden opportunity to talk about Jesus, who faced horror for our sake, overcame the Devil, and destroyed the power of death.
Perhaps more than at any other time of the year, this is when we need to be as wise as serpents, but harmless as doves.
Comment (9)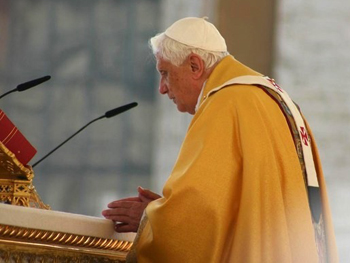 Silence and word
Posted on 30 September 2011, 4:52
I've enjoyed the Pope's messages over the past three years on World Communications Day, which was created by Vatican II to provide an annual message to the church and the world on the subject of media. Benedict has done some very creative theological reflection on social media and the new possibilities for relating with others through them.
If there's another major church leader providing this sort of thinking on new media, I'd like to know who they are.
Although the 2012 event is eight months away (it happens on 20 May), in a miracle of forward planning the message will be published in January and the subject of the message was announced today. The Vatican displays a level of OCD that others can only dream of.
But I do like the sound of the message, whose theme, unexpectedly, is silence.

In the thought of Pope Benedict XVI, silence is not presented simply as an antidote to the constant and unstoppable flow of information that characterises society today but rather as a factor that is necessary for its integration. Silence, precisely because it favours habits of discernment and reflection, can in fact be seen primarily as a means of welcoming the word. We ought not to think in terms of a dualism, but of the complementary nature of two elements which when they are held in balance serve to enrich the value of communication and which make it a key factor that can serve the new evangelisation.

News.va
Photo: Rinaldo Cornacchini
Comment (0)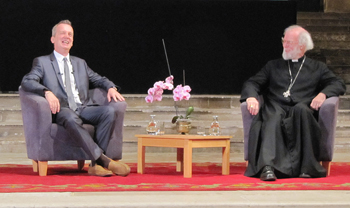 The Frank and Rowan Show
Posted on 20 September 2011, 3:22
I did myself a favour this afternoon and downloaded a couple of MP3s from the Archbishop of Canterbury's website. I wouldn't normally, but the ABC had a public conversation with comedian and Catholic Frank Skinner last Friday in Canterbury Cathedral, and Frank always has perceptive and colourful things to say about being a Christian.
They talked about many things, including the quality of sermons and why Frank isn't a priest, but I especially liked it that Frank picked up on how atheism is almost part of the job description for being a standup comedian right now. I talked about that with Marcus Brigstocke when I interviewed him for the Church Times a few weeks ago. Here's Frank's take…

I don't know if you're aware of this, but on the comedy circuit now, it's incredibly cool to be an atheist. I was in Edinburgh recently and I saw several comedians' shows, and even if they were nothing to do with religion, they'll take a little three or four minute slot and say, oh, by the way, I'm an atheist, just to make sure they've ticked the box of cool comic. You have to wear tight jeans, you have to have hair that looks like a chrysanthemum and you have to be an atheist if you want to be a cool modern comic.

Now, you need to sort that out. [Audience laughter]

It's very bad that being an atheist has got to be the cool position, because that could be very serious as an end result. We might see atheists like we see people who deny global warming. You might celebrate their freedom of speech and their opinion to deny global warming, but if they're wrong and millions of other people have taken their view, then it could end in a terrible, terrible disaster for a lot of people. And the church just seems to be letting it get cooler and letting it dominate more and more.

Download the Frank and Rowan Show here.
Comment (0)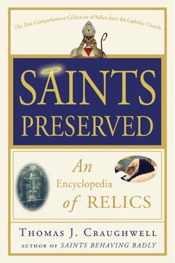 Blessed are the body snatchers
Posted on 11 September 2011, 4:49
My lifelong fascination with 'the far side' of Christianity easily includes the Catholic Chuch's love affair with relics, although I must confess some sympathy with it all. It's a deeply human thing to show respect to what remains of those we've loved after they've died and the photographs, letters and books of people in my family which have come down to me are beloved things.
So the early Christian practice of meeting at the gravesides of the martyrs and placing their portrait paintings in churches seems absolutely right to me, even though it's not for everyone. But what about collecting bones and skulls, inspecting the bodies of dead saints and parading their body parts through the streets? Call me squeamish, but it just seems macabre and obsessive, not to mention terminally out of step with modern culture. Believing the Christian faith is hard enough these days without throwing in veneration of the big toe of St Bob the Bizarre.
Back in May this year, a syringeful of John Paul II's blood, taken from him before he died, was venerated in his beatification mass in Rome, while another found its way to Krakow in Poland. His body has already been moved upstairs from the basement of St Peter's into the church, and it's a disturbing possibility that the Vatican's resurrection men might be visiting his coffin for bits and pieces sometime in the future.
Which is why I was curious to get hold of a copy of a new book, Saints Preserved: An Encyclopedia of Relics, by Thomas J Craughwell. This is a book which knows where the bodies are unburied. If you want to get on a plane to go and venerate one of the many skulls of St George, the Holy Bench Jesus sat on during the Last Supper, the eye of Blessed Edward Oldcorne (don't ask), the humerus of St Francis Xavier or even the skis of John Paul II, this is where to start.
I'm disappointed though that Craughwell doesn't pass much critical comment on the history or authenticity of the relics he lists. Many of the saints' relics are genuine, but all the claimed biblical objects must be regarded as frauds perpetrated on credulous believers.
It's a fraud the Church has colluded in over the centuries. Take the Holy House of Nazareth, for example, where Jesus, Mary and Joseph lived, which was flown by a team of house-moving angels to Loreto in Italy in the 13th century. A virtual queue of Popes visited the house to bless it and bestow privileges, and only Julius II demurred by adding the words, 'as is piously believed and reported' to an account of the shrine's legend.
However, there are some signs of change, as witnessed by the curious story of the Holy Prepuce (the foreskin of the infant Christ), which was the subject of another book, An Irreverent Curiosity, which I read a few months ago.
According to the book, written by American journalist David Farley, the Holy Prepuce was venerated every January 1st (the feast of the circumcision of Christ) by the people of Calcata, an Italian hill town. This went on for almost four centuries without a problem until 1900, when Pope Leo XIII took the highly unusual step of censoring all mention of the relic on pain of excommunication. The blessed foreskin had become an almighty embarrassment. But then things went further.
In 1983, the priest of Calcata told his congregation that the Holy Prepuce had been stolen from the shoebox in his wardrobe, where he had kept it for safety, and it has never been seen again. Locals believe it was snatched by Church officials to be 'disappeared' into the Vatican. Other uncomfortable relics, such as the breast milk of the Virgin Mary, have also been sent into retirement.
Like most traditional elements of Catholicism, the cult of relics has been enjoying something of a revival under John Paul II and Benedict XVI. Their Church has renewed its love of bloodstained shrouds and holy bones. For them, God moves not only in mysterious ways, but in medieval ones too.
Comment (0)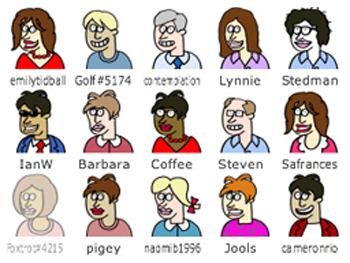 Suspicion of online church
Posted on 18 August 2011, 6:47
There's an interesting conversation happening over on the Big Bible website, where Tim Hutchings is posting good stuff on their blog about online church. Even though the Net has a large number of groups which identify themselves as religious communities, Christians have remained suspicious and wary of them. As Tim says…
'However sophisticated online churches get, whatever new parts of the Internet they find to grow in, they still make Christians REALLY uncomfortable. If you're a Christian, and you're writing a book about the Internet, you'll almost certainly end up throwing in a grumble about online churches. Online-church-bashing has become one of the most predictable and unimaginative clichés of Christian writing about technology.'
I've been thinking about the ironies of this situation for a while, partly because the few Christian conferences I've been to in the past year have featured speakers warning against the dangers of false identity on the Internet… a warning so past its sell-by date that it could walk straight out of your smelly fridge and put itself in the bin.
So, a couple of things to say on this.
First, it's somewhat ironic for Christians to be extolling the virtues of physical communities ('real-life' churches) and attacking virtual ones. After all, the whole Christian belief system is based on things that are unseen, including God of course. Our faith may be expressed physically, but the heart of it is virtual. In prayer and worship Christians consciously enter the virtual realm, either closing their eyes to block out the physical world, or looking up to where they imagine God and the spiritual realm to be.
Which makes me think that it is slightly ridiculous for Christians to object to online community on the grounds that it is unreal. It is no more unreal than important aspects of my faith.
Second, online communities are often held to higher standards than we expect from offline communities. For example, here is the Pope (who in fairness has given three thoughtful reflections on digital media in as many years) listing the limits of online communication: 'the one-sidedness of the interaction, the tendency to communicate only some parts of one's interior world, the risk of constructing a false image of oneself, which can become a form of self-indulgence.'
Those are good points, but they could equally well be made about the face to face relationships of people in the local church. Creating a fake identity, acting in a superficial way or posing as a pious person were not invented by the Internet – Chaucer had a go at those very human vices in The Canterbury Tales. It's obviously prejudiced to compare the worst of virtual church with the best of physical church.
In reality, online churches can be just as challenging, boring, exciting and revealing as the church round the corner from you. I don't see how it could be any other way, since real people, body and soul, make both kinds of church happen.
Comment (2)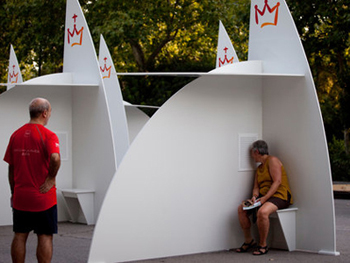 IKEA confessions
Posted on 17 August 2011, 13:40
Not being a Catholic myself, I always experience an illicit thrill when walking into a Roman church, long-lost black sheep of the family that I am. I feel like I imagine a nun must feel walking into a lap-dancing club… just a bit out of my depth.
I do know how to find my way round, though. How to fake the sign of the cross, how to find a friendly saint among all the bleeding and weeping statues, where to buy a candle, where to sit quietly to think and pray. The thing I've not been able to crack is the confessional box. I'd love to sit inside one of the frightful old things with their creepy Gothic look, except I'm sure they have central locking triggered by a priest watching on CCTV and walls that close in on you.
But confessional boxes just got a whole lot friendlier thanks to the open-air models that have been knocked together, IKEA-like, in a park in Madrid. They're part of World Youth Day, a big Catholic event happening this week. Now you can get your sins off your chest in the sunshine and fresh air instead of behind a pair of heavy velvet curtains sourced from the set of The Addams Family.
The Diocese of Madrid is even offering women who use the prefab confessionals forgiveness for having an abortion, which is normally an excommunicating offence in the Catholic Church. That would be really nice of them if excommunication wasn't such a cruel and bizarre response to the pastoral situation of abortion in the first place.
I've just added the IKEA confessional box to the Ship of Fools Gadgets for God pages.
Comment (0)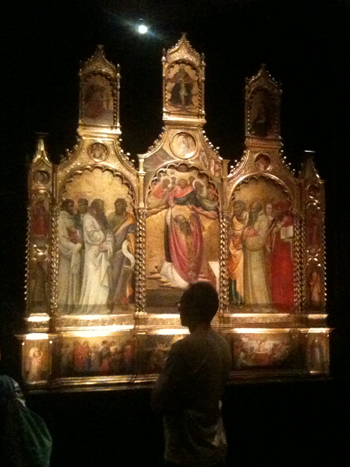 Devotion by design
Posted on 31 July 2011, 23:28
I skipped church this morning and went to see the National Gallery's Devotion by Design exhibition instead. It wasn't a bad swop, as the exhibition is about Italian altarpieces from before 1500, and these amazing creations were presented in darkened rooms with the sound of liturgy and music in the background… all very atmospheric.
The exhibition, which runs until 2 October, is quite 'how to'. That is, it's very interested in how these multi-image pieces were constructed, allowing you to poke around behind two huge altarpieces to see the carpentry beneath their glittering, golden faces, and the surgery they have endured over the centuries.
One room explains how the people who commissioned and paid for the altarpieces imposed their own choice of saints and sacred stories on the artist. If there was more than one institution commissioning the piece, then the haggling over the cast list of who should appear in the picture could go on for a very long time.
What I missed was a good explanation of the role of altarpieces in church worship, or their impact on the ordinary worshipper. After all, in the age before television and giant advertising images, these pictures must surely have had huge impact, especially as they were positioned so you were looking right at them during the high point of the eucharist. The hyper-realism of some of the painting also draws you into an encounter, despite yourself, with the saints shown there.
I leafed through the exhibition catalogue in the shop afterwards, and it had good material on the place of altarpieces in the church's liturgy, so it's a shame that wasn't reflected in the exhibition itself.
That said, Devotion by Design is thoughtful and intriguing, especially if you're interested in the construction, technique, negotiation and contracts that underlie these powerful images used in Christian worship.
Comment (1)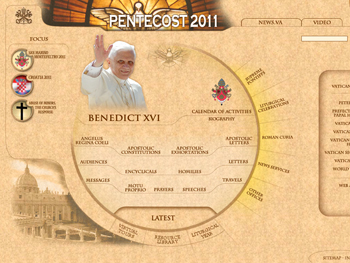 Eternal city, eternal website
Posted on 13 June 2011, 21:45
The Roman Church may be semper eadem (ever the same), but will the Vatican website ever change its design? It seems unlikely, despite the 'redesign' currently being hailed by Catholic commentators. The website was launched on Christmas Day 1995, and its parchment-look background has always started to look tired after even a few visits, so I've been interested to see when it would be dropped.
Sadly, the only thing to change in the current shakeup is the homepage (pictured above, or click here for the real thing), which now looks to me like a Casio sports watch straight out of the 1980s – packed with features that make you ask, where do I begin? I can count no less than 45 links on the page, which is hardly the simple welcome to visitors you would expect from such a heavily visited domain (almost 14,500 websites link into vatican.va).
Most of the other pages in the site look as they've always done – narrow columns (of about 600 pixels) packed with brown text which scroll forever with hardly a picture to break the monotony.
Refreshingly, the website is run by a woman, Sister Judith Zoebelein, who is editorial director of the Internet Office of the Holy See. She's been at the helm since the Vatican went online, and her role as founder of the website was recognised by the Pope earlier this year. He gave her the highest honour possible for a nun: a sign of his esteem for her, of course, but also of his esteem for the Internet.
In a fascinating ad hoc video interview in 2007, Sister Judith spoke to journalists about the vision and practical work that goes into producing the Vatican website. Asked how many people work on it, she replied, 'Seventeen. Too few, believe me!'
She seems like a sparky, progressive person, so maybe the slow pace of change could be explained by something she also said.
'We're trying to integrate something of technology into a 2,000 year-old institution. Sometimes I feel that the echo waves have to go all the way back 2,000 years and then they come back up again and you find the integration or the mix between the technology and the institution. To me that's been a challenge, but it's also fascinating.'
It looks like the challenge might currently be winning out over the fascinating.
Comment (0)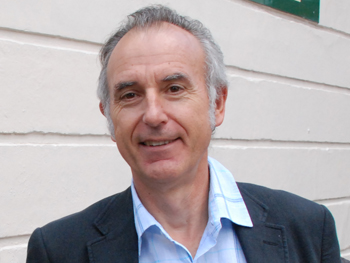 Andrew Walker… ahead of the game
Posted on 25 May 2011, 4:32
I spent today at King's College, London, at a one-day conference in honour of my old friend and partner in crime, Professor Andrew Walker. In the 1990s, Andrew and I jointly edited Leading Light, the journal of the CS Lewis Centre – which was not, I hasten to add, a fan club for Aslan, but an organisation launched by Andrew for studying and promoting 'gospel and culture' issues.
Andrew has just retired from King's and was paid handsome tribute by his friends and colleagues, including Alister McGrath, Pete Ward, Martyn Percy, Luke Bretherton and Billy Abraham.
Martyn Percy focused on Andrew's book from 1985, Restoring the Kingdom, which gave a brilliant guided tour of the House Church Movement, as it was then known. The book has Andrew's characteristic blend of journalistic detail (he interviewed many of the big cheeses in the individual House Churches) and penetrating anaysis. He was the son of a Pentecostal household and so he was sympathetic to the movement, but was also only too aware of the history of how revivalism plays out.
I was also fascinated by the paper given by Pete Ward, the author of Liquid Church and Gods Behaving Badly. Part of what he said delved into the relationship between Andrew's work and that of Lesslie Newbigin, the godfather of the gospel and culture movement. Pete said that in this (and other areas) Andrew was ahead of the game…
While his academic interests neatly coincided with those of Lesslie Newbigin I would argue that Andrew was more attuned to contemporary culture and the social reality of the Church and as a result his work, though less well known, was actually more useful to those who were buying into a missiological vision for the Church…
Andrew was deeply appreciative of Newbigin but it is my sense that he was too much of a sociologist to see philosophy as the arena in which to do battle. In Telling the Story, Andrew showed how theological ideas are situated in communities and communicative practices. He was one of the first to put his finger on the way that religious faith and ecclesial cultures arose from innovations in media.
Andrew has written and edited a large number of books. One of his great gifts is his enthusiasm in bringing people together to work on projects, and so his multi-author books are really worth reading alongside his solo works. Here's my recommended Walker booklist…
Restoring the Kingdom (1985)
Different Gospels (1998)
Telling the Story (1996)
Living Orthodoxy (1996)
Remembering our Future (2007)
Comment (0)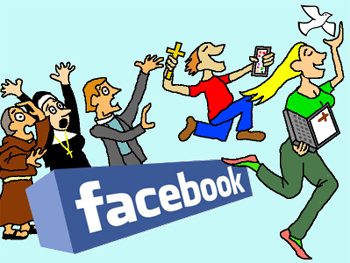 First Church of Christ Zuckerberg
Posted on 07 May 2011, 5:54
I went to church last week, which is rare for me these days, but then it was the 'don't even have to get out of your sofa' church experience of St Pixels, the online church.
St Pixels has been around since 2005 (when it took over from Church of Fools), but it's always been a website based community. Last week was different, though, as the church is flirting with the idea of moving its live services off its own sacred IP address and on to Facebook. This is rather fascinating, as I don't think anyone's tried it before.
Unlike the experience offered by online campus churches such as LifeChurch, which broadcast their services on the Net to a passive audience, St Pixels offers something potentially more satisfying and Web 2. Everyone who checks in for a service can see and chat with everyone else. And that makes the whole experience – including a cascade of typed prayers as well as rude asides during the sermon – a lot more human and churchlike.
On the down side, the readings at St Pixels are accompanied by pictures of puppies, sunsets and snowy trees, enough to make the hardened designers of Hallmark cards weep. But then that's just like church too, or churches fixated on PowerPoint, anyway.
After the Facebook service, where I joined 22 other people for bells, prayers, readings, a sermon and a corporate typeathon of the Lord's Prayer, I spoke to Mark Howe, a leader at St Pixels and the chief mover of the software side of things, about the Facebook initiative, which has been beta testing and launches properly next week at the Christian Resources Exhibition.
These days, he said, you need a multi-million dollar budget if you want to launch a new virtual world from scratch. But Facebook offers the chance to do something really effective and at low cost, because the infrastructure is all there.
'There are already lots of people on Facebook,' he says, 'and there's an open model of how to communicate with them. You write your code, plug it into Facebook, and amazingly it works. It's the complete opposite of getting apps into the Apple Store.'
Who else is doing this? 'I don't think anyone else,' says Mark. 'Christians are setting up Facebook groups, of course, or micro-blogging about their ministry, but there's only a limited amount of synergy and interaction.'
And looking at the wider commercial scene, no one is really offering a real-time experience where lots of people can interact at the same time. 'If you look at the big Facebook games, such as Farmville, they only offer an individual experience. They're not offering "I'm online, you're online, we're here together" – which is what we're doing.'
Mark thinks the demand for what St Pixels is doing could be quite high. 'Facebook users will be just two clicks away from joining a St Pixels service,' he says. That's a big change from what we currently offer, where you have to go to the website, find the right page, register, download the software and then log in for the service. We think people will like the idea that they can simply say to their Facebook friends, click this and come to church.'
The launch services on Facebook are next Tuesday, 10 May, at 1 and 3pm. But beta testing is continuing at the moment – check the St Pixels app on Facebook for details.
Comment (0)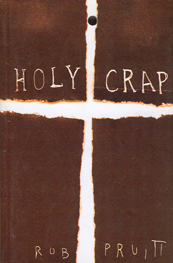 Holy Crap
Posted on 20 January 2011, 0:33
In Koenig Books on Charing Cross Road yesterday, my eye fell on Holy Crap. It's a paperback printed on cheap paper, with gold spray-painted edges, like an old-fashioned Bible, and a hole punched through it so you can hang it up in your toilet. And inside are hundreds of black and white pictures of US church signboards, which have long been the home of smug comments, pious puns, and sacred sayings which unexpectedly turn out to have a second life as jokes about bonking…
The best vitamin for a Christian is B1
The most powerful position is on your knees
You give God the credit, now give God the cash
Family altar or Satan will alter your family
There can't nobody do me like Jesus
The book is a project by New York artist Rob Pruitt, whose work often uses comedy to comment on mass and trash culture – such as his 1998 show, Cocaine Buffet, which consisted of a very long line of coke on a mirror on the floor of an artist's studio. All of which was obligingly hoovered up by the show's visitors.
In the intro to Holy Crap, Pruitt says, 'I love multitasking, like driving and having a religious experience at the same time.' Which is funny, but I'm more interested in what he said in a press release for the book's launch last year: 'We had a discussion about the Church, the Church signs in the US along the streets, about their poetry, about seduction, repression and basement tapes. The fact that these Church signs make you laugh, but that the Church isn't funny, not the Catholic Church, none of them, no.'
We've been collecting church signs and religious gadgets on Ship of Fools for years, mostly playing to the comedy aspect, but this is a good reminder of the unfunny heart which lies behind it all. The humour is provided by the ironic take of Ship of Fools and the viewer's enjoyment of that, rather than by the people producing the church signs or the holy hardware, whose intent is serious.
Elsewhere, Rob Pruitt describes his mixed feelings towards the cultural excess he depicts, which sounds like it's coming out of the grey area satirists work in: 'On the one hand I want to celebrate it, because it's who we are, and on the other hand I want to condemn it. I think it's always like a ping-pong match for me.'
Comment (1)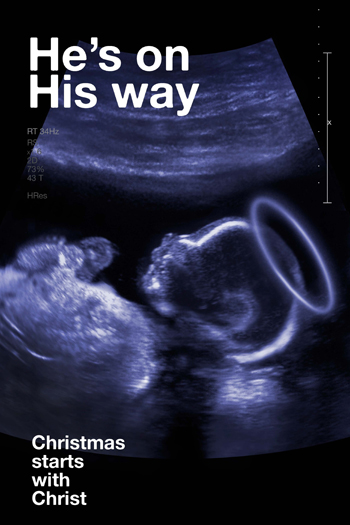 Jesus in an ultrasound scan
Posted on 16 December 2010, 0:05
One of the groups I'm really pleased to be involved in is ChurchAds.net, which every year produces an advertising campaign for churches to opt into at Christmas. Our most famous campaign was Meek. Mild. As if, which featured an image of Jesus in the style of the photo of Che Guevara by Alberto Korda, which ran in Easter 1999.
This year's campaign is now hitting the streets in the UK, with a new image of Jesus (above) that I'm sure hasn't been seen before in 2,000 years of image-making. I talked to Chas Bayfield, one of the creatives behind the ad, who's previously created ads for Tango, Birdseye and Pot Noodle – see his knockout Blackcurrant Tango ad, which won a D&AD silver award.
Simon: How did you come up with the idea?
Chas: We needed a new way of telling the Christmas story, something that was more 21st century than 19th. Baby scans are a contemporary way of telling others about the good news of an impending birth. So why not use a baby scan of the Christ child to announce the impending celebration of his birth?
No one's tried to depict Jesus in the womb before… why did you go for this image, and what do you think it says about Jesus and Christmas?
We've seen Christ the infant, Christ the man, Christ crucified – but this is a new image, a pre-Christ. It says that the divine became human. It reminds people that we are celebrating the birth of a new world order where peace, justice, equality and love arrived on the world agenda.
How have people responded to the ads so far?
Generally the poster has been welcomed. We've had a huge uptake from the churches and there has been lots of positive press coverage. However, some of the press are concerned that we are tampering with the sacred and that if we modernise the message too much we make the original unrecognisable. Vanessa Feltz described it as 'Benetton-esque' in that it was all a bit too intimate and bodily. It seems that some people are happy to watch the gorefest of Mel Gibson's The Passion of the Christ, yet they find the physical birth of Jesus too confronting to contemplate.
Thinking about this image and the Meek. Mild. As if image, what's your purpose in showing Jesus in such non-traditional ways?
The human Jesus was an historical figure and there's a danger that we use traditional iconography to imprison him in the past. The risen Christ however is contemporary. That's why the rennaissance painters portrayed Christ and his followers in the fashions of the day and why the 19th century Christ looked more Victorian. The images we have used will date over time, but the plan is to constantly remind people that Christ and his message are relevant whatever time you are living in.
Ideally, what do you hope the ad achieves?
It is already achieving it – we are getting people talking about Jesus at Christmas. Job done. Box ticked. The bigger picture is that the unchurched see Jesus and the Christian message as something that might be relevant to them and that the churches realise there is an alternative way to winning souls than bashing them over the head with Bibles.
Note: To support the campaign and increase the number of posters which appear, go here on the ChurchAds.net website.
Comment (4)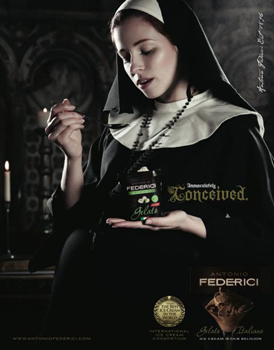 Ice cream, sex and blasphemy
Posted on 30 October 2010, 4:26
It was Häagen-Dazs who first put ice cream and sex together in a commercial. Their TV ads in the mid-90s showed sexy young couples spoon-feeding each other with creamy gloop, and suddenly ice cream had passed the age of consent and was an adult rather than a kid thing.
So when ice cream maker Antonio Federici launched a campaign of magazine ads, they decided to go a bit further along the road of naughtiness. This summer, their two ads featured a pregnant nun and two Catholic priests about to move in for a kiss (click the links to see large images of the ads). 'We Believe in Salivation' was the text on the priests ad.
Eighteen people complained when they were run in the UK's Grazia, The Lady and Look magazines. In two judgments, the Advertising Standards Authority (ASA) upheld the complaints and ruled that each 'ad must not appear again in its current form'. The reason? The priests ad 'was likely to be interpreted as mocking the beliefs of Roman Catholics and was therefore likely to cause serious offence to some readers'.
That sentence has the word 'likely' twice, which should have given the ASA a very good reason to think a bit harder about this poor judgment. The adjudications are here and here and include the defence put up by Antonio Federici.
The National Secular Society has complained that the ASA is 'reintroducing blasphemy restrictions back into Britain', two years after the offence was abolished by parliament – and it's hard to disagree with that. Religious faith in Western culture is publicly debated today as it has never been before and it's largely lost the deference and privilege which used to surround it like a shabby halo.
The weapon it still has, though, is a passive-aggressive one: 'Don't offend us, because our beliefs are sacred and above humour and mockery.' It's a weapon which has clearly worked wonders with the ASA.
A few years ago, we ran a competition on Ship of Fools called The Laugh Judgment, in which we invited readers to send us the funniest and most offensive religious jokes they knew. One thousand jokes were sent in, and we published the best of them so we could talk about what made them so funny and so offensive.
I noticed at the time that the most popular jokes included a small cast of stock comedy characters: the Nun, the Pope, Mother Superior, the Priest, the Bishop. All of them were put into comedy situations involving sex. It has ever been thus, since the time of Chaucer at least. As a subject, sex and religion simply is funny, because the latter makes such heavy weather of the former.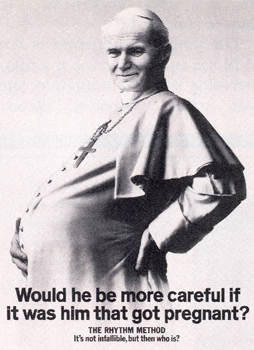 The Antonio Federici ads are hardly the height of original comedy, and so there's really no reason for surprise or offence. Even nuns and priests make these sorts of jokes behind closed doors. And British advertising used to understand that too, as witnessed by the press ad above from the 1980s. People probably complained then, but the ad still ran.
Comment (0)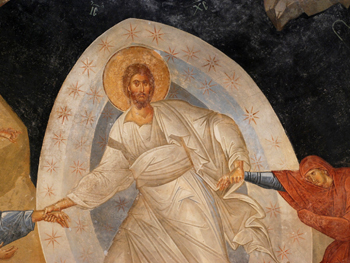 Heaven and hell in a country church
Posted on 09 October 2010, 4:47
Flying to Byzantium: Entry 1 | 2 | 3 | 4 | Photos
Istanbul, Sunday: Tali and I emerged from the depths of Hagia Sophia and went to sit in the open air café in the gardens outside for a calming cup of coffee and cigarette after all that religious intensity. I don't normally smoke, but it was definitely time for some nicotine-assisted reflection.
Meanwhile, great dollops of beautiful warm sunshine were being generously served up on Istanbul, and after a quick visit to a cash machine, followed by a stroll among the underground pillars of the Byzantine cistern of Yerebatan, which is across the road from Hagia Sophia, we jumped into a yellow taxi.
'Can you take us to the Chora Church?' I asked our small, moustachioed driver. 'Yes,' he replied. And then sped off in the opposite direction to the church.
There followed some back seat angsting over whether we were being taken for a ride, until our driver explained that the police had closed the obvious routes because the town was choked with tourists. We drove around the Saray point and up the Golden Horn, with more than enough to look at on the way: towering, historic mosques, noisy, colourful markets, people enjoying lunch on the street, sticking their faces into chicken kebab wraps, ferries roaring out into the lively waters around the Galata Bridge.
Ten minutes later and we swept left along a broad road and were suddenly alongside the massive medieval walls of Constantinople, looking at them from the outside, just as the Ottoman attack troops had done before the city fell to them in 1453. And then left again, through a great breach in the walls, and we dropped down a narrow street to St Saviour's, the Chora Church.
One of the meanings of chora is 'country', and as this whole area was rural even into the 20th century, the Chora Church is basically the 'country church'. Which sounds very sleepy to English ears – and there is something country in feel about this place. It has a shady, walled garden at the back, and over the wall I could hear a children's playground. But far from being just another country church, St Saviour in Chora is a jewel of Byzantine art: rebuilt in the 11th century and then decorated with the most stunning mosaics and wall paintings during a six-year makeover in the 14th century.
If that sounds a bit serious, then stepping inside makes you realise it's entertaining, too, because the scenes covering the walls and ceilings of this lovely building are full of incidental detail: the water jars being topped up at the wedding feast of Cana; children playing on the edges of the crowd in the feeding of the 5,000; an angel carrying a giant scroll with the sun and moon rolled up in it at the last judgment. This is medieval television and the glass pixels in the mosaics are tiny enough to make it hi-def.
As you walk into the church, you pass beneath a monumental head and shoulders of a fierce-looking Christ. This is titled, 'Jesus Christ, the chora (land) of the living'. So you enter under a theological pun which plays with the church's name and the words of Psalm 27: 'I am still confident of this: I will see the goodness of the Lord in the land of the living.'
But the face remains powerful. In her book, The Irrational Season, Madeleine L'Engle describes visiting the Chora Church and seeing this image of Christ. She says, 'I knew that if this man had turned such a look on me and told me to take up my bed and walk, I would not have dared not to obey. And whatever he told me to do, I would have been able to do.'
Like Howard Carter at the opening of Tutankhamen's tomb, we saw 'wonderful things' as we walked around, but I was here mainly for one wonderful thing: a fresco I had seen long ago in a book and which has lodged in my heart and head ever since. I saved it for last. It's in the church's burial chapel, painted inside the half dome at the east end, filling the whole of that curved space.
Standing dead centre beneath the icon, Tali and I looked up and became for the moment its intended viewers. Its title is Anastasis, 'The Resurrection', and in it the most alive Christ you've ever seen strides through hell, seizes Adam and Eve by the wrists – just as you'd grab the wrist of a difficult child – and pulls them bodily from their tombs. Beneath his feet are the trashed gates of hell, and below that is Satan, bound like a slave and surrounded by broken locks, chains, jailer's keys and other small debris from the infernal workshops.
But it is Jesus who commands the scene, and your attention. I've never seen him painted this way. Byzantine icons are famously formal and still, with the look of people who have been told to hold a pose and not move. But this Jesus is caught in swift and decisive movement. He captures the vigorous words of the Orthodox Easter liturgy…
Christ is risen from the dead,
trampling down death by death,
and to those in the tombs he has given life.
This is so far from the seven-stone weakling Christ I saw pinned up in Sunday school in the 1960s, and so far from the bleeding victim Christ of Catholic statues which weep, that it took my breath away when I first saw it. Like reading Mark's Gospel, it made me want to follow Jesus then… and now.
Did Jesus rise from the dead? I don't know. What I do know is that I'd trade just a glimpse of this image for a hundred evangelical books which try to argue 'the case for the resurrection' like a whodunit. The Christ shown here powerfully makes me want to believe, and my unbelief can go hang.
Having said all that, I stood still under the image: absorbed, gazing, listening in the few minutes of my life I was there. Madeleine L'Engle says she trembled with joy as she stood on the same spot. For me it was wonder freed from emotion, which I hadn't expected.
I don't know if I'll ever be here again. But I live in the glow of it. I hope for the life and transformation promised here. I hope to be in the land of the living Christ.
Comment (3)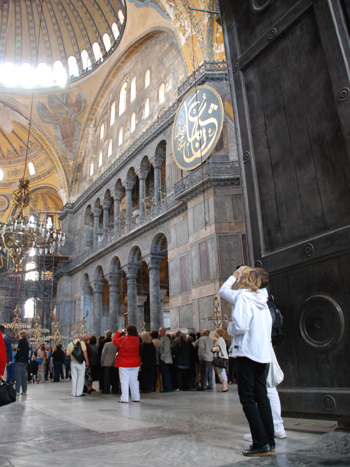 Into the Mega Ekklesia
Posted on 06 October 2010, 7:19
Flying to Byzantium: Entry 1 | 2 | 3 | 4 | Photos
Istanbul, Sunday: Up at 7.30, along the gloomy corridor to the hotel lift, and then up, the lift managing no more than a crawl, to the 8th floor. The doors opened and the sun burst in, and we walked out into a rooftop breakfast room floating above the city, with the whole sweep of the Sea of Marmara at our feet.
Tali and I sat dazzled by the light and hardly able to drag our eyes away from the view. The Marmara really is a handsome body of water, with the Prince's Islands forming beautiful grey silhouettes in the eastern light, 10 miles distant across the silky water. The islands were so-named because unwanted minor royals were often dumped there in Byzantine times, with no access to Hello! or Grazia and the other essentials of celebrity.
Breakfast over, we took the tram to the Sultanahmet (the 'Hippodrome') district of town, which is the historic centre of old Stamboul. There we went straight to Hagia Sophia and entered the gardens on the west side, which have been turned into an orchard of ancient stone columns, each dug up at various sites around the city.
I could hardly bear to go into the Mega Ekklesia (the 'Great Church' as it was known almost from the time it was built in the 6th century), as I've imagined the moment for so long, so we loitered around the gardens first, admiring beautiful pieces of long destroyed buildings, some of them in such good nick they might just have come out of the sculptor's yard.
But then we turned to the imposing doors and passed through the outer and inner porches and on into the church. The interior is such a delirium of space I had to lean against the doorway for the first few minutes to drink in what I was seeing.
Below, a polished marble floor of vast expanse; above, the dome ringed by its 40 windows, sailing weightlessly into heaven as it has done for 14 centuries; around me, a hundred arms raised… not in worship, but holding digital cameras. In the centre of the church, huge chandeliers hanging from the heights above to hover within touching distance of the people below, creating intimate pools of space.
Unlike all the domed cathedrals I've visited, here the dome is immediately visible from the church door, and so the visual impact of Hagia Sophia arrives at once, in a single, overwhelming instalment.
In the 10th century, a Russian prince sent ambassadors to Constantinople in search of a faith to replace his paganism. When they arrived in Hagia Sophia, they said, 'We knew not if we were in heaven or on earth, for surely there is no such splendour or beauty anywhere upon earth.'
A thousand years on, and even though the church is now stripped of the Christian worship which once made it live, I can understand what they meant. Its vast spaces, its beauty and antiquity, even its faded grandeur and tangible sadness, all evoked in me the mystery and eternity which belong to God.
We walked up an ancient spiral ramp to the gallery, which gives stunning views down into the church. At this level you can see how the eight large medallions bearing Islamic calligraphy are constructed, each of them with a wooden framework. The medallions were only put in place in the 19th century by the Swiss architect tasked with restoring the building.
They complement the calligraphy right up at the highest point of the dome, which carries a famous verse from the Qur'an: 'God is the light of the heavens and the earth' (Surah 24:35). No Christian could argue with these words, but there is controversy over whether the calligraphy should be removed as it's believed a much older mosaic of Christ lies beneath it. Christians of a more Puritan temper would probably side with Muslims on this one.
Beyond a marble screen in the gallery, I found the luminous icon of Christ which has been made famous on a thousand postcards, book covers and printed icons. The 14th century mosaic is next to a window and is thought to have been damaged by rain, so large areas of the jigsaw of tiny mosaic pieces are missing, but the heads of Jesus, plus Mary and John the Baptist, who stand on either side, are intact and beautiful. Each of them is shown against a glowing gold background in the world of eternity.
I was lost for a while in thought and maybe even prayer, standing before this noble and searching image of Christ. Just to stand before it is to be given dignity. And then I rejoined the crowd there, snapping like paparazzi before one of the surviving glories of lost Byzantium.
Comment (0)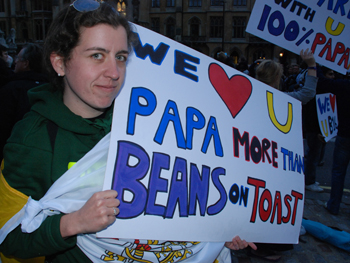 Beans, toast and the Pope
Posted on 25 September 2010, 5:33
One of the enjoyments of being in Westminster last Friday for the arrival of the Pope was meeting Niamh Moloney, diocesan youth officer for outreach in Northampton, who easily walked off with the prize for most original papal banner (pictured above). I wasn't alone in spotting it. Niamh took her banner to every papal event and became the media-friendly face of young Catholicism for the Pope's visit.
'We're unofficial members of the Pope's entourage,' Niamh told the Catholic News Service. 'We've been walking for three days with these posters. I'm a papal stalker.'
I'm full of admiration for people who get out there and do imaginative and unexpected things for their faith, so I asked Niamh about her highlights of stalking Papa Benny.
'It was very interesting outside the Abbey on Friday, being attacked by Christians. The Pope was talking about putting God at the heart of our culture and our lives, and I thought, surely this is a time when we should be sticking together and finding the things we agree on, rather than people holding signs calling the Pope the anti-Christ and screaming scripture verses at young people like us, who are absolutely in love with the Lord Jesus.'
On the Saturday, at the vigil in Hyde Park, Niamh and her friends arrived three hours early to get a good spot where they could see the Pope. But then…
'We got a phone call asking if we could go and do a media interview. We knew for certain that if we went, we would never get back to the front. We had a tearful moment when we decided our mission of making a joyful noise for Catholics everywhere was more important than our own personal desire to see the Pope up close… so we lifted up our chairs and left.'
Despite that experience, which Niamh describes as 'learning the joy of humility,' the prayer vigil was a significant renewal of faith for her and her friends.
'Here were 80,000 Catholics and the Pope praying in Hyde Park, only a few metres from where Christians had been martyred for their faith at Tyburn gallows. That was an incredible moment for the renewal of Catholicism in this country. What better place to renew the faith of Catholics than at the very spot where people died to save it?'
Comment (0)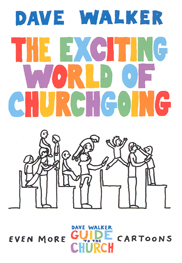 The exciting world of churchgoing
Posted on 22 September 2010, 19:32
How to describe the humour of Dave Walker, whose new book, The Exciting World of Churchgoing, was out at the end of last month? It's as dry as a communion wafer stuck to the roof of your mouth.
Dave's visual style is deceptively simple – with childlike drawings of bishops, people in pews and church architecture – and reminds me of Tim Hunkin's Rudiments of Wisdom cartoons from the Observer in the 1980s. But what takes these above Hunkin is the humour, which is delivered through flatly factual text.
For example, a cartoon on the responsibilities of the church sound desk operator: 'Moving the slider up a bit. Moving the slider down a bit. Every now and then pressing the "sudden unexpected feedback" button.'
The deadpanning and the simple drawings conceal an artful and inventive brain at work. Working consistently in this style takes time and planning, as well as the ever-necessary banging your head repeatedly on your drawing board.
This is Dave's third book, following on from The Dave Walker Guide to the Church and My Pew: Things I Have Seen from It. He's also been busy as cartoonist and blogger for the Church Times and producer of the Greenbelt site map, not to mention running the wondrous The Cartoon Blog.
Religious cartoonists who are genuinely funny should be treasured, because there aren't many of them. There's only one, so far as I know, whose speciality is English understatement… and that's reason enough to buy this book.
Comment (0)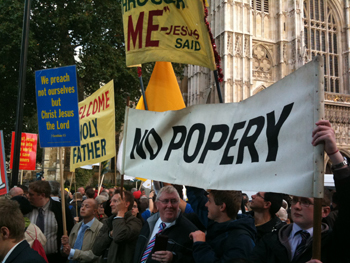 A Roman triumph in London
Posted on 20 September 2010, 8:29
Standing on sunny Lambeth Bridge on Friday, waiting for the Pope to emerge from Lambeth Palace and his meeting with the bishops and archbishops of the Church of England, I found myself next to Sister Veronica, a little nun from Cornwall with sky-blue eyes and a smile as wide as the ocean, who was waving a jolly big, yellow papal flag.
Everyone loved her: people kept coming over to ask if they could take her picture, for which she happily stood, and the policemen lining the barricades also stepped forward every now and then to ask if she was ok? Sister V, who has worked with young people for many years, had been on the bridge for five hours and was determined not to miss the Pope as he went by on his way to Westminster.
A mini-bus sped past us and she waved her papal flag at it. 'I'll wave at anything now,' she said, laughing, 'but those really were cardinals – I could see their red sashes round their waists.'
Behind us, Big Ben struck 5 o'clock, the time when the Popemobile was due to cross the bridge. I'd been tweeting events from my viewpoint all afternoon, and so hit the send button on the following: 'Big Ben strikes 5… time for the Pope to finish up his tea, get into Ice Cream One and come over to Westminster.'
A policeman wandered over and said to Sister V: 'He'll be here in a couple of minutes.'
'How do you know?' I asked.
The policeman turned a perfectly straight face to me: 'I can't reveal my sources.'
Seven minutes later, the Popemobile swung onto the far end of Lambeth Bridge looking exactly as someone described it on Twitter a few days ago: 'a bulletproof ice cream van'. It was surrounded by fridge-shaped men in well-cut dark suits who furiously eyeballed faces in the crowd as they walked the Popemobile along.
Above them, the Pope was imprisoned inside a greeny-blue bubble, sitting on a white plastic throne and waving in an old-man kind of way to the crowds on either side. So thick is the Popemobile's armoured glass that he looked more like a hologram than the real thing, but one glance at the Vatican's grim security detail told you this was the one and only Pope of Rome.
Sister Veronica hopped up onto a granite ledge behind me to get a better view, and as the Popemobile drew level with me on the crown of the bridge, I gained eye contact for the splittest of split seconds with Joseph Ratzinger as his pale blue eyes passed over me. I hope he did the same for Sister V, who was much more deserving of his attention.
The streets were stiff with crowds trying to slipstream behind the Holy Vehicle, but I found a back way, grabbed a coffee to drink as I walked, and came out by Great Smith Street, right in front of the west door of Westminster Abbey.
Coming towards me through the crowd was a highly pumped-up black preacher of the ranting school, blasting a way through the tightly-packed people by the sheer force of his shouted sermon. He was wearing a glossy barbecue apron printed with a Bible text. I tried to talk to him, but he ignored me and launched tunelessly into the evangelical chorus, 'I love my Jesus, my Jesus loves me.'
The Popemobile pulled up outside the Abbey, and a forest of arms sprouted from the crowd, each hand holding a camera, wildly pointing and clicking in search of a Pope shot, however blurred. Once he was inside the Abbey and evening prayer had started, I looked around at the banners jostling for attention.
There was a huge sign reading 'Welcome Holy Father', and another with the less snappy, but still papal-friendly, 'On this rock I will build my Church'.
More unpredictable was 'We [heart] you Papa more than beans on toast' held aloft by Niamh, a Catholic youth worker from North London. She was also wearing yellow and white papal wellington boots she had specially made, which I'm sure the Pope might like to swap for his red slippers.
Right next to 'Welcome Holy Father' was a black and white banner which sternly demanded, 'No Popery'. And surrounding it, an armada of smaller banners made by old school Protestants, who were there in force. A couple of burly men from their team, sporting 'Exalt Christ not the Pope' t-shirts, told me they were from Zion Baptist in Glasgow, a Calvinistic church which has picketed Marilyn Manson in the past, and has followed the Pope down to London for this protest.
There were times in the next hour when I thought fighting might break out as Catholic and Protestant banners jockeyed for position in front of the TV cameras.
I talked to a Catholic woman carrying a huge picture of Benedict XVI and she was angry and upset. Her lovely day out with Papa Benny was being spoiled. 'There are stupid people here shouting out that the Pope is a pedophile,' she told me.
The streets of London have never sounded more theological. I passed one man explaining the teaching of St Irenaeus of Lyons to a small group of listeners. And further along, while rough-looking men hawked Pope badges to passers-by ('Only a quid, mate'), a tall Catholic was in passionate conversation with a short Protestant about Matthew chapter 16, each man jabbing a finger at the other.
And all the while, as dusk fell, the Abbey stood huge, silent and pregnant with the people, priests, bishops, archbishops, cardinals, the Pope and the hard men of Vatican security inside. I was following the service on Twitter and was able to read the Pope's address. With typical Ratzinger pugnacity he asserted his primacy as the successor of St Peter and reminded his listeners that the ancient building once belonged to Rome.
We waited. It grew dark. The banners manoeuvred. The arguments raged. Grown men in plastic aprons shouted themselves hoarse for the Lord.
Then the west doors swung open and the Abbey bells rang out, like the most joyous wedding, and the crowd went up in a rapture. In fact, it felt so like a wedding that I half expected to see that odd couple, Rowan Williams and Joe Ratzinger, walk out hand in hand surrounded by clergy bridesmaids in lacy frocks… but that's another universe.
In short order, the Pope entered a dark car and his motorcade swept from the Abbey. I couldn't help noticing that the last vehicle was an ambulance. It was a Roman triumph, with mortality whispering in the ear.
Comment (1)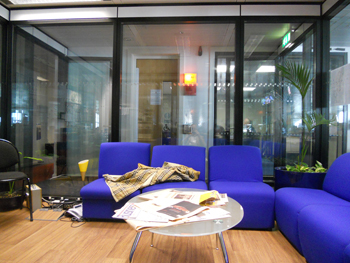 Twitter and Radio 4
Posted on 17 September 2010, 6:23
Above: the Green Room at BBC Radio 4 this afternoon.
An interesting day of new meets old media. The Pope landed in Edinburgh at 10.30am for the start of his state visit to Britain, and while the plane was still in the air I thought I'd tweet his arrival for the Ship of Fools feed. I've done this a couple of times now: posted a fast-running Twitter commentary as events unfold – but you have to be light on your feet to think up the jokes in time, and willing to risk looking stupid when some of them fall flat.
In all, I posted 19 tweets, taking us from the Pope's plane landing, to him meeting the Queen, and then on to lunch via a Popemobile dash through the packed streets of Edinburgh. The most successful were (these all got 10+ retweets)...
shipoffoolscom Dove One has touched down in Edinburgh after some tense moments with air traffic control, who do not speak Latin.
shipoffoolscom The Pope is meeting the lovely old Queen. Which must happen to him every 5 mins in the corridors of the Vatican.
shipoffoolscom Queen to Pope: 'And what do you do?'
shipoffoolscom Archbishop Rowan says through spokesman that he would have had a haircut and beard trim, but only does it for special occasions.
shipoffoolscom Papal lunch menu: Aperitif: Bloody Mary. Starter: Eggs Benedict/Ratzatouille. Main: Stake (rare nowadays) with Newman potatoes.
In the middle of all that intensity, I got a call from PM on Radio 4 (their late afternoon show) inviting me to go in and talk about the Ship of Fools papal tat. In the taxi on the way to the Beeb, I thought up a nice comedy scenario where the Pope jumps into the mosh pit at one of his masses to 'get with the faithful'. I didn't think I'd get a chance to use it, but Carolyn Quinn (interviewing) gave me the perfect in just before the end of the piece, and I took it with both hands.
PM interview – listen to it here.
Comment (0)



Gadgets for the Pope
Posted on 16 September 2010, 18:55
I was interviewed outside Waterloo station yesterday for Channel 4 about the Ship of Fools Picnic with the Pontiff feature, where we've collected religious merchandise for the Pope's visit. See above for the interview, and see the Weird and wonderful souvenirs piece on the Channel 4 website.
Comment (1)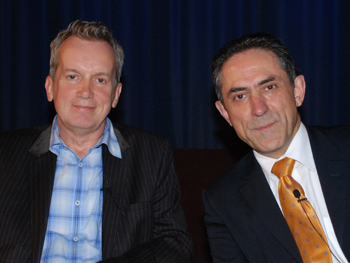 Celibate priests are cheap
Posted on 15 September 2010, 6:42
The Pope's cruising into town in a couple of days, so tonight saw a big debate over priestly celibacy in the Odeon West End. Appropriately, the event was sponsored by Christian Connection, the online experts in bringing Christians (but not Catholic priests) together for a little agape and probably a lot of eros.
We were first treated to a screening of the 2001 film, Conspiracy of Silence, in which a young Irish chap has to choose between his girl and his church, with subplots involving gay priests, HIV cover-ups, the church protecting its own at all costs, and a pantomime Bishop. There was a wonderful moment when a gay seminarian invited a buff fellow student up to his room with the words, 'Why don't you come along? We're studying Paul's second letter to the Thessalonians.'
Just when you think you've heard all the classic euphemisms, another one rushes up wanting to hump your leg.
Then the debate. On the pro-celibacy side was Bishop Malcolm McMahon of Nottingham, a darkly Da Vinciesque Jack Valero (communications supremo for Opus Dei UK) and comedian Frank Skinner. Jack and Frank kindly posed as I snapped them (above). On the anti side was an assured Helena Kennedy QC, the fragrant and witty Prof Tina Beattie, and film director John Deery, whose work we had just viewed.
Helena Kennedy opened the batting by saying that issues of gender, reproduction, sexual identity and celibacy are not about sex, but power. Similar to the issue of rape, it has taken us a long time to understand this distinction. 'The imposition of sexual abstinence is a mode of control over the interior lives of priests. It is inhuman and infantilising.'
She added that it is and always has been about the money: 'Celibate priests are cheap!' Huge laughter and cries of agreement from the audience. I was sitting in the front row with writer Simon Parke and he leaned over to say, 'That's the evening's soundbite.'
I was looking forward to hearing the pro-celibacy arguments, but Bishop Malcolm McMahon's opening statement was long, cloudy and didn't cut much mustard with a restless audience. His arguments were drawn from church tradition and obscure passages in the book of Hebrews. I'm sure they're convincing and potent among priests, but they sound very eccentric outside the cosy world of the presbytery.
He did say something I found sympathetic and striking about how priests 'configure themselves' to Christ the high priest, who is not clothed in splendid robes, but instead is naked, carrying nails and wearing a crown of thorns. He said celibacy was not about power, but sacrifice. Good point.
Thereafter, we had a lively debate, with plenty of audience clapping, jeering and ironic laughter, but sadly no peanut-throwing. At one point, a nun dressed in white robes and asking a question from the floor was heckled. Frank Skinner: 'You can't heckle a nun!'
One of my favourite observations was by Tina Beattie, in a fiery riposte to the opposite team who were saying that priests model themselves on the celibate Christ: 'It seems the defining characteristic of God incarnate is that he had a penis he didn't use.' When I twittered this (I was tweeting pretty much continuously throughout the debate) @davidmkeen shot back with 'must have had one heck of a bladder then'.
Most mysterious moment of the evening was by Jack Valero, who said, 'Chastity is like throwing yourself onto a hand grenade to save your friend.' Personally, I think that's taking Opus Dei-style self-mortification a bit far.
Like most people in the audience, I enjoyed Frank Skinner's contributions which were witty but also heartfelt and appealing. He said he supported celibacy because he wants the priest to be a holy man. 'I want someone who has the time in his life to follow the two basic rules: to love God and to love one another. Because we, the laity, don't have time to risk that level of holiness, I want him to be that.'
As the debate digressed into women and the church, he said, 'I think it's a disgrace we don't have women priests. At some point in the future the Pope, whoever she is, will be apologising to women just as the Vatican apologised to Galileo in 1992.'
Comment (1)



Holy Communion… in six tweets
Posted on 07 September 2010, 1:36
My piece about online communion has just been published on Ship of Fools. A shorter version was published in the Church Times a couple of weeks ago, and is now available on the Church Times website.
Revd Tim Ross, whose idea for a Twitter communion service sparked the whole thing off, gave me permission (thanks, Tim) to put his Twitter liturgy online, so here it is. The service was to be delivered in six tweets, and I assume there was to be a short gap of a few minutes between each tweet.
Father of us all, your people round the world join together in praising you. God of wonder, we marvel at your grace, power and love.
From the depths of loving grace you gave us Jesus, your Son, our Saviour. Dying, he brought us forgiveness. Rising, he brings us new life.
In this simple meal, we remember what Jesus shared with his followers and all that you share with us now in his name.
Fill us with your Spirit and through his power, bless these gifts of bread and wine to us.
The body of Christ was given for you. (Take bread) The blood of Christ was shed for you. (Take wine)
Thank you that you are our Manna and our Daily Bread. May our food be doing your will and your joy our source of strength.
Comment (0)




Talking online community
Posted on 31 August 2010, 4:20
Had a very enjoyable and sparky 90 minutes at the Online Community discussion at Greenbelt last night. I was one of the panel members, sitting alongside the journalist Andrew Brown, who edits Cif belief on the Guardian, and episcopal priest Karen Ward, who curates several online communities, including Anglimergent. Keeping us in order was Kester Brewin, founding member of Vaux whose new book Other was published in the summer. I didn't take any photos, but found the picture of Karen (above) on the Net.
Just a few personal highlights from the session, which is already available as an MP3 download from the Greenbelt site…
Talking about Anglimergent, Karen says the community requires members use their real names and give their real diocese and parish to prove they are genuine. 'I actually investigate everyone who joins. Once you get over the 1,000 mark you become a target for all sorts of malicious, false people joining, so now I have to moderate membership, and I can pretty much spot a fake in five seconds.'
I (of course) enjoyed Andrew's remark, when asked if there is an online community in Cif belief: 'I wouldn't remotely say that we had a community half as successful as Ship of Fools, for a number of reasons, but the simple reason is that we don't have a rule against crusading, in the way that they do, so that people feel perfectly able to come in, make the same point, take no notice and bugger off.'
Karen also runs an offline church, the Church of the Apostles, which uses online tools to facilitate community. When people can't come to their Vespers service on a Wednesday night, they tweet prayers with the church's hashtag, which are collected for the service and read out.
Kester asked us about the positive and negative impacts of social media on us. My negative was the incredible fragmentation of attention as you keep checking Facebook and Twitter every 15 minutes to see what's new, which Karen said could become addiction: playing Farmville all the time, or sleeping with your iPhone next to your ear.
But on the positive side, I talked about the way Facebook in particular connects us with friends who are geographically distant: 'Being able to have a casual laugh at something they've said, or make some clever comment – to have this frivolous contact, which you might have if you worked in an office with them, I like that a lot. When I see them next, which might be months or even a couple of years, there'll be a continuity of relationship happening on that level.'
Andrew responded: 'I was struck by what Simon said about it being like working in the office with someone, because I do spend quite a lot of time in the office with people, and it's amazing how I will be sitting two chairs down from someone and reading her twitterstream because she no longer talks to the people immediately around her.'
And he continued… 'The really big change that technology has brought about is how much easier it is to fall in love with people that you've never met. We live at a time when the physical and visual image of sexual attraction is everywhere, but online, people fall in love with each others' minds, and they find it easier to do so than ever before. And that's a very curious fact, and probably rather a good one.'
Comment (1)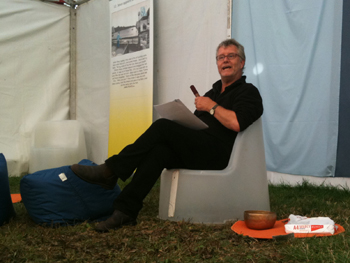 Blessed are those who carry
Posted on 29 August 2010, 5:31
Greenbelt festival, Cheltenham: At 7 this evening I went to a 15 min service of evening prayer. Greenbelt are trialling these services this year, although they've hidden them away in the corner of the youth area, so numbers are a bit low. Here's a mini Mystery Worshipper report…
Where: Youth Shelter, a medium-sized white tent. No groundsheet, just the Cheltenham turf.
The cast: Revd Malcolm Doney (seen above), Chaplain at All Hallows on the Wall, London.
How full? There were nine of us, including Malcolm. The other seven were all youngsters in their early teens.
Was your pew comfortable? We sat on cube-shaped bean bags, which were surprisingly comfy.
Did anything distract you? The festival main stage was just across the grass, and the act on stage were belting out 'My Girl'.
How long was the sermon? 4 minutes.
What was it about? There were two readings: a striking poem, 'Those who carry', by Polish poet Anna Kamieńska, and then Isaiah 53:2-9, 'Surely he hath borne our griefs and carried our sorrows…' Malcolm simply talked about how Jesus carried our burdens, and therefore knows how we feel with the burdens we carry. He closed with the two lines at the end of Kamieńska's poem: 'Blessed are those who carry / for they shall be lifted.'
Which part of the service was like heaven? We had a few minutes of silence, which Malcolm opened and closed by striking a bronze Tibetan singing bowl. I was able to open up a painful work problem I haven't been able to resolve yet, and just be with it, rather than worry over it.
How did it end? With a prayer: 'Night and day, free us from all fear, give us strength to survive, give us grace to be generous.' I left the service lighter and happier than when I went in… unusual for me and church these days.
Comment (1)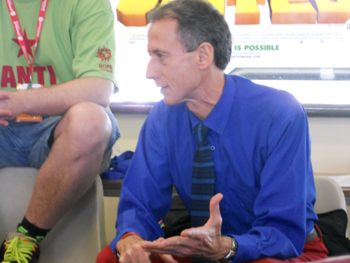 Peter Tatchell, the Pope and the Archbishop
Posted on 28 August 2010, 23:02
At the Greenbelt festival, I've just been at the press conference with Peter Tatchell, who's speaking here on the spread of homophobia in Africa, which in many cases is supported by the churches and underpinned by Christian proof-texting. In the conference he was asked about the Pope's state visit to Britain, which he is protesting at a public debate next week, and at a march and rally from Hyde Park Corner on the day the Pope arrives in Britain.
He said, 'Britain doesn't give state visits to the Grand Mufti of Mecca or the Chief Rabbi of Jerusalem, so why are we giving it to the Pope? Most of the events in his visit to the UK are pastoral or are about proselytising for the Catholic Church, so why should the taxpayer fund it? In addition, the Pope holds harsh, extreme and intolerant views on a range of moral subjects, including women's rights, gay equality and the use of condoms to prevent the spread of HIV.'
Asked if he would try to arrest the Pope, similar to the citizen's arrest he made on Robert Mugabe in 1999, he said, 'I don't think it's going to be possible, much as I would like to.'
I asked him if he was at all sympathetic to the dilemma of Rowan Williams in trying to maintain Anglican church unity over the issue of homosexuality. He flatly answered no.
He said, 'Rowan Williams is a lovely man, but he's deeply compromised. He fully supports gay equality and human rights for LGBT people in private, but hasn't got the courage to say so publicly. At the drop of a hat he will denounce Bishop Gene Robinson, but won't say a word about the persecution of gay people around the world by his fellow Christian leaders. He's gone to great lengths to reassure out-and-out homophobes such as Akinola and Orombi, and has criticised the appointment of gay bishops in the US.'
'He's been compromised by holding high office. What's the point of being Archbishop if you can't hold on to your beliefs?'
Comment (1)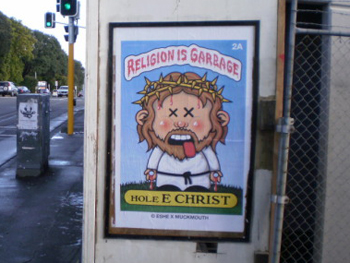 Religion is garbage
Posted on 26 August 2010, 23:50
A flyposting campaign is hitting the streets of Auckland in New Zealand this week with bad taste posters attacking Jesus, Muhammad, the Pope and Pentecostal 'bishop' Brian Tamaki. Under the headline 'Religion is garbage', the most incendiary poster shows a cartoon of Muhammad wearing a vest packed with explosives plus an alarm clock, with the slogan, 'Tick-tock Muhammad'.
The campaign is a collaboration between Muckmouth, a New Zealand skateboard magazine, and Eshe, a subversive clothing company inspired by 90s skate culture. Eshe's website is offering all four poster designs as t-shirts for $49.50 each, although none are available to buy yet.
A post from yesterday on the Eshe blog says, 'This started out as a poster project (which are going up now!), but due to demand we are going to release these designs on T-Shirt and our first skateboard line. Get on to it and send us your hate mail!' That's an invitation which will very likely be amply accepted.
The hackneyed lampoons of religion (surely they could have come up with jokes that haven't been done a million times before?) are matched by derivative graphics taken from the 1980s Garbage Pail Kids trading cards, which themselves were a parody of the Cabbage Patch Kids dolls.
No religious people seem to have made any comments I can find yet on the Net. Eshe say on their homepage: 'The only slaughtering we endorse, is the slaughtering of the metaphorical sacred cows.'
Comment (0)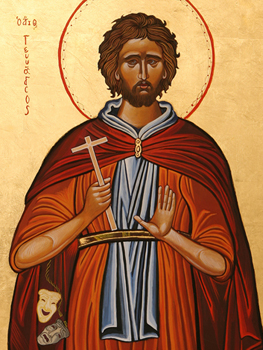 Heaven's comedian
Posted on 26 August 2010, 4:47
I hadn't heard of him before today, and alongside St Simeon the Holy Fool (who is the patron saint of Ship of Fools), I think St Genesius the Comedian is a good addition to the house of unlikely saints. His martyrdom is related in the medieval Acts of the Saints and it's highly likely to be pure legend, but it's an interesting story, nevertheless.
The story of Genesius is set in the time of the Roman Emperor Diocletian, who was behind the most severe of all the persecutions of Christians at the beginning of the 4th century AD. Genesius was the leader of a theatrical troupe, and hearing that the emperor was coming to town, prepared a comic satire against the Christians for his entertainment.
In the comedy, actors playing the part of a priest and an exorcist came to mock-baptise Genesius, but as he was washed with water, he had a vision. He saw a company of angels who read out his sins from a book, and then washed the book clean, turning his stage baptism into a real one. Genesius was converted on the spot and when he began to preach to the audience, the emperor, who had been laughing at the comedy, became enraged. Genesius was beaten and then killed.
The early church was mostly hostile to the theatre and circuses, and the story of Genesius can be seen as an attack on the theatre; but in a curious way it's redemptive, suggesting that even the mockery of faith can lead to the discovery of faith. St Genesius remains an important spiritual champion for actors, and one set of prayers I found today calls him 'heaven's comedian'. The modern icon shown above has the masks of comedy and tragedy tucked inside his cloak.
Here's a good article which includes a version of his story.
Comment (0)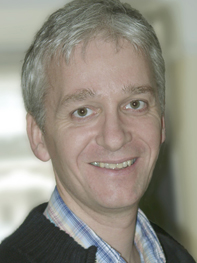 Communion on Twitter
Posted on 20 August 2010, 0:17
Writing my piece for the Church Times about the cancelled Twitter Communion, I talked with Rev Tim Ross (pictured above) on the phone about his thinking behind the project.
One of the questions I asked was whether Twitter was an appropriate medium for communion, which for me has always been a very reflective experience, while Twitter can be pretty noisy and fast-paced. I notice that Tim is currently following 1,945 people, which must make his feed quite busy.
He said, 'I find Twitter quite intimate, as many people have asked for prayer in response to what I've been posting.' His posts to date have been a mix of the Lord's Prayer in contemporary language, individual prayers, and a service of prayer for Christian unity and vision.
Tim told me he especially likes the SMS-like brevity of tweets, the instantaneous nature of Twitter and the around-the-globe audience you reach whenever you click the Tweet button. These qualities gave him the idea for attempting his communion service.
'We have to be careful about making communion too parochial,' he said. 'If we think it can only be expressed in a local body, that narrows our horizons. The teaching of Paul, that we are all one body, is about a deeper connectivity that goes around the world. The community of saints is bigger and broader than our geographical constraints.'
When I pointed out that the sense of community on Twitter is bound to be greatly diluted when compared to the average local church, he responded, 'You can take communion alongside people all the time in a local church without knowing who they are.'
That observation really does ring a bell for me. One constant I've noticed over the years of talking about online religion is that the opponents of virtual church demand much higher standards of community than you will ever find in a local congregation.
Comment (2)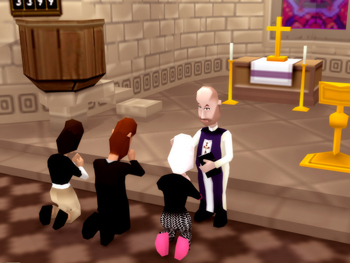 Pixellated bread, tweeted wine
Posted on 06 August 2010, 19:39
Last week, a Twitter communion service scheduled for 14 August was called off after the UK Methodist Church pulled the virtual plug. The service was the brainchild of Rev Tim Ross, a Methodist minister, and as far as I know would have been a first for Twitter.
Tim explained on his Twitter Communion website: 'Whilst I have not been absolutely forbidden to perform the Communion on Twitter, British Methodist Church authorities have strongly urged me to cancel it. The main reason for this, they say, is that it comes at difficult time, because the whole issue of performing services like Twitter Communion over the Internet is being re-examined by the Methodist Church.'
I'm writing a piece for the Church Times about virtual communion: mad, bad or fab? And including the current state of play on the subject in some of the online churches, including St Pixels, i-church and the Anglican Cathedral of Second Life. I'm collecting material for that over the next few days, so if you have a story to tell about online communion or virtual worship, or want to say what you think about the pros and cons, please comment below.
When we launched Church of Fools in 2004, we did think about installing a pool baptistery (as we'd already made a virtual swimming pool for The Ark), but decided we'd have enough to worry about in just doing 3D church – which proved to be right. Church of Fools was partly sponsored by the Methodist Church, so I'm especially interested to hear that they're now making cautious noises about online worship.
Picture: Church of Fools publicity shot
Comment (21)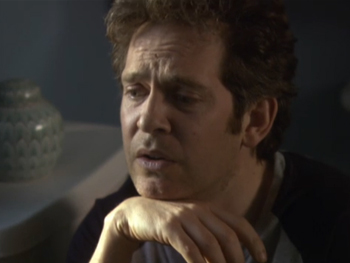 Rev works a sitcom miracle
Posted on 03 August 2010, 6:28
Some of the best moments of watching BBC Two's Rev the past few weeks have been the kitchen sink prayers, where we've eavesdropped on Rev Adam Smallbone's calm, interior conversation with God. Walking down the high street, washing the dishes, sitting on the loo, Adam asks God for a bigger congregation, for more energy in bed with his wife Alex, for protection for Colin who's in danger of getting a kicking, for strength to visit a lap-dancing club he's opposing, and a hundred other everyday concerns.
But in last night's series finale, Adam questions his whole vocation as a priest and falls into a dark crisis of faith. Lying flat out on the front pew of the empty church, his prayers become an interrogation of God: 'Why is the graveyard strewn with litter? Why do Nazis always live till they're 96? Why are there no more bumble bees? Why do African women get raped every day by boy soldiers going to get water for their starving village?'
And so Rev hurtles off course, out of the traditional territory of the sitcom, leaving behind the sunny uplands of Dibley, and dives into an ugly scene where his wife marches him, drunk and disorderly, out of a vicars and tarts party, and they both angrily tell each other to go forth and multiply. There wasn't a laugh in sight in the stunning final 10 minutes of the show, and yet it more than held together to give what I think was the best piece of religious television I've seen in years.
Adam regains his vocation not in an easy comic plot shift, but in a tough moment under pressure from an unsympathetic policeman. Unexpectedly, he recalls the words of Isaiah chapter 6 – 'Here I am, send me' – which were read at his ordination, and then prays at the bedside of a dying woman; scenes which provided an inspiring and spine-tingling sequence of television, for me at least. That Rev dared to attempt this sitcom miracle, and that it worked, shows how far the show has carried its growing audience, and how it has made us care for and believe in Adam and his flawed and faithful calling.
Comment (5)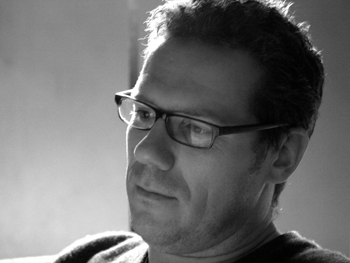 Rev and the revs
Posted on 02 August 2010, 14:41
Interviewed James Wood (above), the writer of Rev, on the phone on Saturday. He's also co-creator with Tom Hollander of the sitcom. I asked him about tonight's finale, and how the show's consultant vicars provided ideas for it.
SJ: There's a sort-of connection to the Mystery Worshipper in the final episode. What's that about?
JW: Well, the final episode is kick-started by Adam, the Rev, getting a bad review for his sermon from a website we've called Godslot. It's not Ship of Fools, I hasten to add, but it's 'an irreverent Christian website'. They give him minus one for his sermon.
Adam is devastated and it plunges him into a crisis about his vocation. I think it's the best episode by quite some way. It's quite dark, but also I think it's the funniest – they're probably linked – and the ending is quite moving.
When we were writing the epsiode, we knew we wanted our vicar to have a crisis. So we were trying to come up with things that might instigate that, and asked vicars what that might be. One of the vicars said, 'If my sermon got a bad review online, that would really annoy me.' And a certain number of vicars find the anonymous card which I think you guys leave really annoying.
SJ: Oh, good.
JW: They hate it. And I've given Alex a rant which wasn't 100 miles off the sort of thing I was hearing from some vicars. The people who didn't like it said, 'How dare they not declare their hand, not reveal who they are!'
The full interview is here on Ship of Fools. Tonight's episode of Rev is at 10pm on BBC Two.
Comment (0)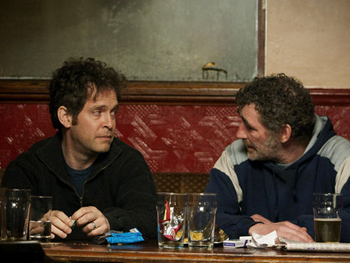 Rev
Posted on 30 July 2010, 15:55
Just found out that Rev, the BBC2 sitcom about a vicar running a shambolically run-down east London church, which I've been enjoying far too much the past few weeks, is about to reference the Mystery Worshipper. This coming Monday night's episode, the season finale, features Adam (the vicar) having a crisis of faith when one of his sermons gets a bad review on an irreverent Christian website. Which sounds familiar.
I think Rev has been a breakthrough series in the way its humour treats religion sympathetically and on its own terms. I've especially loved the kitchen sink prayers, which are gloriously everyday, the shared smokes with Colin ('hello, vicarage') and the serpentine Archdeacon Robert. But for me the comedy is funny because it's so rooted in the reality of church as it is now. The huge, dilapidated 18th century building, the 60s box-built vicarage, the few people struggling through the hymns, the night time knock on the vicarage door by lost souls… they give it all poignancy and the laughter of recognition.
Hoping to interview James Wood, Rev's writer this afternoon, for Ship of Fools. So possibly more on this later.
Comment (6)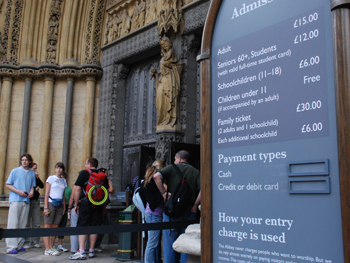 The Westminster Abbey paywall
Posted on 27 July 2010, 4:40
Theo Hobson wrote in the Guardian last week about how difficult it is these days to get into St Paul's Cathedral simply 'for religious reasons', rather than as a tourist, without incurring the Alton Towers-style entrance fee of £12.50. In fact, come to think of it, it probably costs less to go on Nemesis or Oblivion at Alton Towers than it does to get into St Paul's, and those rides must induce more immediate thoughts of eternity than Wren's masterpiece, at a fraction of the price.
St Paul's was an important sacred place for me when I was a student. I went there whenever I was near to wander, pray, sit spellbound beneath the dome, think, write and escape the noise of London. I went there for blessing and never left disappointed. But if I was a student today, the entrance fee, or the alternative of haggling with the security people to get in for free (Hobson successfully did this, but it's not everyone's skill) would basically close the cathedral to me as a spiritual house, which surely defeats the point of building it in the first place.
Down the road from St Paul's is Westminster Abbey, where the entrance fee is even higher (£15 per adult, £12 per student) and they have CCTV, which conjures up a control room full of clerics watching to make sure people cross themselves correctly. Only a few years ago it was possible to amble into the Abbey, using the same door as the Queen, without being asked, 'Is it cash or credit card?' at a turnstile. But the Abbey now has a paywall, just like The Times website. The days of free Abbey content are over. St Rupert of Murdoch could be their new patron saint.
A sign at the Great North Door sets out the rationale for the payment regime: Since the Crown, State and Church only give occasional grants, the cost of maintaining these old buildings has to come from visitors and tourists. That's one way of looking at possible solutions, but from a visitor's point of view the eyewatering prices seem to have diverted this historic place of worship from its religious purpose and sent it down the dead-end of financial survival. Its primary business now looks like tourism.
Last year, a Ship of Fools Mystery Worshipper with the nom de guerre of Cool Dude went to the 11.15am Sung Eucharist and experienced a bizarre non-welcome which must be unique in any English cathedral or abbey. The Mystery Worshipper wrote…
At the outer gate, a chap in a robe was telling tourists that the Abbey was closed… The large family group in front of me remonstrated, and as they eventually passed inside, the gatekeeper messaged on his police style walkie-talkie that four were 'coming up to pray'. Something in his tone of voice said he didn't believe them. I finally gained entrance along with some others who managed to convince the gatekeeper that we were there to attend the service.
But as we walked up the aisle (the service was about to start), a second robed person slammed the choir gate shut in our faces without a word of warning or explanation, raising a forbidding hand against us. Then a third robed person waved us to the nave seating, again without a word, as if he were waving motorists into parking spaces. Together these three gentlemen managed to convey the least friendly welcome I have ever received at a church service.
I emailed the Abbey press office at the time, asking if they would like to comment on this odd behaviour towards worshippers, and after some prompting, received a cut-and-paste reply: 'Westminster Abbey lays great emphasis on the welcome offered to worshippers and other visitors. All constructive comments are considered very carefully.'
I was in Westminster today, so sloped across to the Abbey in a spare half hour to see if I could get inside for a spot of quiet. At the main West Door was a sign on the railings directing me round the side to the paying entrance. But at the bottom of the sign, in smaller type, was the message: 'Please enter here for worship only.' Which is not exactly the wholehearted invitation to prayer and worship you might hope for outside a church. So I approached the man on duty at the door and asked him if I could go in to pray.
In all fairness, he was friendly and polite, which I wasn't expecting, but he firmly told me with a headmaster's glint in his eye that I must walk straight in to where the chairs were, pray there, and then come straight out again. Which is what I did, stopping only to buy and light a candle at the large icon of Christ. It was the first time I've been inside the beautiful old building since the pay scheme was put in place, and it was good to be back.
But it also felt uncomfortable. Was my route to and from the chairs being monitored by ecclesiastical bouncers? Did it look like I was praying enough? Had any member of staff noticed that I'd just spotted the memorial of Sir Isaac Newton and might be crossing the line between worship and tourism? An atmosphere of suspicion isn't good for prayer, or even for just sitting to draw breath and think.
I'm not sure I'll go back, as I'm not much of a fan of houses of worship which welcome people at the door with terms and conditions for entry.
Comment (0)



Organ 1 Bagpipes 0
Posted on 16 July 2010, 5:07
I've had an email from the son of the late Lawrence Sears, American organist and music critic, who observed a liturgical train wreck in the normally impeccable Washington Cathedral. His account of the event had been posted on the Ship of Fools bulletin boards, and read…
David McK. Williams's long anthem 'Twas in the year that King Uzziah died' rises to a climax, subsides to a hush, then rises again. Seems that on this occasion, an usher at the back of the nave assumed that after the first climax, the anthem had ended, and gave a group of bagpipers the cue to begin processing. So away they went, as the anthem built up again. The choristers anxiously turned their eyes to the pipers then back to the organist-choirmaster, wondering what was going to happen. Paul Callaway 'the mighty midget' was not a man to be deterred. He eventually hit the Trompette en Chamade on 25" of wind. Even the bagpipers could hear this, whereupon they broke ranks and retreated into a confused 'clump' at the crossing.
Thanks to Paul for emailing, and to Alogon, who posted the story on Ship of Fools.
Comment (0)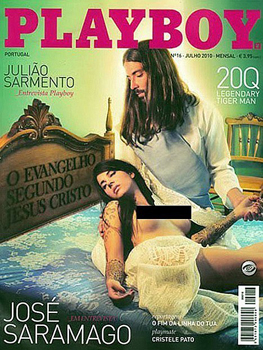 When low-grade offence offends
Posted on 14 July 2010, 5:19
The past week has been a pretty good time for images intended to shock religious people – and religious people have been performing their expected role faithfully.
The publishers of the Portuguese edition of Playboy put Jesus on this month's cover (above, with black strip to protect the identity of the female model, ha ha), and were sacked by Playboy USA for their trouble. Presumably, Hugh Hefner is worried that the image will damage sales of the venerable porn mag among fundamentalists, which must be considerable.
And in Moscow, the curators of Forbidden Art, an exhibition of satirical art pieces which other galleries refused, were fined 350,000 roubles (that's £7,500) after a two year trial supported by right-wing groups connected to the Russian Orthodox Church. The exhibition included a crucifixion with Lenin's head replacing that of Jesus, an icon of the Mother and Child filled with caviar, and Jesus next to the golden arches of McDonalds with the slogan, 'This is my body'.
Not great art, but also not great offence. And anyway, when did Christians start thinking they had the right to stop people offending them, or for 'blasphemy' to be treated as a criminal offence, instead of using events like this as a trigger to discussion about faith? Probably as far back as AD 313, when Constantine converted and the Roman Empire became 'Christian'.
It's alarming to see the Russian Orthodox Church with real power in its hands again, and it's a reminder of how ugly church can be. To see some of the Forbidden Art exhibits online, visit the Russia! blog.
Comment (1)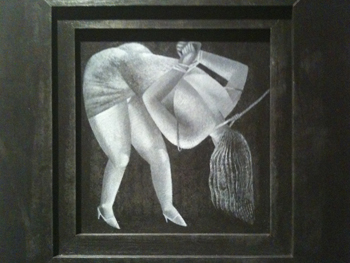 My art was strangely warmed
Posted on 23 June 2010, 19:14
A new exhibition opens in London today featuring highlights and new works from the Methodist collection of modern and contemporary art. I've never seen the Methodists and modern art in the same sentence before now, and one friend suggested the two go together 'like Evangelicals and literature'. So finding out about this collection is an unexpected surprise.
The collection, which includes more than 40 works, dates back to the early 60s when Methodist art collector John Gibbs started buying works for the church after noticing that many modern artists were working with biblical themes. Bits of the collection are frequently on tour in churches around the country. See here for the website of the collection.
The show is at Wallspace – 'a spiritual home for visual art' in the City church of All Hallows on the Wall – from now until 16 July. It includes paintings and prints from the 20th and 21st centuries, and all of them look perfectly at home in this 18th century sanctuary.
From the older school, I was most struck by Graham Sutherland's domestic icon of The deposition, with its reversed perspectives and an ochre sky standing in for the gold leaf of icons; and also by The crucifixion of Francis N Souza, with its expressive hands and midnight blue sky.
Among the more recent works, Mark Cazalet's Fool of God brings the colours of bloody death into a night-time garden. I've seen Jyoti Sahi's The Dalit Madonna before, in a small jpeg on the Net, but the sheer size and presence of the actual painting are something to experience.
The collection also commissions contemporary art, and a small example of that caught my eye before I left: Clive Hicks-Jenkins' study for Woman Taken in Adultery (which I took a snap of, see above). I was surprised by the fear and degradation of the image and realised those themes rarely come out of the story in John's Gospel. I hope Hicks-Jenkins keeps that oppressive feeling in his final version of the work for the collection.
Comment (1)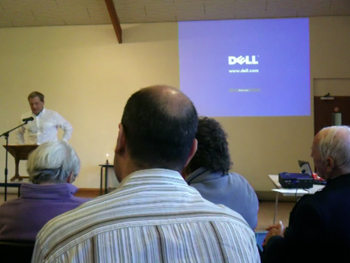 Worshipping Dell
Posted on 18 May 2010, 2:00
Found myself trapped in an evangelical church service yesterday. It's been a while, and I was fascinated (in a rubbernecking at a car crash sort of way) by the awfulness of the songs: dreary, repetitive tunes, content-free lyrics, and drop-shadow type over cheesy nature scenes on the projector. The Dell 'no signal' screen was like water in the desert.
Comment (0)