Category: pictures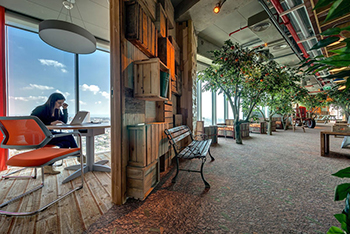 Google heaven
Posted on 02 April 2013, 23:48
Descriptions of heaven are really hard to come by. Angels sitting on clouds strumming harps, or St Peter in a comedy beard ticking off names in a big book next to the pearly gates – these are the best known versions of heaven from the world of cartoons.
But I realised today why the Bible is so coy about providing a description of the life hereafter. It struck me with the force of full-blown revelation as I scrolled through the newly-released pics of Google's new offices in Tel Aviv.
The offices include fruit trees, cafe seating made from motor scooters, a flume slide connecting floors, rafts of hanging flowers, stuffed armchairs, beach loungers, table football, wicker sofas, surfboards and pinball – and all with epic views from high above Tel Aviv. It's rather a male vision of office heaven, but I wouldn't complain about working there.
I think it's a mistake though for Google to post the pics. It can only spread general misery about everyone else's office arrangements. It's a bit like that old saying, 'When I heard about your amazing new job, a little part of me died.'
And maybe that's why the Good Book leaves off the glowing descriptions of heaven. Love, not envy, is what God aims for.
Comment (0)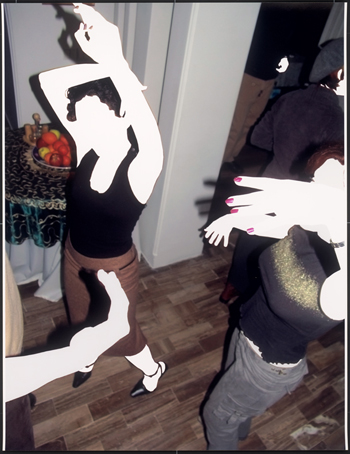 Light from the Middle East
Posted on 03 February 2013, 0:09
Accidentally saw an exhibition of photographs at the V&A this afternoon called Light from the Middle East. It brings together images by photographers in all the Middle Eastern countries, from North Africa to Central Asia, and opens up many of the issues facing people in this region which is so close to the West and yet so culturally distant.
Picking out just a few images which especially struck me…
Party, a series by Amirali Ghasemi (one image is shown above) blanks out the faces and flesh of people at unsanctioned private parties in Tehran. I love the graphic effect of that and the way it effortlessly evokes censorship.
Armed Innocence II by Nermine Hammam is of abashed young soldiers in Cairo's Tahrir Square during the January 2011 protests. Hammam noticed that the soldiers wanted to be anywhere but there, and has placed them in sugary-sweet, postcard-like fantasy settings.
And Gajar by Shadi Ghadirian is a series of stagey portraits in the style of studio shots from the 19th century – but the sitters hold jarringly modern objects: a Pepsi can, a stereo, a mountain bike. Each picture is a little satire on the dilemmas of Iranian women caught between tradition and modern life.
Other images explore Israeli watchtowers, Yemeni immigrant sailors in South Shields and a Kurdish combatant with knives and grenades… and a Bryan Adams t-shirt.
If you're in South Kensington and have half an hour free, this is a really rewarding exhibition to see.
Light from the Middle East is on until 7 April 2013. Admission is free.
Photo: Party, one of a series by Amirali Ghasemi
Comment (0)





Snapping a tall tree
Posted on 11 January 2013, 23:10
I was a bit late to this story, but just before Christmas, National Geographic announced that one of the world's tallest trees, the 247 foot 'President', a giant sequoia in Prairie Creek, California, has had its picture taken. It's a composite picture actually, stitched together from 126 separate shots.
I only mention it because I'd like to recommend one of the best books I've read recently called The Wild Trees, by Richard Preston. It's about one of the last unexplored places on earth – the forest canopy – and tells the often hair-raising story of how the huge trees of northern California were first climbed in the 1960s and 70s.
The story is poetic, quixotic and often dramatic, with people climbing and then falling out of trees and trees themselves being felled by high winds. Since reading it, the book's stayed with me and I still think about it.
Biologists were slow to realise that to study the canopy they would need climbing skills. According to one early climbing scientist: 'People said, "What do you mean, you're going up into the trees? There's nothing up there. That's just Tarzan and Jane stuff." She believed that she was on to something. "I felt like, Wow, here's this new place nobody's been to."'
I grew up climbing trees myself, so the book had extra appeal for me, but I recommend it for anyone who enjoys an unexpected and well-told story and wants to know more about one of the world's last frontiers.
Comment (3)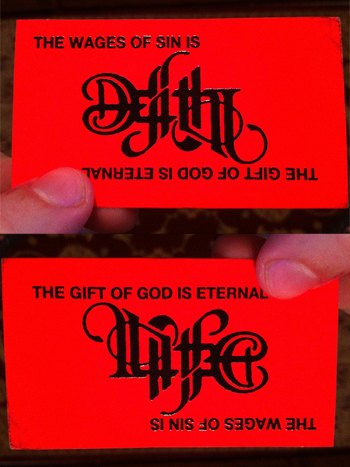 Day-glo believer
Posted on 04 December 2012, 19:14
I couldn't help being guiltily delighted by this evangelistic business card which I found on Reddit atheism this morning (thanks be unto rchayes89 for snapping and then posting it). In fact, I love it almost as much as I love my Barry Manilow record collection.
The card, which puts the cheese back into 'Jesus', is brilliant on so many levels. There's the day-glo red card and the budget heat printing which dollops shiny black ink on the surface – both so 1970s. But best of all is the reversible type in the middle, straight out of the School of Heavy Metal. It's tacky. It's cheap. It's in your face. What's not to love?
From the scuffed edges of the card, it looks like this has been given back a few times. Which is a shame. I'd endure a 20-minute ear-bashing from a street evangelist just to get one.
P.S. Just to be clear, that Barry Manilow reference was ironic, OK?
Comment (0)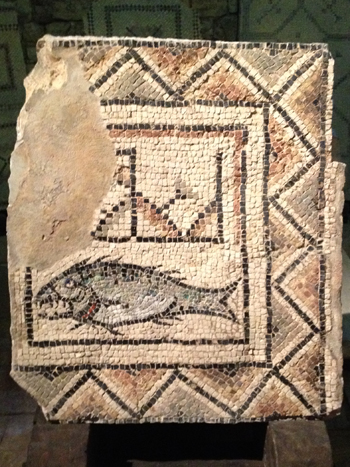 Born again fish?
Posted on 16 November 2012, 8:20
I went to Croatia a few weeks ago and visited the seaside town of Poreč (a name charmingly pronounced like 'porridge', but with a 'ch' sound at the end), which is home to a very ancient Christian church. Still standing is a modest, 6th century Roman basilica, which is quite plain inside except when you look to the front and see beautiful, glowing mosaics filling the semi-dome of the apse. In the centre of the mosaic is an image of Mary holding Jesus in her lap, with a smiling angel on either side. It is said to be the oldest surviving image of Mary in a western basilica.
But outside are even more wonders, because right next door to the basilica is the footprint of an earlier, 4th century church, which astonishingly still has its fine mosaic floor, open to the sky. The sea laps the shoreline less than 50 metres away.
Guard railings prevent you from actually walking on the floor (thank goodness), but you can easily see the weather-stained geometric shapes, flowers and foliage which fill the space. But there's something else in the floor, and it's a surprise. In the midst of all the patterns is a solitary fish. It's rather randomly placed, top right in a big square that's been sub-divided into a checkerboard of nine squares, three to a side. It's as if a fish fell out of a shopping bag onto a highly patterned Persian rug and was left there for no particular reason.
I knew the basilica had this fish mosaic, and it was the main reason I wanted to visit Poreč in the first place. The fish is one of the earliest symbols of the Christian faith, dating right back to the times when Christians were persecuted and needed codes and ciphers to communicate safely with each other.
The word for 'fish' is ichthus in Greek, and the individual Greek letters can each be used to start a word which then forms the sentence, 'Jesus Christ, Son of God, Saviour'. That's how you turn an ordinary fish into a discreet little confession of faith. And of course this clever symbol has stood the test of time. You can buy cute versions of the same fish symbol and stick them on the back of your car to annoy the driver behind.
I was especially looking forward to seeing the fish of Poreč, because it was created in the same tumultuous century as the final persecution of the Christians, which was followed by the adoption of Christianity as the official religion of Rome. For that reason, this particular fish was made by men within living memory of the persecuted church, which gave birth to the symbol.
But two things took me by surprise. First, inside the basilica's museum, you can see a copy of the mosaic close up. And I just wasn't expecting to see a fish which looked so aggressive, with spines and needle-sharp teeth (see the picture above, or a bigger version here). The fish, after all, is meant to signify Christ himself. My wife Roey voiced what I was thinking: 'That can't be the ichthus fish because it looks so horrible!'
This made me think that maybe the leaflet we'd picked up at the ticket office, which described the mosaic as a 'Fish – Christian symbol', might be wrong. It could be that the fish was just a fish, part of the decoration of this ancient Christian building, which also features fruit and vines, flowers and leaves, without each detail being deeply symbolic.
The second surprise, though, was seeing the fish in the actual mosaic pavement, where it had been placed 17 centuries earlier. It is the only animal in the whole floor, and there it is, at the very front of the church. It simply stands out as something exceptional and eye-catching. As something significant.
Maybe it's just there because the merchant who paid for this stretch of mosaic was in the fish trade and wanted to be remembered. But the symbol had such resonance for the newly-liberated Christian community that it's hard to imagine it landed there on a tradesman's whim, stripped of its cherished history and hidden meaning.
In a fishing town like Poreč, the makers of ancient mosaics knew what fish looked like, and they drew them as they saw them in the market, teeth and all. The craftsman who made this fish also depicted the gills like a wound in the fish's side, using dark red stones.
I think this is a genuine ichthus – unlike the Disneyfied version seen today on a thousand bumper stickers.
See my Flickr gallery of the Euphrasian Basilica, Poreč.
Comment (2)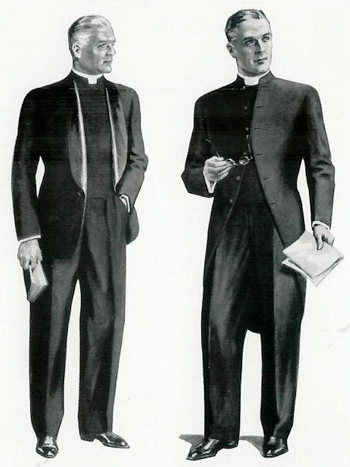 Clergy chic
Posted on 14 November 2012, 4:30
I love these illustrations from a clergyman's fashion catalogue published in 1966. In the year when the Beatles started recording Sgt. Pepper's Lonely Hearts Club Band and mini skirts were all the rage, clergy were being told, 'The clerical frock coat suit is still the correct wear for strictly formal occasions'. See scans of the pages here, including clergy raincoats, cardigans and dressing gowns.
They are from the May 1966 catalogue of clerical outfitters Vanheems. They were scanned by Steve Goddard, whose uncle, Canon Sydney Goddard, had kept the catalogue since the 60s.
Comment (0)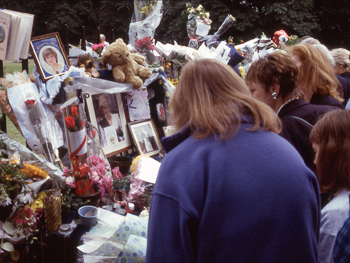 Come and look: mourning Diana
Posted on 31 August 2012, 5:36
I wrote this piece early in September 1997 for just me to read. Fifteen years on, I think it's a blog entry from the days before blogs. So here it is now. For the pictures I took of the scenes outside Kensington Palace, see my Flickr gallery, Mourning Diana, 1997.
4 September 1997
Tonight, Roey and I went down to Kensington Palace to see how the crowds are mourning the death of Princess Diana.
The first sign of the extraordinary is the traffic – our car forced to a proper funeral's speed as we creep past Kensington Gardens in search of a parking space. And then, once we are parked, the crowds. It's 11 o'clock at night, but the pavements are as busy as the last shopping day before Christmas – with one great difference: these crowds are quiet and subdued, sombre and thoughtful, and they hasten, like us, across the grass beneath the shadowed trees towards the Palace.
We pass a tree which is surrounded by flowers and candles and pictures of the Princess. Some of the bunches of flowers have been cradled between the branches of the tree, while others stand against the trunk. But ahead of us, an incredible scent – the smell of thousands and thousands of late summer flowers – calls us on. As we approach the great railings in front of the Palace, we see people bowing low to light candles, tenderly placing bunches of flowers and notes of love and affection on the ground or between the ironwork. I stop to look at this, but then Roey calls from a few feet away: 'Come and look…'
What I see next takes my breath away. None of the press pictures had prepared me for this. Roey is standing with hundreds of others at the edge of a crowd barrier which surrounds the Palace gates. At their feet is a sea of flowers, an ocean of petals, sweeping across the grass in front of the Palace, lapping up against the railings, waves and waves of flowers in their wrappers, each with a card, or a piece of paper, or a loved photograph, and on them written tiny notes, or scraps of poetry, or longer tributes… And here and there is a teddy bear, a pink bow around its neck, or a flickering candle, or a child's coloured drawing, or a balloon clinging to the railings.
And the people just stand there, young and old, parents carrying tiny children, older couples, groups of young people, gazing silently on this sight which they have never ever seen in their lives before. They stand before this great offering and outpouring of love for someone who never knew that this was how they felt, because they never knew it themselves, until now. And as I stand there, trying to understand what my eyes are seeing, I think: if flowers and tears and love could ever bring someone back from the dead, then this is where it would happen.
Beyond the gates are the darkened windows of Kensington Palace, the black trees, the cloudy sky, and a light breeze lifts a few of the flower wrappers.
I lean on the railings, numbed by this display of grief, and a note at my feet catches my eye. 'Forever our Queen of Hearts'. And it is only the first. We walk around the edge of the vast crowd and find the queue of people standing in line waiting to add their flowers to the great sea of colour and scent, two policemen gently directing them.
And here we find other trees surrounded by flickering candles and with flowers peeping from between their branches, and around them are people tending the candles and laying down the flowers with great devotion and care. We discover park benches covered in lilies and roses and irises. We see playing cards – the Queen of Hearts – pinned to bouquets, the simple word 'Diana' written across their top edge. We walk along an ancient brick wall, 100 metres at least, with a seamless carpet of flowers at its feet.
We stop before a shrine assembled on top of roadside waste bin, the icons of Diana beneath a canopy of cellophane, covered with a sprinkling of rain, the prayers on scraps of paper heartfelt, the candles and nightlights winking as religiously as in any church. We see simple words: 'Diana, we miss you'... And beautiful words: 'A light has been snatched from this world to shine more brightly in the next'... And words which are extravagant in grief: 'You should have been Queen of England, but now you are a Queen in Heaven…'
And as we read some of these, we cry. And as we read others, we are amazed. And as we cry, we walk, walking across the peaceful grass in this place of flowers and tears, in this place of stunning emotion, in this place where English grief finds such unexpectedly beautiful expression.
Comment (0)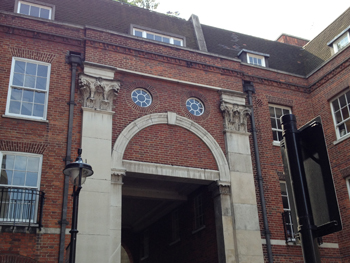 Unhappy arch
Posted on 17 August 2012, 4:16
Saw this on Sunday right next to the inns of court in London. This is what happens when you spend too much time with barristers and lawyers. For more found faces, see my collection on Pinterest.
Comment (0)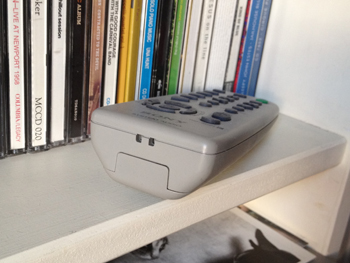 Cheer up, it might never happen
Posted on 28 March 2012, 2:46
It doesn't help your mood when your Sony remote is sitting on a nearby shelf looking mightily pissed off. It's been glaring at me for a few weeks now, so I've decided to turn it round.
I've started collecting these random faces on a Pinterest board, Faces I've seen. It's an example of pareidolia.
Comment (0)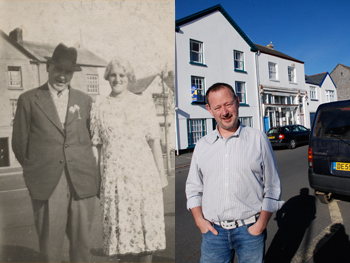 My grandparents and me
Posted on 29 October 2011, 4:47
I was accidentally introduced to the Devon boatbuilding town of Appledore 10 years ago, because a friend has a holiday place nearby. We've been coming here for holidays ever since. It was only this year, after my Mum died, that I found a photograph (left above) she had taken of her parents, Tom and Eveline, on their own Appledore holiday back in August 1941. I've walked past the place where they're standing without ever knowing its significance.
The buildings seen in the background of the photograph are still there, on Appledore Quay, looking straight out onto the estuary of the River Torridge as it flows briskly into the sea. This morning, in bright sunshine, Roey and I went there to take the above right picture of me on the same spot, 70 years after my Mum took her snapshot. (I've posted the picture at a bigger size on Flickr.)
I never knew my grandfather, as he died in 1949. It's a shame, as he drove steam engines, which would automatically have made him a childhood hero for me. I did know my grandmother, though, as she lived until I was 11. She and Tom were close all their lives, as I think the picture shows, but now they are gone, and my Mum is also gone, so the only thing which remains from this tiny fragment of time is the image my Mum captured in the flicker of a camera's eye.
It's curious what you discover when you do something like this. Like my grandparents, I discovered how bright the sunlight is on Appledore Quay on a clear morning. Tom had sensibly brought a trilby with a pulled-down brim so he wouldn't have to squint into the sun as my grandmother and I did.
But also, looking at the different directions of our shadows, it's clear that Tom and Eveline got up much earlier than I did this morning, as the sun in their faces is from almost due east. It looks like they had just turned out of their bed and breakfast for an early morning stroll along the quay. I like the way the picture yields its secrets to those who search for them. It adds depth to an image which could so easily lose its meaning.
Comment (4)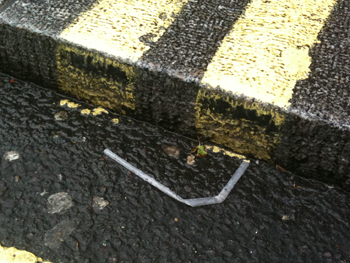 Kerb face
Posted on 15 September 2011, 23:20
Exiting the tube in London last Sunday I caught sight of this smirking face in the kerb as I crossed the street. The unexpected faces I sometimes see seem to be enjoying a secret joke… maybe the universe is a friendly place after all.
Comment (0)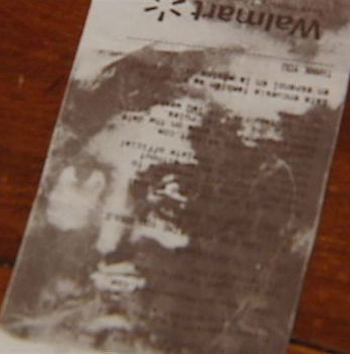 Jesus shops at Walmart
Posted on 26 July 2011, 9:07
A South Carolina couple, Jacob and Gentry, went shopping in Walmart for pictures a couple of weeks ago. They found a picture which made headlines around the world, but it wasn't one of the ones they bought in the store. Because a few days later, as Jacob was walking out of his kitchen, the Walmart receipt, lying on the floor, caught his eye. It had strange, dark markings on it.
'It was like it was looking at me,' he said. 'The more I looked at it, the more it looked like Jesus.'
Stories of Jesus appearing on household objects are two a penny on the Net. It's a rare month when Our Lord isn't turning up on a tortilla or a cow's udder somewhere. Such reports trigger a torrent of comic tweets, as well as punning headlines in newspapers. One appearance of Jesus in a British steak and kidney pie produced an inspired headline in The Sun newspaper: 'Jesus Crust!'
Curiously, spontaneous images of Christ have a long history. One early legend, dating back to the 6th century or maybe earlier, tells of how Jesus turned down an invitation to pay a visit to the King of Syria. He RSVP-ed by sending the king a cloth he had used to wipe his face. When the king opened it, the face of Jesus was printed on the fabric.
Art historians say legends such as this were developed to provide much needed theological support for the explosive growth in popular images of Jesus, Mary and the saints. Christians of the time were using mass produced holy images in highly superstitious ways, hanging them up in their homes and workshops as good luck charms. Those who championed this popular devotion promoted the legends in a brilliant (and ultimately successful) piece of PR, saying that images were ok because they originated in a miracle of Jesus himself.
With all due respect to Jacob and Gentry, Christians who get excited about God performing a conjuring trick with a Walmart receipt are also perilously close to crossing the line between miracle and magic.
One of the questions always raised by stories such as this is why a stain looking like a man with a beard should always be identified in the media as Jesus? People posting comments on blogs and Twitter over the past week said they saw Charles Manson, Josef Stalin or Rasputin, rather than Jesus. 'Even a blind person can see that this is Osama Bin Laden,' said a commenter called gotjapanka on YouTube.
But Christianity has form in this area. Stories of plaster saints which weep and bleed – and even wink or lactate – are still quite common, and although they can also occur in Hinduism, for example, it is the Catholic stories which are strong in Western folk memory.
Even though Christians brought up on Monty Python are able to laugh at reports of Jesus and Mary appearing on a pizza near you, I think many believers are slightly beguiled by the stories almost to the point of wishing they were true. There are good reasons for this.
Firstly, these visitations are invariably tacky. I'm thinking of the toasted cheese sandwich which looked vaguely like the Virgin Mary and which ended up being bought by an online casino for $28,000. And also the Jesus-shaped shadow cast by a tree on a caravan park fence in Australia which caused the person who saw it to exclaim 'Jesus Christ!' – and not in a holy way.
These are tales of transcendence meeting trailer park. That is what makes them hugely entertaining, of course, but it also has a certain appeal to Christians, because holy things appearing in humble locations is what the faith of Jesus is all about.
Added to that, the images suggest God is breaking out of organised religion and into the grittiness of everyday life. One comment posted on Huffpost Comedy made a fair point when it said, 'God appeared to Moses as a burning bush, as a pillar of fire to the Israelites, as an angel to Abraham etc… and we get a Walmart receipt?'
Well, yes… but isn't that so New Testament? Jesus was born in a barn. So is it any surprise that he shops at Walmart?
If Jesus is going to appear anywhere today, then a pizza shop, supermarket or casino sound exactly right.
However, any Christian tempted to believe that God engages with us today via fuzzy images of a man with a beard should remember some of Jesus' last words to the first disciples. He told them to go into all the world. It is surely through flesh and blood human beings, rather than stains on checkout receipts, that Jesus touches the earth now.
Comment (0)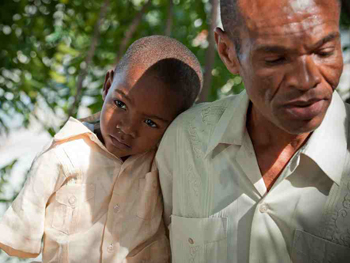 Haiti: beyond the rubble
Posted on 09 June 2011, 1:22
I went yesterday to the Tearfund photographic exhibition, Haiti: Beyond the Rubble, featuring pictures by Richard Hanson. It's showing at Central Hall Westminster until 30 June.
I've worked with Richard a lot over the past 15 years on photo shoots with several of my clients, and aside from his brilliant photographer's eye, it's his warmth and ability to connect with people which help to capture truth and depth of insight in his images.
The exhibition brings together Richard's photographs of people who survived the January 2010 earthquake in Haiti, and something of the stories of the people shown. The picture above, for example, shows three year-old Andy La Martiniere, who was playing happily with his brothers and sisters when the earthquake hit Port-au-Prince.
His right arm was trapped when a piece of concrete fell from the ceiling and pinned his body to the floor. Andy's arm was so badly damaged it had to be amputated. The family were helped by Tearfund, with a cash grant that went towards their medical expenses.
But his father Louison says their needs are still great. 'We have nothing at all. This time last year he had two arms. Just this morning I stared at him and got really sad.'
Richard spent a total of eight weeks in Haiti for Tearfund in three visits since the earthquake. It's been one of the most complex disasters there's ever been according to the UN, as 17 per cent of government people were killed and the reconstruction has been complicated.
The role of journalists and photographers often verged on the pastoral, Richard told me. 'Everybody had lost someone, so the problem was, who do you talk to? As journalists going in, there would be groups of maybe about 30 people around us, and people would be chipping in and telling their story. That was the first time they could talk to other people about what they had suffered.'
I asked him how the experience compared for shock with his other visits to countries which have suffered disasters.
'It's the weight of concrete that is most shocking. You can almost feel the weight of these buildings that have collapsed. The ones of three or four storeys which have come down into a height of about 10 feet. You just get a sense, standing next to them of how much force is involved. That lingers with you. Everywhere I went in Haiti I was always thinking, what is the way out of this room?'
Photo: Richard Hanson
Comment (2)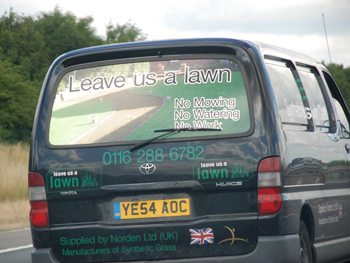 Puns 'r' us
Posted on 26 July 2010, 5:42
On the M40 yesterday, spotted this van belonging to a synthetic grass company. 'No mowing, no watering, no work.' Yeah, and no lawn really. Lovely headline, though.
Comment (0)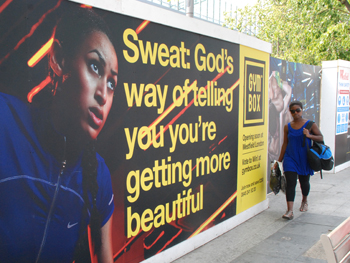 Street theology
Posted on 28 June 2010, 15:17
Seen outside Westfield, Shepherd's Bush, where a new gym is about to open. The statement seems a bit optimistic, but nice to see some theology from the Hallmark Cards school happening on the street.
Comment (0)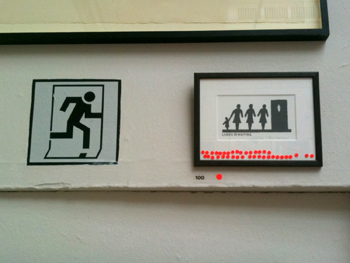 Picture perfect
Posted on 20 June 2010, 16:59
Went into London on Friday to see the Royal Academy summer show: 14 rooms filled with beautiful, intriguing, baffling and unexpected art. I didn't see anyone else laughing at it, but in the corner of one of the rooms, above an exit door, the picture hangers had placed Work 100 to perfectly align with the exit sign. The print, Ladies in Waiting by Tom Karen, shows three symbol women waiting in line to use a female loo, and judging by the red dots, 38 copies of the £110 work had already been sold. No red dot next to the exit sign, though.
Comment (1)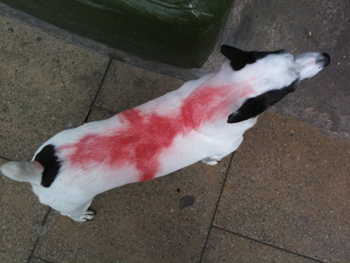 Cry dog for England and St George
Posted on 11 June 2010, 5:17
In Berwick upon Tweed today, which is perhaps the country's most famous border town, it having switched from being English to Scottish at different times in its history. I was wondering whether the town feels any ambivalence about supporting England in the World Cup, but after looking down and seeing this patriotic Jack Russell on the pavement, I see I needn't have worried.
Comment (1)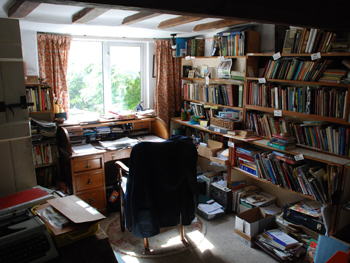 Where we write
Posted on 02 June 2010, 5:43
People who write usually have a room where they work, although I have at least one friend who prefers to write in cafés. This is my father-in-law's study, in a Warwickshire country cottage, filled with cosy, booklined shelves, pinned-up pictures, and piles of paper in a chaotic but probably quite logical filing system arranged on the carpet.
The room has a lovely, quiet quality, even though it looks out onto a main road, and it's the centre of operations for my father-in-law, who often sits in here bashing out letters on an old Remington typewriter, or packaging up snipped-out newspaper stories to post to friends, which is an endearing and lifelong habit of his.
Looking at the photo makes me want to photograph these private work rooms of the people I know, and ask them to tell me about them.
Comment (1)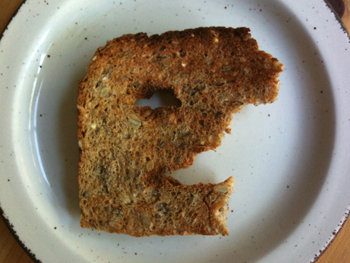 Breakfast revelation
Posted on 24 May 2010, 14:18
It's what was left over from breakfast this morning. I know these things are meant to be Jesus, but I think it's a profile view of Elvis with a huge quiff. Either way, it's now in the freezer waiting to be sold for a fortune on eBay.
Comment (1)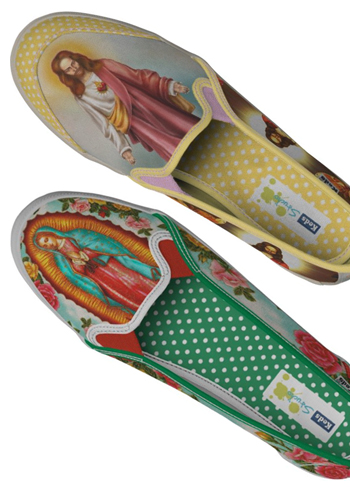 Sacred sneakers
Posted on 20 May 2010, 14:49
Summer's coming, so don't you think now's a great time to get some deck shoes with Jesus and Mary printed on them? Me neither. Thanks anyway to Angel Wrestler for emailing to point out Zazzle's new product line, Crucifix Shoes, sporting Christian images on canvas sneakers. The full range includes Madonnas, stained glass, crowns of thorns and angels. We're going to be featuring this on Ship of Fools' Gadgets for God pages soon, so this is just a sneak (ha ha) preview.
Comment (0)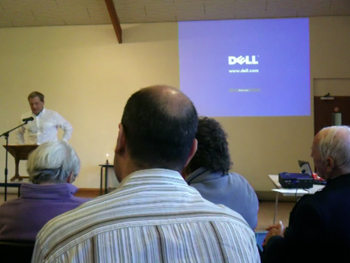 Worshipping Dell
Posted on 18 May 2010, 2:00
Found myself trapped in an evangelical church service yesterday. It's been a while, and I was fascinated (in a rubbernecking at a car crash sort of way) by the awfulness of the songs: dreary, repetitive tunes, content-free lyrics, and drop-shadow type over cheesy nature scenes on the projector. The Dell 'no signal' screen was like water in the desert.
Comment (0)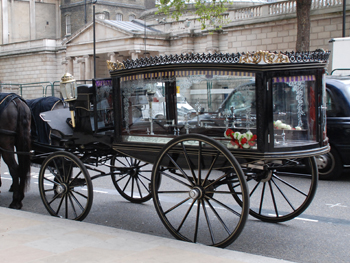 Death on Whitehall
Posted on 12 May 2010, 5:11
I was in London for lunch anyway today and couldn't resist walking down to Westminster to smell the transfer of power. At the top of Whitehall I ran into this Victorian horse-drawn hearse parked up on the side of the road. Can't imagine why it was there on standby.
Comment (0)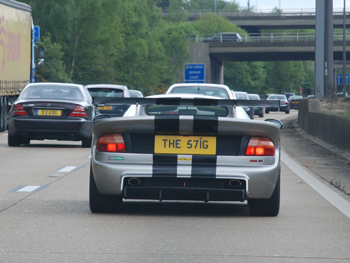 M25 racer
Posted on 09 May 2010, 20:46
Spotted on the M25 this afternoon, moving at a sluggish 80mph. Couldn't see if the driver was a Darth Vader lookalike.
Comment (0)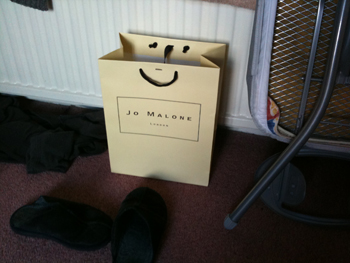 Surprised by bag
Posted on 06 May 2010, 1:50
Struggling to make the bed a few days ago, I suddenly noticed someone watching my efforts with amusement. I know the human brain is programmed to pick out faces quickly from random patterns, but even so, I couldn't help laughing when I spotted this one.
Comment (0)