Category: poetry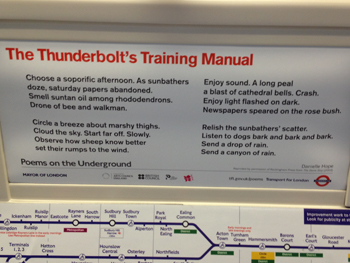 The Thunderbolt's Training Manual
Posted on 06 June 2012, 15:47
On the way into London on Sunday, under skies promising copious rain, I sat opposite this poem on the tube. To see the poem at a decent size, I've also posted it on Flickr. I always look for and enjoy the Poems on the Underground series, which take the place of the regular ads, and I've posted about one of the poems before.
I love the final 'drop' and 'canyon' lines… every deluge starts with a single, pregnant drop of rain landing on your face.
Comment (0)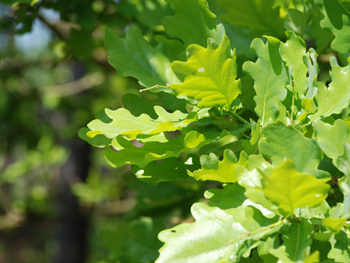 May morning
Posted on 23 May 2012, 0:03
if you have ears to hear
listen on this May morning
in this moment
in this instant of a moment
in an atom of time
listen
life is calling to you from the branch of a tree
life is hidden in a mystery of green leaves
but its sharp song flies to your ears
urgent with hunger and desire
tune your ears
turn your face to the song
attend to the moment
open the valves of your heart
while the song flies
while the tiny tongue flutters in the bright beak
while the holy particles of time still flow
if you have ears to hear
listen with all the breath in your lungs
listen with all the joy in your veins
listen with all the love you have
before the atom splits
and the instant is lost
and the singer is silent
and the song is gone
listen
before your song is done
Comment (0)



lament from a rock
Posted on 18 January 2011, 6:45
if they have eyes to see
and telescopes powerful enough
and know morse code
those aliens on a lonely rock
circling alpha centauri
four light years distant
they might see my solitary torch
dot-dot-dashing into the night sky
sending pinprick messages into space
and you, now,
you I could always raise
by email or phone
you who have gone away forever
without warning, without a sign
never to be raised again
will you think on me
will you hear my words
will you taste my tears
I'm sure you will
just as surely as those aliens
on their lonely rock
notice me on mine
For a friend who died on 30th December
Comment (2)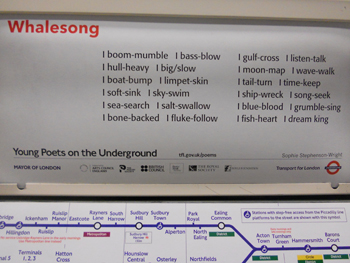 Whalesong
Posted on 17 November 2010, 7:26
On the Piccadilly Line today, rattling into London, I was about to settle into a book when my eye caught a poem where an advert should be. It was a beautiful and slow piece called Whalesong and is by Sophie Stephenson-Wright, one of three teenage poets who won a Poetry Society competition. Their three poems are now showing across the tube system.
Over 24 years of being crushed up against my fellow Londoners on the tube, the Poems on the Underground project (which began in 1986) has often given me a little window, with fresh air and light blowing through it, even though I'm deep underground at the time. At their best, the short poems create space for thought and wonder, or just for comedy and admiration.
Read more about the Young Poets on the Underground, and/or buy a copy of the just-out paperback of Best Poems on the Underground, which is the 2010 collection.
Comment (6)