Category: Bible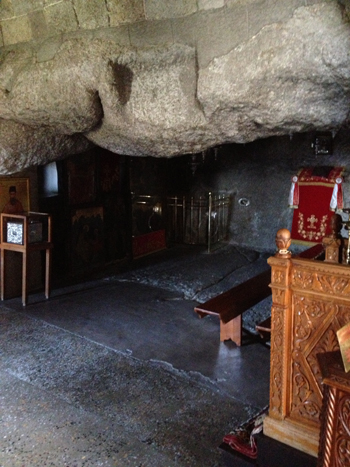 Heaven open on Holy Patmos
Posted on 02 May 2013, 3:49
Seven churches: Intro Pergamum Thyatira Smyrna Laodicea Philadelphia Sardis Ephesus Patmos
My sets of pics for this post: Patmos
Leaning against the ferry rail, the black water of the Aegean slid past below me, lit by the full moon high above. I saw dimly a small island shaped like a flat pyramid, darkly mysterious, as we sailed past. I leaned out and far ahead in the night were tiny lights – the lights of houses on the island of Patmos. It was 37 minutes past midnight and the words of John's Apocalypse came into my head…
After this I looked, and, behold, a door was opened in heaven: and the first voice which I heard was as it were of a trumpet talking with me; which said, Come up hither, and I will show thee things which must be hereafter. And immediately I was in the spirit…
John, the author of the letters to the seven churches, was exiled here for his faith in the 1st century, and now, 2,000 years later, my father and I were arriving to complete our journey to this place where heaven was opened.
After our boat docked, we walked through sleeping streets pulling our cases on wheels. The hotel reception was closed, but five keys were on the counter with names sellotaped to them… none of them ours. So we took two at random and bedded down for the night.
I woke after an hour or two from a dream in which hundreds of people were walking up the street to our hotel, dragging their cases, the hundreds of rolling wheels filling the island with a great roaring noise, and all the people inexorably marching to claim the room they had booked and I had stolen.
Awake in the dark, it felt like a updated scene from the Revelation, with the Beast and the Whore of Babylon checking in their luggage. This island has something spookily spiritual about it.
Next morning, we walked down to the port town, Skala, which curls around a bay lapped by deep, transparent blue water. The sun was shining madly.
The town is all restaurants patrolled by cats, craft shops stocked with sponges and shells, narrow streets revealing whitewashed, domed churches, Greek men hurtling by on motorbikes, Orthodox priests flapping or pausing to pinch the cheek of a child, shop windows full of icons, fruit sellers at the harbour, men busy doing nothing at a taxi rank.
Over coffee at a streetside café we got talking to the owner and complimented him on the island. 'It's a beautiful place,' I told him.
'Yes,' he agreed. And then with hardly a hint of smile: 'But it is also a holy place.'
High over the town on a hill is the Monastery of St John the Theologian. Late morning a taxi bore us up a winding road through pine trees, past a stonemason's yard with signs outside advertising petra and marmara (stone and marble), until we reached the Cave of the Apocalypse, below the monastery.
This is where the exiled St John received his Apocalypse, according to local tradition. And it is where our seven churches pilgrimage was completed.
It is 40 steep steps down to the cave and my father is 85, but he's also intrepid and we made it down arm in arm almost without a pause. Over the doorway before you enter the cave is a bright icon of St John in red robes holding a pen in one hand while a pen holder is under his other arm. The book he holds is open at a page full of Greek text which reads: 'In the beginning was the word…'
We stepped through the doorway and into the place where that word was alarmingly revealed. Although an Orthodox chapel has been added to the front of the cave, the powerful forms of the bare rock on your right are what immediately command your attention. The entrance to the cave is low, while the roof rises behind it, reminding me of a huge fireplace, which seems right. Holy fire touched down here.
In a deep recess is a place of prayer, marked by red velvet draped over the rock and hanging silver oil lamps above. The cave reminds me of the prophet Elijah in the Old Testament, who stood in the mouth of another cave and experienced earthquake, wind and fire, but found God instead in a still small voice. St John's writhing visions seem to be the reverse of Elijah. They have nothing of the still small voice, but all of the earthquake, wind and fire.
And yet the atmosphere in the cave was quiet and expectant. We were there entirely on our own, which I think must be quite unusual.
A small window shows the view from the mouth of the cave. Below are the trees, fields, hills and bays of Patmos, and then the sea, and then the eastern sky. As he sat here, St John looked out towards the faraway seven churches of Asia Minor.
I sat with my father on a wooden bench and we prayed together. The cave has a beautiful acoustic. It is a place where the door of heaven opened for St John like the door of a furnace. In a small way, it opened for us too, but breathed only peace at the end of a journey.
Comment (0)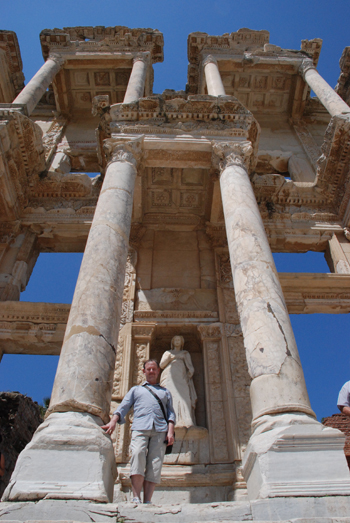 A wonder on every corner of Ephesus
Posted on 27 April 2013, 2:41
Seven churches: Intro Pergamum Thyatira Smyrna Laodicea Philadelphia Sardis Ephesus Patmos
My sets of pics for this post: Basilica of St John, Ephesus city
After a lifetime of familiarity with the Bible, it's a strange thing to see biblical names on a modern road sign. But that's what I'm seeing now as I look out the car window: a blue sign above a roundabout tells us that Efes (Ephesus) is 3km to the right, just a chariot dash.
Ephesus was one of the great cities of the ancient world, famous in its time, but more than that, it's one the 'ians' and therefore famous ever since and for ever. Galatians, Philippians, Colossians, Corinthians, Ephesians… these 'ians' of 1,000 indifferently read lessons in church have made me very curious about visiting this city.
There are two letters to the Ephesians, of course: the long one which comes after Galatians, and the shorter one by John in his Apocalypse.
We started at the (ruined, naturally) 6th century basilica of St John in nearby Selçuk, which is an inspired choice as from the west end of the church you get an angel's eye view of the geography of this place: the surrounding hills, the broad, fertile valley between them which ends in the distant sea, the small hill on the left behind which Ephesus is hidden.
By tradition, the church is the final resting place of St John and a white marble slab laid on the floor of the chancel, guarded by four columns, is the modern memorial of that.
In the church is an ancient stone baptistery which any Baptist church would be proud to have. It's set in the floor with steps leading down one side into a small, circular pool, and then steps up the other side. Next to it is a square slot cut into the marble floor which archaeologists think was once filled with oil for anointing the baptized Christians.
Since it's such an old baptistery I wonder if they followed the tradition of the early church by giving the newly-baptized milk and honey as they ascended from the pool: a sign of passing through the waters of Jordan and entering the promised land.
By the time we reached Ephesus itself, the day was hot and the tourists were out in large numbers. We worked our way down from the top of the site. Once you're through the turnstiles, you're basically following the main street down through the old town, with education, entertainment and distraction along the way.
Within a couple of hundred metres in a variety of temples, statues and carvings we met Hermes with his winged shoes, Tyche the goddess of luck, Hercules out walking a lion and the hissing hairstyle of Medusa. We saw the numerous cats of Ephesus lounging on mosaic floors or draped over column capitals. We paused at the famous bogs of Ephesus, where wealthy men sat on a marble shelf punctuated by holes and a channel of running water at their feet served in place of loo roll.
We spent a while at the Library of Celsus, which surely boasts one of the most handsome facades of all classical architecture. Looking at the way the lintels on the columns swap places between the first and second storeys, I wondered if it had inspired MC Escher in his drawings of impossible buildings.
The library opened for reading in AD 100-ish and issued its last book just 170 years later when it was demolished by an earthquake. Its columns were raised again in the 1970s. Four statues stand beside the doors welcoming readers, and I loved seeing Sophia and Episteme (Wisdom and Knowledge) among them. The whole building reads like a homage to the beauty and improvement of reading.
It's easy to get classical overload here: the baths, the market, the fountains, the theatre, the advert for the bordello just up the street carved into the pavement. The house where Anthony and Cleopatra used to meet up. After a while your imagination collapses with the effort of trying to take in the idea that these things happened here, and that if you'd been here at the right time you'd have seen them happen before your eyes.
Visiting Ephesus wasn't a spiritual experience for me. Instead it was merely amazing, with a new wonder around every street corner.
I think this place is powerful in opening you up to the classical and pagan context for early Christianity. It helps you understand why the faith of the early Christians was the shape it was. Somehow, seeing the hills John, Paul and the other first believers saw, and walking in their streets under the heat of the Asia Minor sun, gets you under the skin of the letters to the seven churches and the episodes in the book of Acts.
Even though I don't know it for sure yet, I think visiting these churches will add a lot of width (and maybe even depth) when I read the texts of the New Testament.
Comment (5)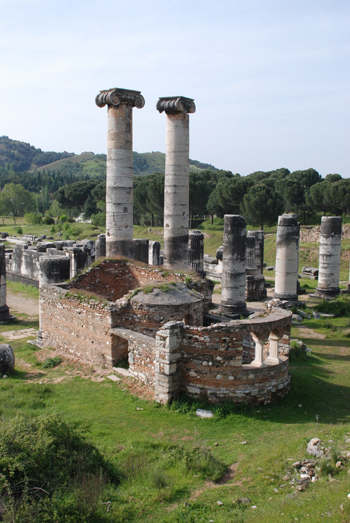 Demons and crosses in Sardis
Posted on 26 April 2013, 3:31
Seven churches: Intro Pergamum Thyatira Smyrna Laodicea Philadelphia Sardis Ephesus Patmos
My set of pics for this post: Sardis
Sardis, where John's fifth letter to the churches was sent, is now Sart, a little village lost in the folds of lumpy hills at the foot of Mt Tmolus, which in contrast is a brutal slab of stone. I just had to stop the car and stand on the side of the road to get a picture of the village and its mountain as they look so good together.
I also asked a couple of local women to let me take their picture as they were (I think) knitting, with their feet up on chairs. Their brightly coloured clothes and headscarves are worn by women throughout this region of Turkey.
Back in the day, Sardis had one of the biggest synagogues in the western world, and we called in there today. Its vast size and luxurious mosaics tell us that there must have been a very big Jewish population living here in the 4th century AD. That was a bit of a surprise when archaeologists unearthed the synagogue in the 1960s, as it had been assumed Judaism was declining at the time, with Christianity taking off.
My father just loved being here in this synagogue and could easily identify the different parts of the building, including the marble sanctuary where the scrolls of the Torah were kept. He used to be a church organist, but when he was a student, he answered a newspaper ad from a synagogue which was looking for an organist, as he needed the extra cash. They appointed him, and he's been there ever since, now over 60 years.
The place here which seized my imagination was the ruined Temple of Artemis, which is in a remote field outside town, overlooked by curious hills shaped like pointed hoods. The place is lonely, melancholy and haunted – and maybe a bit dark too.
The old temple and its columns are colossal and when you climb up onto the platform with its floor and steps infilled with grass, or walk among its avenues of broken, blackened columns, you get a real feeling for the occult potency of paganism. We were there in the late afternoon, with long shadows on the grass, which just adds to the feeling.
The worship of Artemis eventually came to an end, of course, after hundreds of years. Who was the last priest here, and what were his feelings as he left the temple, or lay dying, knowing that he was the last of his line?
When the temple was abandoned, the local Christians in the 4th century still feared the old building, thinking it was inhabited by demons. They apparently carved crosses into it to break their power. I went on a search of the east doorway to see if I could find them. At first I found only bees, which have built thriving nests at this end of the building, but then, in the massive stone doorposts I found small, roughly carved crosses.
I also found a little, brick-built Byzantine church tacked onto the southeast corner of the temple (pictured above), perhaps for the same reason, to negate the power of the old religion and celebrate the power and joy of the resurrection.
This church, like the temple before it, is also a ruin. It's depressingly like finding the graveyards of two religions next to each other. The only religion in town is in the mosque. I can't find a church, congregation or gathering of any kind (Orthodox, Catholic, Armenian or Protestant) in modern-day Sart when I look on the Net.
'I know your deeds; you have a reputation of being alive, but you are dead. Wake up! Strengthen what remains and is about to die,' says Jesus in the letter to the church in Sardis. But nothing remains now.
I found some interesting stuff on the Net about the state of Christianity in Turkey: Christians in Today's Turkey (2012); The Armenian Weekly's List of Churches in Turkey (2011); Jesus in Turkey by Christianity Today (2008).
Comment (1)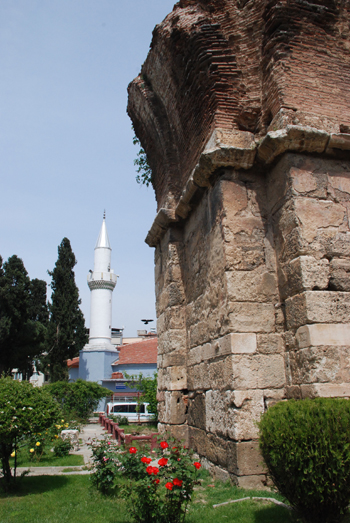 Wreck of faith in Philadelphia
Posted on 25 April 2013, 1:28
Seven churches: Intro Pergamum Thyatira Smyrna Laodicea Philadelphia Sardis Ephesus Patmos
My set of pics for this post: Philadelphia
There's not much left of Philadelphia, despite it having the most modern-sounding name of all the seven churches of the Apocalypse. All that remains is a piece of ground the size of a postage stamp, and on it the noble wreck of a gigantic church in a garden neatly tended with rose bushes and palm trees.
The church is dedicated to St John, in keeping with its spiritual link to the visionary exile of Patmos. Churches with the St John name keep cropping up on this tour, with branches of the franchise in Ephesus and Pergamum as well as here. The names of ancient churches say a lot, and these ones tell us that the St John connection was deeply felt and treasured.
We drove to Alaşehir (Philly's modern name) this afternoon after lunch outside Laodicea in a roadside restaurant the size of a palace, with its own luxury swimming pool. We luckily arrived just before a couple of coachloads of Japanese tourists debouched into the restaurant and began raiding the vast buffet of delicious Turkish food. These restaurants are definitely the way to go if you're ever travelling in Turkey.
Ninety minutes of driving later and we pulled up at the St John's postage stamp. It's set in a sleepy neighbourhood of houses, trees, birdsong, men sitting out on the pavement talking and one or two shops. The little blue mosque opposite the church gate has a minaret that looks like Thunderbird One.
Beyond the gate, three massive piers which once marked the great church's crossing erupt from the ground and tower over the garden, while only the footprint of the fourth pier remains in a great hole five or six metres deep. The piers were originally lined with slim slabs of fine marble, but now their naked Byzantine brickwork provides a nesting place for birds.
In a little office at the back of the site, Umit, a tall, handsome gentleman, the guardian of the monument, sits at his desk enjoying a quiet smoke and a cup of mud-like Turkish coffee. He tells Seher, our guide, that before the separation of the Greek and Turkish populations in 1923, the Muslim and Christian families here lived happily together, and remarkably, that some Turkish people became Christians.
He directs us to gravestones in the gardens which witness to this. They were brought here from the local churches when the Greek families left and the churches were turned into mosques. One of them from 1890 has the surname Lokman in Greek lettering. 'It's a very Turkish name,' Seher tells me.
The sad exodus of the Greek population from their ancestral homes in Turkey to modern-day Greece marked the final full stop of the Christian mission to Asia Minor led by St Paul and St John in the 1st century.
'These are the words of the one who opens and nobody shuts, who shuts and nobody opens,' says Jesus in the letter to the Philadelphian church.
What does it mean when the most dynamic region of growth in the early church – this region of the seven churches – is shut with no possibility of opening 20 centuries later? What does it mean when the living faith of the Philadelphians ends up as a giant brick wreck in a garden?
I suddenly realise something obvious: every one of John's seven churches is now dead. But it feels most obvious here in Philadelphia. Thankfully, we leave before the call to prayer can bang in the final nail.
Comment (0)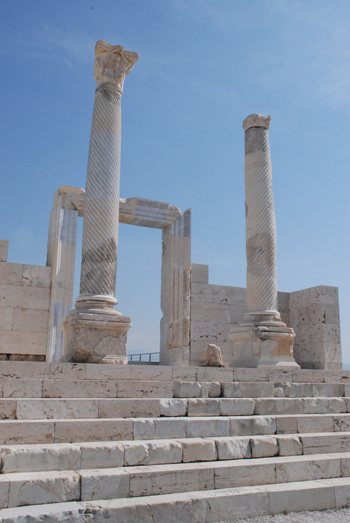 Hydraulic cranes of Laodicea
Posted on 24 April 2013, 2:54
Seven churches: Intro Pergamum Thyatira Smyrna Laodicea Philadelphia Sardis Ephesus Patmos
My set of pics for this post: Laodicea
Laodicea is a bad place to build a town. You wouldn't think so as you drive up the low ridge it sits on, overlooking the flat and fertile valley floor with distant snow-capped mountains floating magically above the nearer hills.
Today, as we pass between the stone towers of the eastern gate, we're surrounded by dense banks of spring flowers, the poppies the deepest red you could think of, and birdsong sweet and intense.
It must once have seemed a good idea to build here. The town is slap on the major east-west commercial road across Asia Minor and made itself rich in trade and banking just by putting itself in the right place.
The Laodiceans must have loved everything about their beautiful and prosperous setting – except for the earthquakes. Quakes visited the city in the 1st century reigns of the Emperors Augustus, Claudius and Nero, and that final one in the year 60 was a raze. Nothing was left standing. The city was rich enough to rebuild itself without outside aid, but it toppled again around the year 500 and then again around 600, after which they called it a day. There have been no Laodiceans in the 1,400 years since.
But one of the first things we see as we walk here today is a giant yellow hydraulic crane raising and positioning huge blocks of ancient stone. Sending one of those babies back in time would be an untold blessing to the ancient builders, I can't help thinking. Turkey is putting vast sums of money into excavating and reconstructing the ruins, with hundreds of workers onsite. Laodicea is rising one more time, until the next seismic twitch.
We walk up the main street, the sun beating down, the lizards flicking between stones. Either side of us is an avenue of free-standing columns, and behind them are the broken walls and doorways of the shops which once did a roaring trade here. The arrangement of columns and shops is very contemporary and I feel at home.
For some reason, my eyes are drawn to the marble threshold slabs in the doorways, worn to a polish by the feet of customers whose shopping days are long gone, with the deep ridge cut in the stone where the vanished shop door would have shut tight. In the back rooms grass grows where wine, olives, fabrics, furniture and fruit were once stored.
At the top end of town we turn left and the street ahead is choked with large chunks of marble. Broken columns, snapped lintels carved with flowers, smashed slabs inscribed in Greek and even one or two battered crosses lie where they fell on a day of doom centuries ago.
We've seen a lot of ancient rubble the past couple of days, but the sight of this ruined street is oddly moving. All the beauty, ingenuity, aspiration and dignity of the Laodiceans lies wrecked here, down to the last little chip of stone with a bird carved in it, ground to forgotten gravel by the earth-shaking machine of time. Looking at it, you know it is also about you, and how you and your all-important life and culture will look a couple of millennia from now.
Having said that, Laodicea remains impressive and beautiful, from its elegant and spacious forum to the two theatres carved into the hillsides and positioned just right so they get air-conditioning from the afternoon breezes. The town had water piped in from the hot springs of Hierapolis, 8km up the road – although it arrived lukewarm. We see the terracotta pipes running down many of the streets.
That plumbing detail is an abrupt reminder of John's letter to the Laodicean church, and it's the most memorable of all the seven letters. 'I know your works,' says Jesus in the letter. 'You aren't hot and you aren't cold. I wish you were one or the other, but instead you're lukewarm. That's why I'm going to vomit you out of my mouth!'
The ballsy language of that passage has always appealed to me. When you look at the wreck of the human home that was once Laodicea, you know that hard to hear, colourful language is sometimes the only thing that will do.
But actually, standing today in one of the empty streets, facing a doorway that was once someone's welcoming home, but behind which is now a waist-high bank of earth carpeted in poppies, it's the last section of John's letter I hear in my head. The words are also famous.
'I stand at your door and knock. If you hear my voice and open the door, I will come in and eat with you, and you with me.'
As long as we have doors to call our own, as long as we have ears to hear a voice, as long as we have love to open our hearts, God can come to us.
But only that long.
Comment (2)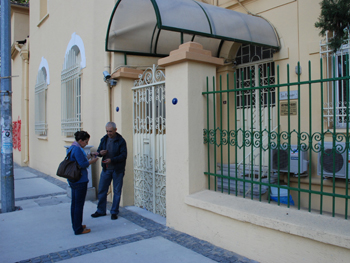 Smyrna on a dead speakerphone
Posted on 23 April 2013, 2:42
Seven churches: Intro Pergamum Thyatira Smyrna Laodicea Philadelphia Sardis Ephesus Patmos
My set of pics for this post: Smyrna
We knocked off two of the seven churches of the Apocalypse yesterday – Pergamum and Thyatira – but we've been staying in Izmir, which is ancient Smyrna, another of the churches. The trouble with Smyrna is that it was never abandoned to become a ruin, but instead became a busy port and the third most populous city of modern Turkey. So there's not a lot of the Roman town left on the ground.
Our guide, Seher, had given this some thought, though, and took us this morning to a living church, St Polycarp's on Necatibey Boulevard, just a few blocks from our hotel. It's a Catholic church, one of the oldest in Izmir, and has a splendidly ornate interior. However, 'I don't think we'll be able to go inside,' Seher told us, 'as you need to make an appointment many days in advance.'
This sounded a bit odd for a church, and when we arrived there was a speakerphone on the metal gate which picked up and then went dead when we buzzed.
On the immaculately painted church wall I spotted some large graffiti in red paint and wondered whether that could be a clue about why the church is security conscious. A church member came up to us on the pavement and gave us some embroidered crosses which he and his wife had made – and this sweet gesture more than made up for the unresponsive speakerphone.
The church is named for St Polycarp, who was a disciple of the apostle John back in the 1st century and was martyred here in Smyrna around the year 155. I've always loved his heartfelt and spirited answer when he was challenged by the local Roman proconsul to swear by Caesar: 'Eighty-six years I have served him and he has done me no wrong. How can I blaspheme my king and my saviour?'
The proconsul's response was to have Polycarp burned alive.
In the letter to Smyrna in the Apocalypse, Jesus says, 'Don't be afraid of what you are about to suffer… Be faithful, even to the point of death, and I will give you life as your victor's crown.' It's clear that St Polycarp lived those words. They could have been written for him.
Like everything in John's Apocalypse, Jesus's words are sharp and challenging, whether you're a Christian living comfortably in the West, or the church of a minority faith on Necatibey Boulevard with a speakerphone that goes dead.
Comment (4)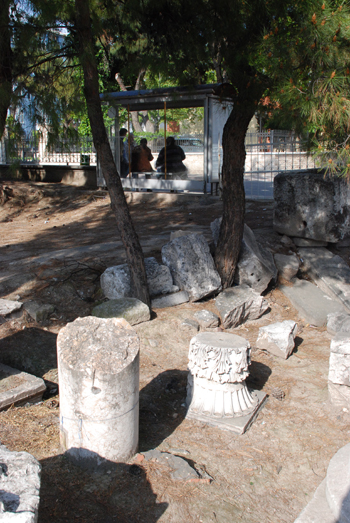 Call to prayer in Thyatira
Posted on 22 April 2013, 4:43
Seven churches: Intro Pergamum Thyatira Smyrna Laodicea Philadelphia Sardis Ephesus Patmos
My set of pics for this post: Thyatira
This afternoon, our driver Pala drove us for an hour from Pergamum through dramatic mountains to the town of Akhisar, which was once Thyatira, a town famous for indigo, purple and the dyeing industry in general. It was bathos to be here after the feast that was Pergamum, though: just the ruin of a church founded in the 2nd century that is bang in the middle of a busy shopping area.
While I was looking at the fallen masonry, the call to prayer from a local mosque started up, and within seconds, two other mosques joined in. I find the call to pray beautiful and beguiling in its way, but it was a sharp reminder here of how Christian faith can die and fall into dust; how it can become the fulfilment of the letter to Thyatira in the Apocalypse.
Comment (0)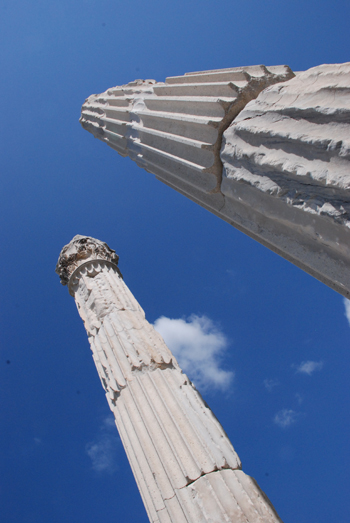 Walking in Pergamum
Posted on 22 April 2013, 2:29
Seven churches: Intro Pergamum Thyatira Smyrna Laodicea Philadelphia Sardis Ephesus Patmos
My set of pics for this post: Pergamum
We were on the road out of Izmir by 9 o'clock, and Pala, the driver of our white people carrier who looks a lot like MP George Galloway and drives with the same sort of take-no-hostages philosophy, soon had us speeding away from the city. Our guide Seher started briefing us about the day ahead and showed us an excellent book we should have read before coming here, Mark Wilson's Biblical Turkey.
Izmir is ancient Smyrna, the first of Revelation's seven churches, but it's now a city of 3 million people with houses densely carpeting the little hills, and precious little is left of the old Roman town. We stayed here last night, lulled to sleep by the neighbourhood mosque's call to prayer and then rudely woken by it before breakfast.
Just over an hour later we stepped out in a wash of spring sunshine at the Pergamum cable car. Pergamum is perched on a rocky hill 300m above the valley floor and was once the ruling city of the region. It's now a toppled ruin, with the modern city of Bergama sprawled across the valley below.
Exiting the cable car at the top, we were greeted by a small bazaar of colourful shops selling fruit, hats, postcards, t-shirts and little statues of the goddess Diana of the Ephesians. Handy if you want to take one home to worship.
Ignoring all that, we were soon on the ancient city's acropolis, poking around the beautiful and melancholy fallen masonry of the Greek world. In the 1970s, some of the marble columns and lintels of the Temple of Trajan were raised from the grass where they had fallen centuries earlier, and they now crown the hill. There's something timeless and dreamlike, seeing these gleaming white pillars against the deep blue sky.
The letter to the church in Pergamum in John's Apocalypse says, 'I know where you live – where Satan has his throne.' John is highly hostile and exclusive in his faith claims, and all the temples, altars and shrines we saw today here – to Athena, Zeus, Demeter, Dionysus and the Emperor Trajan – must have riled John to bits and help explain his 'Satan' remark.
My imagination was snagged, though, by the Library of Pergamum, or what is left of it. The library was second only to the Library of Alexandria in the Greek world, and held 200,000 works in scroll and book form. In fact, Alexandria was so infuriated by its rival that it banned the export of papyrus in the hope that Pergamum's supply of books would dry up. Pergamum responded by inventing parchment (the word derives from 'Pergamum') made of calfskin.
None of the works held by this amazing library remain here, though. All I could see was an avenue of broken columns where scholars once walked, and a wide pavement where the reading room once stood, with the wrecked base of a statue of Athena, the goddess of wisdom. Athena is now in Berlin – she was carried off there by zealous German archaeologists in the 19th century – while the 200,000 books were all handed over to Alexandria in the end, when Mark Anthony gave them to Cleopatra as a wedding present. The librarians of Pergamum must have died of grief as their books were carted off for ever.
We walked down to the dramatic hillside theatre, the steepest of the ancient theatres, where 10,000 spectators once watched Greek dramas; down to the vast gyms, which were on three levels, for boys, young men and adults; and on through acres of ordinary housing which now lie under mounds of grass.
We found a decent-sized tortoise stuck in the upended stones of one house and rescued it. In a hall next to the temple of Demeter we saw fine floor mosaics with theatres masks – grinning and grotesque – depicted in medallions.
The vastness of the site gave me an appreciation of the splendour and power of Pergamum, and what the young church here was up against. To be a Christian in the early years of the faith, dissenting in such a potent cultural context, would require a lot of courage. Reading John's letter again with the temples, roads, altars, gymnasia and theatre in mind, I can see him giving his readers some help by putting fire into their faith.
Comment (2)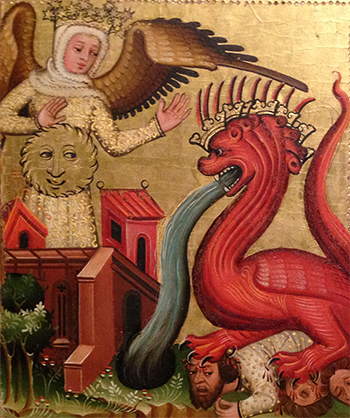 Off to the Apocalypse
Posted on 20 April 2013, 3:41
Seven churches: Intro Pergamum Thyatira Smyrna Laodicea Philadelphia Sardis Ephesus Patmos
Early tomorrow morning, my father and I fly to Izmir in western Turkey for a week rediscovering the seven churches of the Apocalypse. We travelled together last year to Germany, visiting the towns where JS Bach lived in the 18th century, but this time we're going back to the world of 1st century Asia Minor, to the roots of his faith and mine.
Aside from having our hearts strangely warmed, the temperatures are going to be in the mid-20s (or mid-70s in the old currency) and it's going to be good sitting outside for seafood and wine after so many months of winter.
The Apocalypse, better known as the book of Revelation, was written on the Greek island of Patmos. It opens with a series of mini letters – almost postcard in length – written to seven churches on the mainland of what is now Turkey. The letters are colourful and strongly worded, with a mixture of praise and promise, criticism and warning for each church.
We're going to be visiting each of the seven towns (most of which are in ruins) and then sailing to Patmos for the final couple of days. John the Divine, the author of the book, was exiled here for his faith in the 1st century, and a highlight will be visiting the Patmos cave where it's believed he received his visions and prophecies.
The Apocalypse was a book which almost didn't make it into the New Testament because of its bizarre and nightmarish content. It has choirs of saints and angels, beasts with multiple heads and on each head a crown, a pitched battle between the forces of light and darkness, a smouldering lake of fire for the wicked and paradise regained for the righteous.
The Eastern Orthodox still won't allow the book to be read aloud in church for fear of its horrors and mysteries upsetting the faithful. This is probably wise.
I visited the Victoria and Albert Museum in January and spent time looking at a vast 14th century triptych they have from Hamburg. It's covered with scenes taken from the Apocalypse, and I snapped one of them, seen above. It gives an idea of the dense and fevered atmosphere of the book.
Will Self, in his combative introduction to a pocket edition of Revelation in the King James Version, says he found it 'a sick text… a guignol of tedium, a portentous horror film.'
Aside from all that, I'm looking forward to immersing my head into the world which gave birth to the Jesus movement in the 1st century. Towns such as Ephesus are really familiar to me from reading the book of Acts, and the idea of actually walking those ancient streets is intoxicating. I'm hoping to blog about the experience day by day, so long as the bandwidth of Asia Minor holds up.
Comment (1)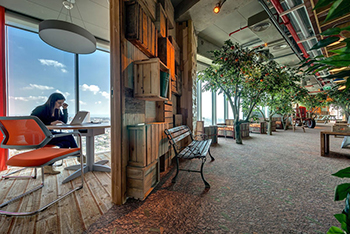 Google heaven
Posted on 02 April 2013, 23:48
Descriptions of heaven are really hard to come by. Angels sitting on clouds strumming harps, or St Peter in a comedy beard ticking off names in a big book next to the pearly gates – these are the best known versions of heaven from the world of cartoons.
But I realised today why the Bible is so coy about providing a description of the life hereafter. It struck me with the force of full-blown revelation as I scrolled through the newly-released pics of Google's new offices in Tel Aviv.
The offices include fruit trees, cafe seating made from motor scooters, a flume slide connecting floors, rafts of hanging flowers, stuffed armchairs, beach loungers, table football, wicker sofas, surfboards and pinball – and all with epic views from high above Tel Aviv. It's rather a male vision of office heaven, but I wouldn't complain about working there.
I think it's a mistake though for Google to post the pics. It can only spread general misery about everyone else's office arrangements. It's a bit like that old saying, 'When I heard about your amazing new job, a little part of me died.'
And maybe that's why the Good Book leaves off the glowing descriptions of heaven. Love, not envy, is what God aims for.
Comment (0)




Red Bull gives up Jesus for Lent
Posted on 17 March 2012, 3:38
'Do you think Jesus had a sense of humour?' The question was posted this afternoon on Twitter and was quickly followed by a chorus of right answers.
'Yup He did!'
'Yes, and does :-)'
'Defo!'
Most Christians I know think Jesus could be funny, and that he did the 1st century versions of standup with gags such as the story of the exploding wineskin, or the chap happily walking round with a great big plank of wood in his face.
But when you think about it, being funny is only half the story. If someone's asked, 'Have you got a sense of humour?' it usually means, 'Can you take a joke?' After all, it's easy to be funny at the expense of someone else, but what happens when they do it back to you? Can you laugh at yourself?
So what about Jesus? Does he mind having his leg pulled? Is he OK if we crack jokes about him? Is he cool with 'Jesus H Christ'? Something tells me that most Christians think not, and think not quite strongly, as they believe even mild jokes about Jesus are blasphemy. This unfortunately paints the Lord as someone who laughs at others, but gets monumentally angry when they return the compliment. It makes him look like a bully.
I've been thinking about this on and off the past day or two because a Red Bull advert being screened on South African TV was pulled when Christians (with Muslim backup) said it was deeply offensive. The ad features an amusing – to me, at least – cartoon where Jesus walks on water and the disciples question whether he's been drinking Red Bull, as (in the product's oft-used slogan) 'Red Bull gives you wiiings'.
Jesus denies drinking Red Bull, and when one disciple asks if this is another of his miracles, he says, 'It's no miracle, you just have to know where the stepping stones are.' He then almost slips off a stone and says 'Jesus' under his breath.
Cardinal Napier, Archbishop of Durban, issued a statement immediately after the ad was aired saying how 'disappointed' he was with Red Bull whom he chided for their 'satirical manner' and for 'overstepping a mark'. He suggested that Catholics should fast from consuming the drink until Easter and added that Red Bull's advertising and PR people ought to get some 'sensitivity training'. My counter-suggestion is that the cardinal gets some therapy for sense of humour failure, especially focusing on the gift of humility which the Lord bestows when others laugh at you.
The advertising standards authority received over 499 complaints, at which point Red Bull withdrew the ad from broadcast.
In fairness to Red Bull, I think there's something inherently funny about the walking on water miracle. The few times I've been to the Sea of Galilee, I've always seen people at the water's edge larking about, pretending to walk on the waves and getting friends to snap them doing it.
It's the flashiest of Jesus' miracles, almost like a bit of divine showing off, and it comes close to Jesus indulging the second temptation, where the Devil tries to get him to stage this exact same miracle of defying gravity.
The story seems to attract humour like a magnet. Even the liberal rationalisations of it in weighty commentaries can't help veering off into farce. One scholar suggested that Jesus walked on a hidden sandbank (which makes Red Bull's cartoon look like the exposition of a viewpoint rather than outright satire), while another suggested he was just wading through the surf. In 2006, a professor of oceanography argued that Jesus walked on ice, which raises the question, why not throw in a pair of skates too?
Even before Jesus' time, walking on water was spoken about as laughable. 'He was rash enough to think that he could make ships sail on dry land and men walk over the sea,' says a verse about an arrogant king in the Second Book of Maccabees.
My biggest problem with Christians who get uncontrollably 'offended' by mildly amusing cartoons such as Red Bull's is not just that it makes Jesus look like a bully, but it undermines his humanity. I think I can just about make the case that refusing to countenance jokes about Jesus belongs to an ancient heresy called docetism.
In that heresy, the belief that Jesus was God was held so strongly that the belief in his humanity withered. The average docetist would say that Jesus only appeared to be human, and that he never actually ate, drank, slept, suffered, died… or had a physical life at all. It's a very damaging belief, because if Jesus was only God, and was never truly human as we are human, how can he be 'God with us' and give us the help we need? It destroys the Christian story.
If Jesus was a real, living and breathing human being, then comedy given and received was part of his experience. And since Christians believe he remains human after his resurrection, then comedy, jokes and funny cartoons made at his expense are an expected part of the Jesus experience too. Most Christians (and probably 100% of cardinals) might not want to join in that comedy themselves, but they shouldn't be surprised by it or nurture offence about it.
Edward Abbey, the American author and hellraiser, once said, 'Jesus don't walk on water no more; his feet leak.' Now that's sterner stuff, comedically, than the Red Bull ad. But it's still a joke I think Jesus would be able to take without reaching for a thunderbolt.
Comment (4)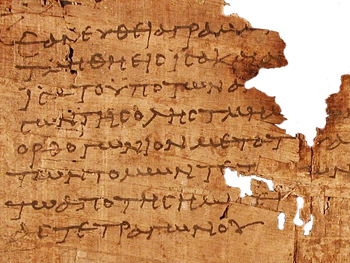 Ancient shredded papyrus… and you
Posted on 18 September 2011, 20:08
Zooniverse is a crowdsourcing website which made its name by asking Internet volunteers to help identify galaxies from vast numbers of astronomy photographs. That project, Galaxy Zoo, quickly attracted more than 80,000 volunteers who made short work of 10 million images of galaxies, deciding whether they were rotating clockwise or anticlockwise, for example.
Now Zooniverse has launched a new project, Ancient Lives, with the same aim of clearing the in-tray of experts and making new discoveries. This time, volunteers are being asked to transcribe fragments of Greek papyrus recovered in 1897 from a Roman-era town, Oxyrhynchus, which flourished in the Egyptian desert, but has since disappeared into the sands.
The fragments are from the town's ancient rubbish dumps and include everyday stuff such as contracts, shopping lists and tax returns – but also long-lost books, plays and even gospels. One century on from when they were pulled from the sand, only a small percentage of the half a million scraps of papyrus have been deciphered. The job of identifying Greek handwriting on bits of rubbish that were sent to the dump some 2,000 years ago is much more of a challenge than galaxy-spotting, I think, but this sounds like a great project, especially if it speeds things up. The Ancient Lives website says…

For classics scholars, the vast number of damaged and fragmentary texts from the waste dumps of Greco-Roman Egypt has resulted in a difficult and time-consuming endeavor, with each manuscript requiring a character-by-character transcription… An immense number of detached fragments still linger, waiting to be joined with others to form a once intact text of ancient thought, both known and unknown. The data not only continues to reevaluate and assess the literature and knowledge of ancient Greece, but also illuminates the lives and culture of the multi-ethnic society of Greco-Roman Egypt.

The data gathered by Ancient Lives will allow us to increase the momentum by which scholars have traditionally studied the collection. After transcriptions have been collected digitally, we can combine human and computer intelligence to identify known texts and documents faster than ever before. For unknown documents, we can isolate them and begin the long process of identification.

Like any other scientific project, the data will require a lengthy process of vetting and analysis. There are no quick answers or discoveries. We want to make sure our findings are accurate. However, instead of just a few scholars going through the collection one fragment at a time, users of Ancient Lives are allowing professionals to process large batches of data at any given time.

Interested in eavesdropping on the citizens of ancient Oxyrhynchus? Visit Ancient Lives.
Comment (0)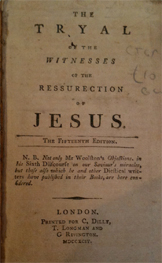 The resurrection goes to court
Posted on 16 September 2011, 18:39
I was in the basement of Quinto's second-hand bookshop on Charing Cross Road the other day and came across a slim, battered volume from the 18th century with the gloriously misspelled title, The Tryal of the Witnesses of the Ressurection of Jesus, by Thomas Sherlock.
The cover was falling off, but in the musty pages I was surprised to find a little work of fiction which presents the case for the resurrection as a courtroom drama. The story is that a group of m'learned friends fall into a conversation about the resurrection, and agree to stage a trial for their own entertainment. When they next meet, their project has drawn a small crowd, so they elect a judge and jury and start to interrogate the accounts of the key witnesses in the four gospels.
The book concludes with the judge asking the jury, 'Are the apostles guilty of giving false evidence in the case of the resurrection of Jesus, or not guilty?' To no great surprise, the verdict of the jury is 'not guilty'.
This copy of The Tryal of the Witnesses was published in 1794, the year The Terror ended in France. I was intrigued by its age, because the standout book for me arguing the resurrection forensically is Frank Morison's celebrated Who Moved the Stone? which was first published in 1930 but has been in print ever since. That book was written by an English advertising exec (real name, Albert Henry Ross) whose ad agency also employed the novelist Dorothy Sayers as a copywriter and whose greatest success was the 'Guinness is good for you' campaign.
Morison borrows the language of the courtroom in examining the death and resurrection of Jesus, with breathless chapter titles such as, 'The real case against the prisoner', 'The situation on Friday afternoon' and 'The evidence of the principal fisherman'. Thinking about it, those headlines sound more like the work of a tabloid hack scribbling at the back of the courtroom than a learned barrister.
Despite that (or maybe because of it) Who Moved the Stone? remains a classic on both sides of the Pond partly because Morison started writing it as a sceptic who wanted to disprove the resurrection, but ended up convinced by the case he sought to destroy – and no Christian can resist a testimony like that. It has something of John Newton's 'I once was blind, but now I see' about it.
Frank might have written a memorable book, but he was not the first to tackle the gospels like this. I did a small amount of digging and found that 'resurrection meets forensics' goes back much earlier than 1930. It goes back 80 years earlier, in fact, to 1846. That's when snappily-titled An Examination of the Testimony of the Four Evangelists: By the Rules of Evidence Administered in Courts of Justice, by Simon Greenleaf, was published in Boston, Massachusetts. (You can buy the book on Amazon or read it on Google Books.) Greenleaf was one of the founders of the Harvard Law School, where he was Professor of Law.
What made Greenleaf's book special was that he used technical legal tools for examining the reliability of the gospels and for cross-examining the testimony of the claimed eyewitnesses of the resurrection. His methods and arguments have been followed by Christian writers ever since, up to and including tireless apologist Josh McDowell.
However, even Greenleaf must give way to the little book I found in the basement room of Quinto's, so far as originality goes. The copy of The Tryal of the Witnesses I stumbled on was published in London in 1794, but the first edition hit the bookshops in 1729. When I found that out, I realised that despite its size this must be a significant work. Any book still in print after 65 years (and with 15 editions under its belt, one every four years or so) is worth a second look.
Like Greenleaf's book, it's full of the detailed, lawyerly argument you would expect when the resurrection stories are put in the witness box. For example, here's Thomas Sherlock's defence lawyer quizzing the testimony of the Roman guards who claimed the disciples stole Jesus' body while they, the guards, were fast asleep: 'I wish the guards were in court, I would ask them how they came to be so punctual in relating what happened when they were asleep?'
Thomas Sherlock was a Bishop of London, although he wrote the book while he was further down the food chain as mere Bishop of Bangor. He produced several books in response to the anti-miracle arguments of the Deists, this one included, and he's regarded as an important figure in the history of apologetics.
So who invented this idea of taking Peter, Mary Magdalene and Pilate to court? If it wasn't Thomas Sherlock, he must be an early adopter of the genre, and I think the fact he wrote a fictional narrative makes him highly creative. The Tryal of the Witnesses, despite its ancient-looking title, is still entertaining and readable. It's not Twelve Angry Men, but it's good nevertheless.
Amazingly, Amazon is selling The Trial of the Witnesses, which is still in print after 300 years thanks to a specialty publisher who describes it as 'one of the most famous – and least read – works of Christian apologetics'. That sounds about right. The text of the book can also be read online for free.
Comment (0)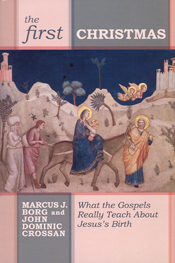 The First Christmas
Posted on 15 December 2010, 6:28
The past few days I've been getting my head into the Christmas story by reading The First Christmas, by theological adventurers Marcus J Borg and John Dominic Crossan.
For several years, I've been seeing the birth stories in Matthew and Luke as beautiful, folksy, kitschy, dramatic… and highly improbable. After all, they have a very high angel count, they fly in the face of known historical dates, and they cite significant events that are not mentioned in any other records.
What I've enjoyed about Borg and Crossan's book is the way they shift your attention from the search for facts in these stories, to the search for meaning. They argue that the most important questions are not about what happened when (for example, all the modern attempts to tie the star of Bethlehem to a supernova or Halley's Comet), but what Matthew and Luke were trying to tell us when they wrote as they did. And sure enough, when you leave behind the quest for facts and look at these stories as literature, they come to life in a fresh and colourful way.
I'd never noticed, for instance, how very different Matthew's birth story is from Luke's. I've always read them as if they're two cameras trained on the same scene, when a closer look shows they are making quite separate movies.
In Luke, Mary is the starring character. It's to her that Gabriel appears, and it is her active 'yes' to God which drives the story. But in Matthew, Mary is a passive, offstage figure. It is Joseph who receives the revelation from the angel, and it is his dreams and decisions which count throughout the story.
Why Matthew and Luke tell their stories so differently, and what messages they want to give about Jesus and his mission, is one of the big themes of this book. It's one of those books which makes you realise how much more there is to discover in the Gospels… which I find a hopeful and exciting thought.
Comment (0)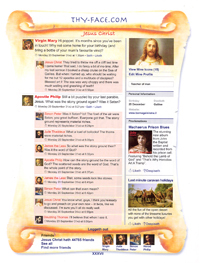 Lazarus hath changed his status to risen
Posted on 10 November 2010, 14:41
I've reviewed new comedy book Jesus on ThyFace here, and my interview with the UK authors, Denise Haskew and Steve Parker is on Ship of Fools. In the interests of keeping it short there, I cut part of the interview, so here's the authors' account on how they wrote the book…
Steve Parker: I'd like to say we were keen to take a satirical look at the Bible, but the idea came from the other direction. I came up with an idea for a whodunnit/thriller based entirely on the social networking pages of the principle characters, and I asked Denise what she thought. She said it was probably the worst idea she'd heard in a long time.
Denise Haskew: There was the germ of an idea there, though, and I suggested retelling a classic, familiar tale using the characters' social networking pages – something like Pride and Prejudice, War and Peace or Wuthering Heights. I thought that might work. This was last Christmas, and we were on our way to a Christmas party in London. On the way, we sat on the train chucking out suggestions. It was clear that for a book like this to work, we needed something that was familiar to as large a number of people as possible. "What's the best selling book of all time?" we mused. Then, just like a scene from the movies, the idea hit us both at exactly the same time: 'The Bible!'
Steve Parker: I remember Denise saying, 'Lazarus hath changed his status to risen', then she reached into her bag and pulled out a pen and pad. We were pretty poor company at the party – we just sat in a corner giggling and writing down gags.
Denise Haskew: When energy flagged, we turned to alcohol. I remember one particularly thorny problem working out how to best tell the story of John the Baptist's beheading. I was looking forward to getting to this, as I thought Salome would be such a great character. As the Paris Hilton of her day, she was in many ways the ideal subject. But when we got to that bit, we couldn't get the story to work. So we went down the pub and had a couple of pints of Winter Warmer, and then hit on the solution after just one pint: the story was much better told from Herod Antipas's point of view. Herodias and Salome were plotters, whereas the luckless, conceited Herod was taken for a ride. Obvious, but it needed beer to bring it into focus.
Read the rest of the interview on Ship of Fools.
Comment (0)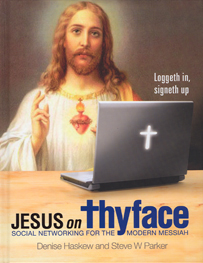 Jesus on ThyFace
Posted on 10 November 2010, 6:08
Jesus Christ joins ThyFace.
Jesus Christ and Virgin Mary are now friends.
Jesus Christ rejected a friend request from Jesus H Christ.
So beginneth this new book, Jesus on Thyface, published last month, in which Jesus and his mum, joined by the regular cast of the New Testament (including well known Bible character Derek the Leper) get into social media. Satan's ThyFace wall is also included, and it's heartening to see the update…
Satan and Philip Pullman are now friends.
There are a number of ways this book could have gone. An earnest Campus Crusade author could have written the WWJD Teen Guide to Facebook – come to think of it, that's probably already in print, complete with a free chastity ring with every copy. Or there could have been a badly produced gift book with leaden humour and available at every Tesco checkout.
Instead, Jesus on ThyFace is a slim and handsome hardback, printed in full colour, with every right hand page in familiar Facebook format. The writing is laugh-out-loud funny, surprisingly accurate in its retelling of the four Gospels, and highly inventive in mining the comic potential of sacred story meets social networking. It's not a book you'd want to give for Christmas to your evangelical aunt, unless you wanted to trigger an early meeting between her and the Lord, but for tweeting Christians of a liberal bent who aren't offended by jokes about Jesus, this is close to perfection.
For more info check out the Jesus on ThyFace Facebook page, where the latest joyous news is that the book has just made it into the Book Depository 1000 top sellers, at number 666. And who says God has no sense of humour?
I've just done an email interview with the authors, which I'll post here tomorrow.
Comment (5)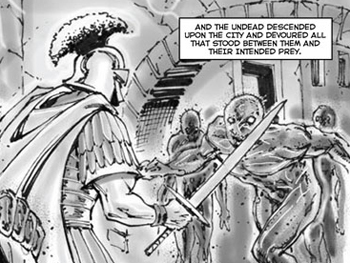 Zombie Jesus!
Posted on 26 October 2010, 16:01
Biblical scholars have always been a bit cagey about three bizarre verses in Matthew's Gospel, which come just after Jesus has expired on the cross. The verses (Matthew 27:51-53) read…
The earth shook and the rocks split. The tombs broke open and the bodies of many holy people who had died were raised to life. They came out of the tombs, and after Jesus' resurrection they went into the holy city and appeared to many people.
But where experts fear to tread, comic strip artist Rob Liefeld has rushed in with Zombie Jesus! – a new strip he's just started serializing on his website. In the strip, zombie hordes attack Jerusalem in the 48 hours after the crucifixion in search of the corpse of Christ. They're led by the zombie of Judas, fresh after hanging himself, and opposed by Lazarus the Immortal.
All of which puts an interpretation on Matthew's verses more colourful and exciting than any I ever heard in Bible college.
Liefeld, whose work has appeared in Marvel comics, is no stranger to mixing religion with the pumped-up heroes of comic strip. He collaborated with Phil Hotsenpiller, the teaching pastor of the Friends Church in Yorba Linda (a megachurch in southern California) to produce Armageddon Now: World War III, a graphic novel.
Hotsenpiller is a conference speaker on end-times prophecy, and the novel, which he wrote, is full of the phobias, prejudices and superstitions of modern-day eschatologists, not to mention generous helpings of violence. It wouldn't be a huge surprise to learn that he's also written the script for Liefeld's Zombie Jesus! It's such a tiny step from the fantasy theology of the rapture and the great tribulation to zombies getting out of their graves.
Comment (1)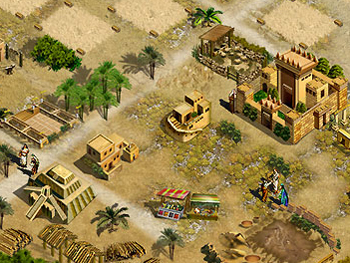 Virtual Genesis, anyone?
Posted on 01 September 2010, 5:02
If you had to choose any book of the Bible to turn into a game in the style of World of Warcraft, the book of Genesis would be a strong contender, despite stiff competition from the blood-soaked book of Judges and the warlike books of Samuel. The Bible's first book is a natural for conversion into a game, with its heroic characters, feuding families, epic journeys, fire and brimstone.
So it doesn't come as much of a surprise to learn that a new multiplayer game, The Bible Online, is about to open with the pre-10 commandments world of Genesis as its chapter one, titled 'The Heroes'. The TechEye site commented today that the game is 'unlikely to attract the wrath of the Bible Belt, in fact we think they are going to force kids to play it.'
The Bible Online, produced by new German games publisher FiAA, is a MMORTS (massively multiplayer online real-time strategy game) in which many thousands of players can play and interact simultaneously. The game features the world and story of Abraham, Isaac and Jacob, complete with ziggurats, camels, sling-firing soldiers, bearded patriarchs and quotes from the Good Book, and can be played through your browser.
FiAA describe the gameplay thus: 'As the leader of their tribe, players have to construct their villages, manage recources and the budget. They will have to decide between diplomacy and warfare. However, players do not stay in one place. They will go on a quest to the Promised Land. Leading Abram's tribe from Ur to Haran and finally to Canaan, players and their heroes will face many challenges before reaching their goal.'
The illustrations I've seen on the website look a bit Sunday School (and the symbol for Priests is a bishop's mitre complete with a cross), but this could be interesting. I'm looking forward to seeing which Christian group will be first to establish a virtual church inside the game and then produce the theology to justify Christian worship BC.
AiFF are running two other role-playing games: Kalos War, launched in August, and Operation 7, launched last year – the company says it has hundreds of thousands of players. The beta launch of the Bible Online is on 6 September.
Comment (0)