Category: London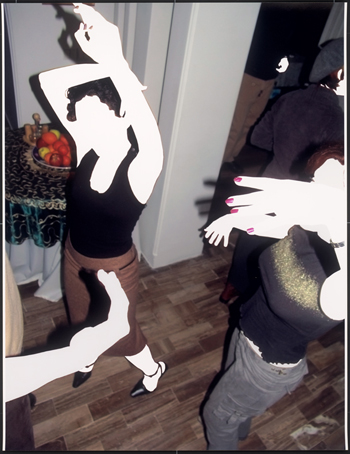 Light from the Middle East
Posted on 03 February 2013, 0:09
Accidentally saw an exhibition of photographs at the V&A this afternoon called Light from the Middle East. It brings together images by photographers in all the Middle Eastern countries, from North Africa to Central Asia, and opens up many of the issues facing people in this region which is so close to the West and yet so culturally distant.
Picking out just a few images which especially struck me…
Party, a series by Amirali Ghasemi (one image is shown above) blanks out the faces and flesh of people at unsanctioned private parties in Tehran. I love the graphic effect of that and the way it effortlessly evokes censorship.
Armed Innocence II by Nermine Hammam is of abashed young soldiers in Cairo's Tahrir Square during the January 2011 protests. Hammam noticed that the soldiers wanted to be anywhere but there, and has placed them in sugary-sweet, postcard-like fantasy settings.
And Gajar by Shadi Ghadirian is a series of stagey portraits in the style of studio shots from the 19th century – but the sitters hold jarringly modern objects: a Pepsi can, a stereo, a mountain bike. Each picture is a little satire on the dilemmas of Iranian women caught between tradition and modern life.
Other images explore Israeli watchtowers, Yemeni immigrant sailors in South Shields and a Kurdish combatant with knives and grenades… and a Bryan Adams t-shirt.
If you're in South Kensington and have half an hour free, this is a really rewarding exhibition to see.
Light from the Middle East is on until 7 April 2013. Admission is free.
Photo: Party, one of a series by Amirali Ghasemi
Comment (0)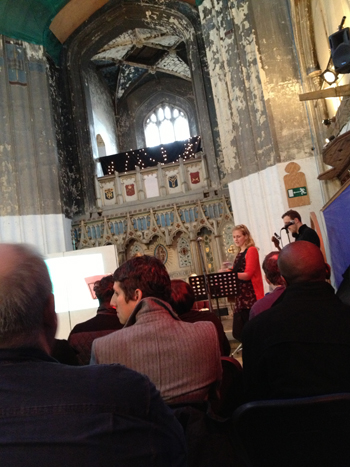 Church for atheists
Posted on 08 January 2013, 2:40
I've often wondered what would happen if you took the religion out of a Sunday church service.
For stratospherically religious services, the kind which run on gallons of incense, with bells ringing, deacons bowing, jewelled crosses being marched from A to B and priests scuttling behind screens, there wouldn't be much left without the religion, of course, aside from the after-service gin.
But for a low church service, with vicars in cardigans, lots of chat from the front, jokes in the sermons and a spot or two of worsh-u-tainment from the band, religion could quietly slip out of a side door without anyone really noticing it had buggered off.
I got the chance to test out a religionless church yesterday when I went to the opening service of The Sunday Assembly, London's new atheist church. The church was dreamed up by comedians Sanderson Jones and Pippa Evans who discovered on a car journey they were both interested in starting a local community for 'anyone who wants to live better, help often and wonder more'.
Sunday's service was in a big, old deconsecrated church in Canonbury, north London. The choice of building was quite brilliant. It had blistered plasterwork, crumbling gothic arches, gloriously shabby walls and basically looked like a set for a film called Wreck of Christianity II.
It's not often that I've ever had to queue up to get into church, but amazingly 250 other curious souls had turned up for the service and there was a bottleneck at the door. Once inside I found a seat, but at least half the congregation sat on the floor, stood at the back or perched up in the precarious-looking balcony.
A small band – just like in real church! – was warming up at the front, led by Pippa Evans who launched into singing the service's theme song in a voice which reminded me of Millicent Martin opening satire show That Was The Week That Was back in the 60s.
Sanderson Jones, sporting red trousers and a bright tie, took to the stage and led the service with energy verging on the Pentecostal and comedy which was genuinely funny. He is several inches over six feet tall and has the kind of long, fundamentalist beard which makes his claim, 'I'm not trying to start a cult,' flat-out unbelievable.
I only say that because he pointed it out himself, to a lot of laughter from the congregation. And then he added, 'But that's exactly the sort of thing I'd say if I was starting a cult.'
We stood to sing our first hymn. I was hoping it would be that rousing old Victorian standard, 'At the name of Dawkins, Every knee shall bow…' but instead we had Sam Cooke's 'Don't know much about history, Don't know much biology…'
It struck me as an ironic choice, since atheism stakes its claim on knowing a heap of stuff about history, biology, science book, etc. But then The London Assembly turned out to be refreshingly unpushy about its atheism.
As a believer myself I felt perfectly OK listening to the reading (an extract from Teddy Roosevelt's The Man in the Arena speech), singing the other two hymns ('Don't Look Back in Anger' and 'Build Me Up Buttercup') and putting something in the collection.
The collection was notable, actually. I've never heard anyone actually thank a congregation for what they've just given. Jones was overwhelmed by the response and thanked us all very warmly. It was one of several rewarding moments when the Sunday Assembly shone and which revealed the tiredness of church as I know it.
I don't think it's a coincidence that the service has been launched by two comedians. I've thought for a while that standups have displaced preachers in popular culture. They spend a lot of time reflecting on the way humans behave, and in observational comedy it's the jokes that are true to life which connect with people and move them to laugh.
Jones and Evans are most at home running a show with an audience, rather than a service with a congregation, so most of The Sunday Assembly ran as a sort of thoughtful comedy show. But in the service's most fascinating moment, Jones bravely stepped out of his comedy persona and invited us to close our eyes and imagine how we might change over the coming year.
He paused for silence and I thought to myself, he won't be able to leave us in silence for very long, as a quiet audience to a standup is like green kryptonite to Superman. And sure enough, 15 seconds later he said, 'Well, I don't know how long you want to think about that for…'
He needn't have worried, though. As far as I could see, most people were ready for some quiet thought. As far as I could see, actually, there was quite a lot in the service which you could take as religion, even if it was presented under a different name.
After some post-service tea and helping to stack the chairs, I came away liking the Sunday Assembly and I hope it does well. I missed the familiar, faith-based aspects of meeting with others, but also realised that a good percentage of church – any church – is made up of friendship, listening, singing, laughter, giving, receiving and cups of tea.
It's good to sit with atheists in their space and feel welcome. It's challenging to think about living better, helping often and wondering more. I think this is a place where Christians should be.
Comment (37)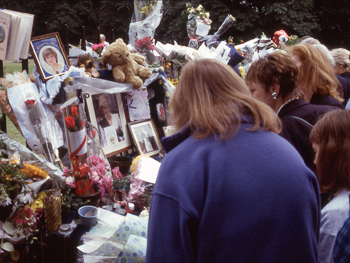 Come and look: mourning Diana
Posted on 31 August 2012, 5:36
I wrote this piece early in September 1997 for just me to read. Fifteen years on, I think it's a blog entry from the days before blogs. So here it is now. For the pictures I took of the scenes outside Kensington Palace, see my Flickr gallery, Mourning Diana, 1997.
4 September 1997
Tonight, Roey and I went down to Kensington Palace to see how the crowds are mourning the death of Princess Diana.
The first sign of the extraordinary is the traffic – our car forced to a proper funeral's speed as we creep past Kensington Gardens in search of a parking space. And then, once we are parked, the crowds. It's 11 o'clock at night, but the pavements are as busy as the last shopping day before Christmas – with one great difference: these crowds are quiet and subdued, sombre and thoughtful, and they hasten, like us, across the grass beneath the shadowed trees towards the Palace.
We pass a tree which is surrounded by flowers and candles and pictures of the Princess. Some of the bunches of flowers have been cradled between the branches of the tree, while others stand against the trunk. But ahead of us, an incredible scent – the smell of thousands and thousands of late summer flowers – calls us on. As we approach the great railings in front of the Palace, we see people bowing low to light candles, tenderly placing bunches of flowers and notes of love and affection on the ground or between the ironwork. I stop to look at this, but then Roey calls from a few feet away: 'Come and look…'
What I see next takes my breath away. None of the press pictures had prepared me for this. Roey is standing with hundreds of others at the edge of a crowd barrier which surrounds the Palace gates. At their feet is a sea of flowers, an ocean of petals, sweeping across the grass in front of the Palace, lapping up against the railings, waves and waves of flowers in their wrappers, each with a card, or a piece of paper, or a loved photograph, and on them written tiny notes, or scraps of poetry, or longer tributes… And here and there is a teddy bear, a pink bow around its neck, or a flickering candle, or a child's coloured drawing, or a balloon clinging to the railings.
And the people just stand there, young and old, parents carrying tiny children, older couples, groups of young people, gazing silently on this sight which they have never ever seen in their lives before. They stand before this great offering and outpouring of love for someone who never knew that this was how they felt, because they never knew it themselves, until now. And as I stand there, trying to understand what my eyes are seeing, I think: if flowers and tears and love could ever bring someone back from the dead, then this is where it would happen.
Beyond the gates are the darkened windows of Kensington Palace, the black trees, the cloudy sky, and a light breeze lifts a few of the flower wrappers.
I lean on the railings, numbed by this display of grief, and a note at my feet catches my eye. 'Forever our Queen of Hearts'. And it is only the first. We walk around the edge of the vast crowd and find the queue of people standing in line waiting to add their flowers to the great sea of colour and scent, two policemen gently directing them.
And here we find other trees surrounded by flickering candles and with flowers peeping from between their branches, and around them are people tending the candles and laying down the flowers with great devotion and care. We discover park benches covered in lilies and roses and irises. We see playing cards – the Queen of Hearts – pinned to bouquets, the simple word 'Diana' written across their top edge. We walk along an ancient brick wall, 100 metres at least, with a seamless carpet of flowers at its feet.
We stop before a shrine assembled on top of roadside waste bin, the icons of Diana beneath a canopy of cellophane, covered with a sprinkling of rain, the prayers on scraps of paper heartfelt, the candles and nightlights winking as religiously as in any church. We see simple words: 'Diana, we miss you'... And beautiful words: 'A light has been snatched from this world to shine more brightly in the next'... And words which are extravagant in grief: 'You should have been Queen of England, but now you are a Queen in Heaven…'
And as we read some of these, we cry. And as we read others, we are amazed. And as we cry, we walk, walking across the peaceful grass in this place of flowers and tears, in this place of stunning emotion, in this place where English grief finds such unexpectedly beautiful expression.
Comment (0)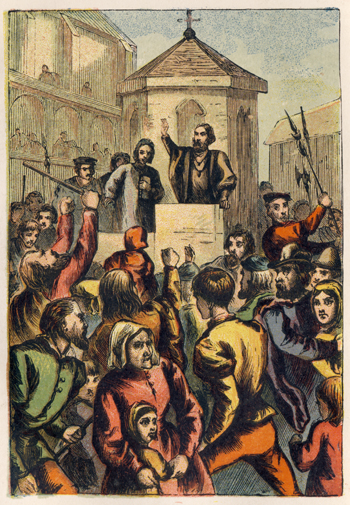 Crucible of debate and dissent
Posted on 03 November 2011, 6:54
Yesterday afternoon I took the tube into London for a first look at the Occupy London protest camp. Walking with the crowds from the station to the cathedral, I fell in with a group of older men with posh accents, joking with each other.
'Have you got your camping stove?' asked one. 'Have you brought the champagne?' laughed another.
One of them quickly waded into the camp, loudly asking any young protestors who caught his eye why they weren't working and how dare they desecrate this hallowed place.
But to my eye, the cathedral has never looked better, with colourful tents lapping up against the steps of the great west front, and with an impromptu community of young people bringing warmth and life to Wren's often chilly looking building. I've posted my pictures of the camp on Flickr. Despite its hippy feel, the camp is highly organised, with tents for information, first aid and food, notices posted by the protesters' assembly strictly banning alcohol from the site, and even disinfectant handwash dispensers gaffer-taped to a pole in the waste recycling area.
Everywhere I went, I was never out of earshot of debate. Capitalism, poverty, Jesus, the Kurds, freedom of speech, the church, corporate lobbyists, and much more, discussed loudly and quietly, passionately and rationally. I really love hearing debate on the streets of London. It reminds me of something from the days when the early church was debating the trinity, and a Greek theologian complained how the arguments had spilled out onto the streets:
'If you ask a shopkeeper for change he will argue with you about whether the Son is begotten or unbegotten. If you inquire about the quality of the bread, the baker will answer, "The Father is greater, the Son is less." And if you ask the bath attendant to draw you a bath, he will tell you that the Son was created out of nothing.'
Seeing large crowds milling around cathedrals was once a common sight. In medieval times, fairs were pitched around them, festivals were celebrated here and they were places of news, debate and entertainment. St Paul's is a highly appropriate place for people to gather, protest and argue the big issues of the day, because that's how it was for centuries. St Paul's always was the cathedral of London's common people, leaving Westminster Abbey to do its royal thing.
Just a few yards from the eastern edge of the camp is a monument marking the spot of St Paul's Cross. Originally a stone cross where preachers stood, and later an open-air pulpit (see picture above), it was the place where Londoners gathered for several centuries in folkmoots, or general assemblies of the people.
Paul's Cross was where you heard news and announcements and took part in debate and dissent. This is where victories were cheered, heresies condemned, Papal Bulls proclaimed, and where the people were sometimes required to swear allegiance to the king. Copies of Tyndale's New Testament – the first section of the Christian scriptures to be printed in English – were rounded up and burned here by the Bishop of London in 1526. At Paul's Cross, people who had fallen foul of the church or state were made to do fearful public penance.
But as well as being a place of propaganda and control, it also witnessed popular protest and new ideas. The revolutionary doctrines of the Reformation, which overturned the established Catholic faith, were first argued here before large and noisy crowds. London was converted to the Protestant faith at Paul's Cross by anti-Catholic preachers. They made it the most famous pulpit of England.
In her book, Politics and the Paul's Cross Sermons, Mary Morrissey says that access to the pulpit was controlled by three authorities: the Crown, the Church and the Corporation of London. Each of them had their own agendas and sometimes used the pulpit to attack each other. So it was here that the people of London were educated in conflicting ideas and interests and learned to make up their own minds.
It's fascinating that the area where the protesters have camped is still owned by two of those authorities: the Church and the Corporation. Both were threatening to evict the camp, but the Church has now apparently dropped that approach, leaving the protesters to the all-powerful Corporation, which runs the City. George Monbiot gave an excellent exposition of its unrivalled powers a couple of days ago. It is a formidable foe. Even the government bows before it.
On my way back home, I stopped at the lonely monument where Paul's Cross and all its tumult once stood. It's in the cathedral churchyard and I have never seen any activity around it… until now. On the side of the monument is this inscription:
'On this plot of ground stood of old "Paul's Cross" whereat amid such scenes of good and evil as make up human affairs the conscience of church and nation through five centuries found public utterance.'
As then, so now. I hope St Paul's Cathedral keeps its word and wholeheartedly embraces its young protesters, welcoming them to this home of English debate and dissent, and seeing their presence as an opportunity for well-argued mission. It's a big ask for an established church to welcome dissenters, but this is also an invitation to engage in a highly visible way with the biggest issues of the moment.
Picture: Foxe's Book of Martyrs
Comment (3)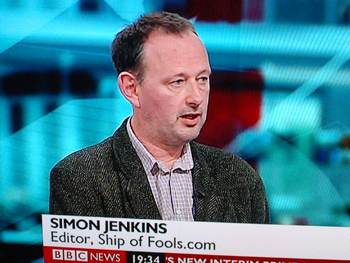 St Paul's loses the plot
Posted on 01 November 2011, 3:54
I know the workings of the BBC are utterly mysterious, but when I got a call late this afternoon from the BBC News channel asking me to get into a studio and talk about the implosion of St Paul's Cathedral, I was left wondering why they had chosen Ship of Fools for comment.
Bishop Nick Baines has helpfully blogged today about why the UK's bishops have taken an oath of silence on the matter which even Tony Soprano would admire, and my guess is that since the media can't get a cleric to talk, they've had to resort to lesser fry like me.
The request from the BBC was a bit urgent, since a third clergyman threw himself off Chris Wren's famous dome today, careerwise. I think the Occupy London camp would have considered it a result if their protest had prompted a few bankers to leap to their deserved doom off the NatWest Tower, but the cathedral resignations have probably been as much a surprise to them as to everyone else.
As far as I can discover, Graeme Knowles is the first Dean of St Paul's (and there have been a lot of them, including the poet John Donne) to resign. Many of them have moved on to become bishops and even archbishops, and it will be fascinating to see what job the C of E rustles up for him next. Will the church reward failure in the same way as the banks?
St Paul's has lost the plot. Their PR, which for Byzantine reasons is run from the obscure town of Brough in East Yorkshire by Rob Marshall's 33rpm, was taken to the cleaners in PR Week a few days ago. Their fake concern about health and safety was exposed as a ploy to get the protesters out in the New Statesman. But worse than that, St Paul's has lost the Christian plot, the whole reason it is there.
What happened two weeks ago on Ludgate Hill is that people came to church. The protesters turned up at St Paul's by accident and decided they wanted to stay. There, on the cathedral's doorstep, they set up camp. And in doing that, they gave the church a new congregation. Here was a fabulous opportunity for St Paul's to shed a bit of pomp and hauteur, to bring the faith out of doors, to do some services outside, to be a bit spontaneous, to provide the protesters with some spiritual nourishment, to rediscover a connection with ordinary people, to have a conversation.
Lucy Mangan, the Guardian columnist, wrote about this fantasy version of the cathedral with real feeling last week in her piece, St Paul's – embrace your new flock. 'These are your people,' she told the cathedral.
But instead of rising to the occasion, and to huge disappointment, the cathedral's instinct was to shut up shop and get in the lawyers. It's hard to think of anything more negative and dispiriting than St Paul's actually shutting itself down. Christians around the country of all traditions have been left banging their heads against the wall in frustration at the sight of the church behaving so badly.
What makes it worse is that church leaders don't seem to understand just how epically they are screwing up. ('Screwing' isn't quite strong enough, but this is a family blog.) There was no word in this direction in Dean Knowles' resignation statement, which was instead full of personal and institutional self-pity. And as Nick Baines knows, the silence of other C of E leaders is a huge let-down for Christians across the country. It's actually a betrayal in the name of not rocking the boat. The bishops have lost the plot too.
It is hard to imagine Jesus in the Deanery, sherry in hand, consulting his lawyers. On the other hand, it is easy to imagine him in the camp, sitting in a tent, talking to the people who have no voice but who want to find it and be heard.
But beyond Jesus' compassion and engagement with ignored people, there's something else. Jesus threw the money changers out of the temple because they filled their own pockets by ripping off the poor. He was angry with them and treated them like the dirt they were. The Occupy London protesters are making the same point about the bankers, but the church, the advertised followers of Jesus, are telling them to shut up, pack up and go home.
With the welcome departure of Dean Knowles, St Paul's now has an opportunity to reconsider its position and find not merely 'new leadership' as the Dean put it, but a new direction. Is it too much to hope that a cathedral could start taking some creative risks for the gospel? If St Paul's fails to seize the moment, then its mission is lost, and its inspiring building an empty icon.
I've always loved St Paul's – ironically, the church of the tentmaker. I've found it a place of wonder and mystery ever since my first visit to London at the age of nine. I believe it can recover its mission, but only if it dramatically changes course. Whether the people now in charge of this glorious architectural Titanic have the imagination and strength to steer it through the icebergs remains to be seen. They deserve our prayers.
Comment (23)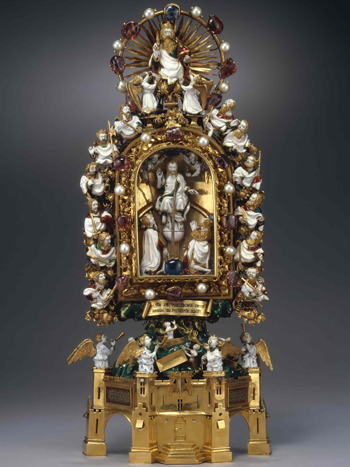 Treasures of heaven
Posted on 07 April 2011, 2:23
I went yesterday to the British Museum's press launch for their major summer exhibition, Treasures of Heaven. The show promises to shine light on one of the most curious – not to say bizarre – aspects of the Christian faith: the devotion shown to relics.
Statues of saints and their relics were smashed or forcibly removed from British churches in the 16th century Reformation, and might seem like an obscure historical footnote now. But as Neil MacGregor, director of the BM, pointed out at the launch, relics were hugely significant objects in medieval Europe, bringing power, prestige and wealth to towns and cities, especially if they became the destination of pilgrims.
Talking about one of the exhibition's star relics, a thorn said to be from Christ's crown of thorns and housed in a kitschy gold reliquary (seen above), MacGregor quipped that 'at the second coming, Christ would make a point of coming to Paris to collect his thorn.' It was this kind of belief about relics which put medieval cities on the map.
The exhibition will bring together relics, reliquaries, manuscripts, prints and pilgrim badges from more than 40 institutions around the world, including the private chapel of the popes in the Vatican. The chapel is sending the Mandylion of Edessa (or a 5th century copy of it, at any rate) which is rarely seen in public, so that will be an event in itself.
I was told that staff at the museum are expecting some visitors to venerate the relics during the show.
Karen Armstrong, also at the launch, talked about the difficulty of relics for post-Reformation people. In fact, she said they were possibly 'rebarbative' (repellent) in modern culture, not a word you hear every day. The pilgrims who travelled to venerate the bones of saints and martyrs 'confronted death but also discovered something which transcended death.'
She recalled the death of Princess Diana and how people lit candles and heaped up bouquets of flowers on the streets, 'so that London seemed like India because of the smell of rotting vegetation!' The cult of relics and the cult of celebrity may be a lot closer than we think.
Treasures of Heaven will run from 23 June to 9 October and tickets are now on sale.
Comment (0)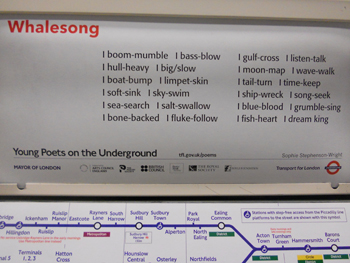 Whalesong
Posted on 17 November 2010, 7:26
On the Piccadilly Line today, rattling into London, I was about to settle into a book when my eye caught a poem where an advert should be. It was a beautiful and slow piece called Whalesong and is by Sophie Stephenson-Wright, one of three teenage poets who won a Poetry Society competition. Their three poems are now showing across the tube system.
Over 24 years of being crushed up against my fellow Londoners on the tube, the Poems on the Underground project (which began in 1986) has often given me a little window, with fresh air and light blowing through it, even though I'm deep underground at the time. At their best, the short poems create space for thought and wonder, or just for comedy and admiration.
Read more about the Young Poets on the Underground, and/or buy a copy of the just-out paperback of Best Poems on the Underground, which is the 2010 collection.
Comment (6)



You bought the dog?
Posted on 25 October 2010, 20:26
On the tube just now, in a full carriage, a young man with cropped hair and dark suit was speaking to his girlfriend on his mobile. His friend, a man wearing a coat and scarf, was sitting opposite, listening in.
Man in dark suit: What? You bought the dog?
[At this point, the whole carriage tuned into the conversation.]
Man in dark suit: Oh my God! Really?
Man in dark suit: OK… OK. See you at the station.
Man wearing scarf: What? She actually bought it?
Man in dark suit: Yeah. Oh God.
Man wearing scarf: What is it?
Man in dark suit: She was talking about a cross between a chihuahua and a pug.
Man wearing scarf: Oh no! You mean, a really small dog? That's not the kind of dog you want, is it?
Man in dark suit: I just know I'm going to step on it.
Comment (0)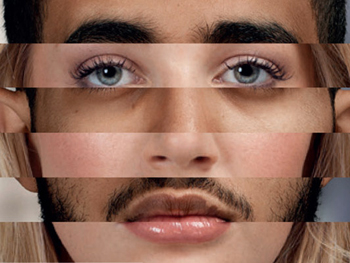 Seven Days: The Hills meets Notting Hill
Posted on 23 September 2010, 5:12
Just finished watching week 1 of Seven Days, Channel 4's new adventure in reality TV. The concept: 'Follow the interwoven lives of some of Notting Hill's most colourful characters… an outspoken hairdresser, a budding rapper, two glamorous models, a single mother, a student, two pet therapists, a flamboyant restaurateur and many more, all with stories to tell and decisions to make.'
What lifts Seven Days out of docu-soap and into something more interactive is that the filming happened within the past week, and viewers can influence the action next week by giving advice to the characters via the Seven Days website. 'What you see has only just happened, and what has happened may have been influenced by you,' says the site.
I found it a curious mixture. It was filmed and edited like The Hills *gag*, but as I know (or know of) at least two of the characters, this appears to have some genuine slice of life stuff in it. Well, as much as that can be when the people are miked up and know they're being filmed… which may boil down to not very much at all. The Hills was accused of being scripted, and some of the lines tonight sounded a bit rehearsed.
Still, taking it for what it is, I enjoyed seeing a London district I know so well portrayed so handsomely. I loved the sharp soundtrack, and I admired the fast editing which put the events of just a few days ago (including the Pope's visit) into the action.
There was one scene I just had to rewind and replay to take in the full and fabulous eccentricity of property developer Malcolm as he described the death of his beloved cat, Tiger. Sitting in the hot tub with a female friend, he confided, 'I just couldn't bury him in garden. I couldn't. I put him in a fridge on his favourite pillow and covered him with rose petals… and went away for two years.'
Samantha (model, blonde) made a bid for the Nasty Nick crown when she a) made her friend Laura weep real mascara tears by saying her hair looked awful and b) declared, while flipping through a clothes catalogue, 'I wouldn't even wear that dress for sick children.' Samantha's clearly going for the career boost she's dreamt of for a while.
The #sevendays Twitter feed went like a rocket all through the show, and the Channel 4 website collapsed under the traffic – which was pretty disastrous, given the amount of signposting it received all evening.
Looking forward to next week, though, if only to see more of Onion, a celebrity pooch of Portobello Road.
Comment (0)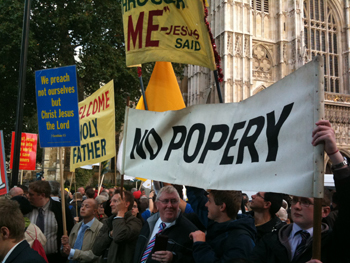 A Roman triumph in London
Posted on 20 September 2010, 8:29
Standing on sunny Lambeth Bridge on Friday, waiting for the Pope to emerge from Lambeth Palace and his meeting with the bishops and archbishops of the Church of England, I found myself next to Sister Veronica, a little nun from Cornwall with sky-blue eyes and a smile as wide as the ocean, who was waving a jolly big, yellow papal flag.
Everyone loved her: people kept coming over to ask if they could take her picture, for which she happily stood, and the policemen lining the barricades also stepped forward every now and then to ask if she was ok? Sister V, who has worked with young people for many years, had been on the bridge for five hours and was determined not to miss the Pope as he went by on his way to Westminster.
A mini-bus sped past us and she waved her papal flag at it. 'I'll wave at anything now,' she said, laughing, 'but those really were cardinals – I could see their red sashes round their waists.'
Behind us, Big Ben struck 5 o'clock, the time when the Popemobile was due to cross the bridge. I'd been tweeting events from my viewpoint all afternoon, and so hit the send button on the following: 'Big Ben strikes 5… time for the Pope to finish up his tea, get into Ice Cream One and come over to Westminster.'
A policeman wandered over and said to Sister V: 'He'll be here in a couple of minutes.'
'How do you know?' I asked.
The policeman turned a perfectly straight face to me: 'I can't reveal my sources.'
Seven minutes later, the Popemobile swung onto the far end of Lambeth Bridge looking exactly as someone described it on Twitter a few days ago: 'a bulletproof ice cream van'. It was surrounded by fridge-shaped men in well-cut dark suits who furiously eyeballed faces in the crowd as they walked the Popemobile along.
Above them, the Pope was imprisoned inside a greeny-blue bubble, sitting on a white plastic throne and waving in an old-man kind of way to the crowds on either side. So thick is the Popemobile's armoured glass that he looked more like a hologram than the real thing, but one glance at the Vatican's grim security detail told you this was the one and only Pope of Rome.
Sister Veronica hopped up onto a granite ledge behind me to get a better view, and as the Popemobile drew level with me on the crown of the bridge, I gained eye contact for the splittest of split seconds with Joseph Ratzinger as his pale blue eyes passed over me. I hope he did the same for Sister V, who was much more deserving of his attention.
The streets were stiff with crowds trying to slipstream behind the Holy Vehicle, but I found a back way, grabbed a coffee to drink as I walked, and came out by Great Smith Street, right in front of the west door of Westminster Abbey.
Coming towards me through the crowd was a highly pumped-up black preacher of the ranting school, blasting a way through the tightly-packed people by the sheer force of his shouted sermon. He was wearing a glossy barbecue apron printed with a Bible text. I tried to talk to him, but he ignored me and launched tunelessly into the evangelical chorus, 'I love my Jesus, my Jesus loves me.'
The Popemobile pulled up outside the Abbey, and a forest of arms sprouted from the crowd, each hand holding a camera, wildly pointing and clicking in search of a Pope shot, however blurred. Once he was inside the Abbey and evening prayer had started, I looked around at the banners jostling for attention.
There was a huge sign reading 'Welcome Holy Father', and another with the less snappy, but still papal-friendly, 'On this rock I will build my Church'.
More unpredictable was 'We [heart] you Papa more than beans on toast' held aloft by Niamh, a Catholic youth worker from North London. She was also wearing yellow and white papal wellington boots she had specially made, which I'm sure the Pope might like to swap for his red slippers.
Right next to 'Welcome Holy Father' was a black and white banner which sternly demanded, 'No Popery'. And surrounding it, an armada of smaller banners made by old school Protestants, who were there in force. A couple of burly men from their team, sporting 'Exalt Christ not the Pope' t-shirts, told me they were from Zion Baptist in Glasgow, a Calvinistic church which has picketed Marilyn Manson in the past, and has followed the Pope down to London for this protest.
There were times in the next hour when I thought fighting might break out as Catholic and Protestant banners jockeyed for position in front of the TV cameras.
I talked to a Catholic woman carrying a huge picture of Benedict XVI and she was angry and upset. Her lovely day out with Papa Benny was being spoiled. 'There are stupid people here shouting out that the Pope is a pedophile,' she told me.
The streets of London have never sounded more theological. I passed one man explaining the teaching of St Irenaeus of Lyons to a small group of listeners. And further along, while rough-looking men hawked Pope badges to passers-by ('Only a quid, mate'), a tall Catholic was in passionate conversation with a short Protestant about Matthew chapter 16, each man jabbing a finger at the other.
And all the while, as dusk fell, the Abbey stood huge, silent and pregnant with the people, priests, bishops, archbishops, cardinals, the Pope and the hard men of Vatican security inside. I was following the service on Twitter and was able to read the Pope's address. With typical Ratzinger pugnacity he asserted his primacy as the successor of St Peter and reminded his listeners that the ancient building once belonged to Rome.
We waited. It grew dark. The banners manoeuvred. The arguments raged. Grown men in plastic aprons shouted themselves hoarse for the Lord.
Then the west doors swung open and the Abbey bells rang out, like the most joyous wedding, and the crowd went up in a rapture. In fact, it felt so like a wedding that I half expected to see that odd couple, Rowan Williams and Joe Ratzinger, walk out hand in hand surrounded by clergy bridesmaids in lacy frocks… but that's another universe.
In short order, the Pope entered a dark car and his motorcade swept from the Abbey. I couldn't help noticing that the last vehicle was an ambulance. It was a Roman triumph, with mortality whispering in the ear.
Comment (1)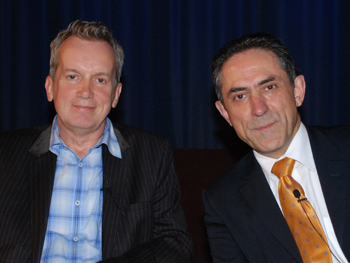 Celibate priests are cheap
Posted on 15 September 2010, 6:42
The Pope's cruising into town in a couple of days, so tonight saw a big debate over priestly celibacy in the Odeon West End. Appropriately, the event was sponsored by Christian Connection, the online experts in bringing Christians (but not Catholic priests) together for a little agape and probably a lot of eros.
We were first treated to a screening of the 2001 film, Conspiracy of Silence, in which a young Irish chap has to choose between his girl and his church, with subplots involving gay priests, HIV cover-ups, the church protecting its own at all costs, and a pantomime Bishop. There was a wonderful moment when a gay seminarian invited a buff fellow student up to his room with the words, 'Why don't you come along? We're studying Paul's second letter to the Thessalonians.'
Just when you think you've heard all the classic euphemisms, another one rushes up wanting to hump your leg.
Then the debate. On the pro-celibacy side was Bishop Malcolm McMahon of Nottingham, a darkly Da Vinciesque Jack Valero (communications supremo for Opus Dei UK) and comedian Frank Skinner. Jack and Frank kindly posed as I snapped them (above). On the anti side was an assured Helena Kennedy QC, the fragrant and witty Prof Tina Beattie, and film director John Deery, whose work we had just viewed.
Helena Kennedy opened the batting by saying that issues of gender, reproduction, sexual identity and celibacy are not about sex, but power. Similar to the issue of rape, it has taken us a long time to understand this distinction. 'The imposition of sexual abstinence is a mode of control over the interior lives of priests. It is inhuman and infantilising.'
She added that it is and always has been about the money: 'Celibate priests are cheap!' Huge laughter and cries of agreement from the audience. I was sitting in the front row with writer Simon Parke and he leaned over to say, 'That's the evening's soundbite.'
I was looking forward to hearing the pro-celibacy arguments, but Bishop Malcolm McMahon's opening statement was long, cloudy and didn't cut much mustard with a restless audience. His arguments were drawn from church tradition and obscure passages in the book of Hebrews. I'm sure they're convincing and potent among priests, but they sound very eccentric outside the cosy world of the presbytery.
He did say something I found sympathetic and striking about how priests 'configure themselves' to Christ the high priest, who is not clothed in splendid robes, but instead is naked, carrying nails and wearing a crown of thorns. He said celibacy was not about power, but sacrifice. Good point.
Thereafter, we had a lively debate, with plenty of audience clapping, jeering and ironic laughter, but sadly no peanut-throwing. At one point, a nun dressed in white robes and asking a question from the floor was heckled. Frank Skinner: 'You can't heckle a nun!'
One of my favourite observations was by Tina Beattie, in a fiery riposte to the opposite team who were saying that priests model themselves on the celibate Christ: 'It seems the defining characteristic of God incarnate is that he had a penis he didn't use.' When I twittered this (I was tweeting pretty much continuously throughout the debate) @davidmkeen shot back with 'must have had one heck of a bladder then'.
Most mysterious moment of the evening was by Jack Valero, who said, 'Chastity is like throwing yourself onto a hand grenade to save your friend.' Personally, I think that's taking Opus Dei-style self-mortification a bit far.
Like most people in the audience, I enjoyed Frank Skinner's contributions which were witty but also heartfelt and appealing. He said he supported celibacy because he wants the priest to be a holy man. 'I want someone who has the time in his life to follow the two basic rules: to love God and to love one another. Because we, the laity, don't have time to risk that level of holiness, I want him to be that.'
As the debate digressed into women and the church, he said, 'I think it's a disgrace we don't have women priests. At some point in the future the Pope, whoever she is, will be apologising to women just as the Vatican apologised to Galileo in 1992.'
Comment (1)



Overheard on Holborn tube platform
Posted on 31 July 2010, 21:02
Tall student: Yeah, I'll tell you what's also weird is when you meet a college friend's husband, or wife.
Short student: Right.
Tall student: And you've seen their pictures before on Facebook even though you've never met them.
Short student: Oh yeah, totally.
Tall student: And you already know a bit about them.
Short student: Yeah, that is weird.
Comment (0)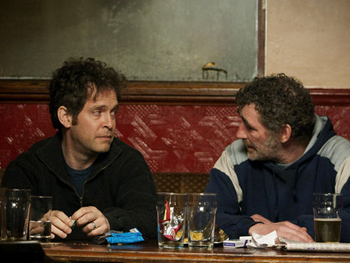 Rev
Posted on 30 July 2010, 15:55
Just found out that Rev, the BBC2 sitcom about a vicar running a shambolically run-down east London church, which I've been enjoying far too much the past few weeks, is about to reference the Mystery Worshipper. This coming Monday night's episode, the season finale, features Adam (the vicar) having a crisis of faith when one of his sermons gets a bad review on an irreverent Christian website. Which sounds familiar.
I think Rev has been a breakthrough series in the way its humour treats religion sympathetically and on its own terms. I've especially loved the kitchen sink prayers, which are gloriously everyday, the shared smokes with Colin ('hello, vicarage') and the serpentine Archdeacon Robert. But for me the comedy is funny because it's so rooted in the reality of church as it is now. The huge, dilapidated 18th century building, the 60s box-built vicarage, the few people struggling through the hymns, the night time knock on the vicarage door by lost souls… they give it all poignancy and the laughter of recognition.
Hoping to interview James Wood, Rev's writer this afternoon, for Ship of Fools. So possibly more on this later.
Comment (6)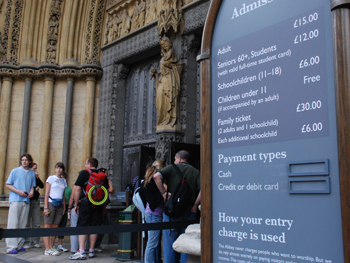 The Westminster Abbey paywall
Posted on 27 July 2010, 4:40
Theo Hobson wrote in the Guardian last week about how difficult it is these days to get into St Paul's Cathedral simply 'for religious reasons', rather than as a tourist, without incurring the Alton Towers-style entrance fee of £12.50. In fact, come to think of it, it probably costs less to go on Nemesis or Oblivion at Alton Towers than it does to get into St Paul's, and those rides must induce more immediate thoughts of eternity than Wren's masterpiece, at a fraction of the price.
St Paul's was an important sacred place for me when I was a student. I went there whenever I was near to wander, pray, sit spellbound beneath the dome, think, write and escape the noise of London. I went there for blessing and never left disappointed. But if I was a student today, the entrance fee, or the alternative of haggling with the security people to get in for free (Hobson successfully did this, but it's not everyone's skill) would basically close the cathedral to me as a spiritual house, which surely defeats the point of building it in the first place.
Down the road from St Paul's is Westminster Abbey, where the entrance fee is even higher (£15 per adult, £12 per student) and they have CCTV, which conjures up a control room full of clerics watching to make sure people cross themselves correctly. Only a few years ago it was possible to amble into the Abbey, using the same door as the Queen, without being asked, 'Is it cash or credit card?' at a turnstile. But the Abbey now has a paywall, just like The Times website. The days of free Abbey content are over. St Rupert of Murdoch could be their new patron saint.
A sign at the Great North Door sets out the rationale for the payment regime: Since the Crown, State and Church only give occasional grants, the cost of maintaining these old buildings has to come from visitors and tourists. That's one way of looking at possible solutions, but from a visitor's point of view the eyewatering prices seem to have diverted this historic place of worship from its religious purpose and sent it down the dead-end of financial survival. Its primary business now looks like tourism.
Last year, a Ship of Fools Mystery Worshipper with the nom de guerre of Cool Dude went to the 11.15am Sung Eucharist and experienced a bizarre non-welcome which must be unique in any English cathedral or abbey. The Mystery Worshipper wrote…
At the outer gate, a chap in a robe was telling tourists that the Abbey was closed… The large family group in front of me remonstrated, and as they eventually passed inside, the gatekeeper messaged on his police style walkie-talkie that four were 'coming up to pray'. Something in his tone of voice said he didn't believe them. I finally gained entrance along with some others who managed to convince the gatekeeper that we were there to attend the service.
But as we walked up the aisle (the service was about to start), a second robed person slammed the choir gate shut in our faces without a word of warning or explanation, raising a forbidding hand against us. Then a third robed person waved us to the nave seating, again without a word, as if he were waving motorists into parking spaces. Together these three gentlemen managed to convey the least friendly welcome I have ever received at a church service.
I emailed the Abbey press office at the time, asking if they would like to comment on this odd behaviour towards worshippers, and after some prompting, received a cut-and-paste reply: 'Westminster Abbey lays great emphasis on the welcome offered to worshippers and other visitors. All constructive comments are considered very carefully.'
I was in Westminster today, so sloped across to the Abbey in a spare half hour to see if I could get inside for a spot of quiet. At the main West Door was a sign on the railings directing me round the side to the paying entrance. But at the bottom of the sign, in smaller type, was the message: 'Please enter here for worship only.' Which is not exactly the wholehearted invitation to prayer and worship you might hope for outside a church. So I approached the man on duty at the door and asked him if I could go in to pray.
In all fairness, he was friendly and polite, which I wasn't expecting, but he firmly told me with a headmaster's glint in his eye that I must walk straight in to where the chairs were, pray there, and then come straight out again. Which is what I did, stopping only to buy and light a candle at the large icon of Christ. It was the first time I've been inside the beautiful old building since the pay scheme was put in place, and it was good to be back.
But it also felt uncomfortable. Was my route to and from the chairs being monitored by ecclesiastical bouncers? Did it look like I was praying enough? Had any member of staff noticed that I'd just spotted the memorial of Sir Isaac Newton and might be crossing the line between worship and tourism? An atmosphere of suspicion isn't good for prayer, or even for just sitting to draw breath and think.
I'm not sure I'll go back, as I'm not much of a fan of houses of worship which welcome people at the door with terms and conditions for entry.
Comment (0)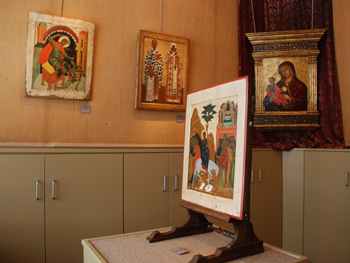 In the habitat of icons
Posted on 01 July 2010, 5:39
The Temple Gallery is in a small and perfect parade of upmarket shops just crying out to be turned into a film location for a murder mystery. It's in Clarendon Cross, lost among the handsome houses to the west of Notting Hill, and just a few steps away from Julie's, the rambling and informally grand restaurant and bar.
The gallery has been running since 1959 and is named after the affable and highly knowledgable Richard Temple, for whom Orthodox icons are a lifelong passion and pursuit. He holds icon exhibitions at the gallery every summer and Christmas, and I visited the latest one (on until 12 July) at the weekend.
The gallery has kept its small shop feel, and you follow the icons through a succession of snug rooms on the ground floor and down into the basement. Since most of the works were made for display in the home, it does feel like they are in their natural habitat, giving the exhibition a homely and personal atmosphere.
The jewel of the show is the Madre dela Consolazione (a Madonna and child) from 15th century Crete, painted after the fall of Constantinople to the Turks and at a time when the Orthodox vision of how icons should be painted was being diluted by influences from the Catholic West. It's therefore not my favourite sort of icon, but this is a majestic and imposing masterpiece.
Hung right next to it is the image which took my breath away: a Russian icon of Saints Nicholas and Leonti of Rostov. This icon is painted in such subdued, earthy, chocolaty colours, you just have to stop in front of it for the pleasure of seeing how beautifully it has been made. While the Madonna and child are seen in the hard bright light of Crete, saints Nick and Leonti are in the dim and tranquil colours of the north Russian forest, which is probably where the ochre and brown pigments actually came from.
I've often found the restrained colours of Russian icons a more beguiling invitation to pondering and prayer than the brash colours of their Greek cousins, and that's certainly the case in this image.
Icons are given so little exhibition space in London that it's an opportunity not to be missed to see this summer show. Alternatively, all the icons can be viewed online at the Temple Gallery website, where generously sized photographs are teamed with expert notes. The gallery was conceived as a centre for the study of icons as well as an exhibition space, and the online show fulfils that aim admirably.
Comment (1)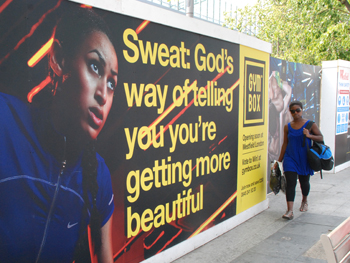 Street theology
Posted on 28 June 2010, 15:17
Seen outside Westfield, Shepherd's Bush, where a new gym is about to open. The statement seems a bit optimistic, but nice to see some theology from the Hallmark Cards school happening on the street.
Comment (0)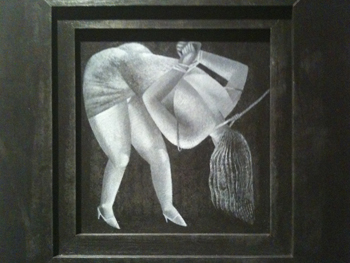 My art was strangely warmed
Posted on 23 June 2010, 19:14
A new exhibition opens in London today featuring highlights and new works from the Methodist collection of modern and contemporary art. I've never seen the Methodists and modern art in the same sentence before now, and one friend suggested the two go together 'like Evangelicals and literature'. So finding out about this collection is an unexpected surprise.
The collection, which includes more than 40 works, dates back to the early 60s when Methodist art collector John Gibbs started buying works for the church after noticing that many modern artists were working with biblical themes. Bits of the collection are frequently on tour in churches around the country. See here for the website of the collection.
The show is at Wallspace – 'a spiritual home for visual art' in the City church of All Hallows on the Wall – from now until 16 July. It includes paintings and prints from the 20th and 21st centuries, and all of them look perfectly at home in this 18th century sanctuary.
From the older school, I was most struck by Graham Sutherland's domestic icon of The deposition, with its reversed perspectives and an ochre sky standing in for the gold leaf of icons; and also by The crucifixion of Francis N Souza, with its expressive hands and midnight blue sky.
Among the more recent works, Mark Cazalet's Fool of God brings the colours of bloody death into a night-time garden. I've seen Jyoti Sahi's The Dalit Madonna before, in a small jpeg on the Net, but the sheer size and presence of the actual painting are something to experience.
The collection also commissions contemporary art, and a small example of that caught my eye before I left: Clive Hicks-Jenkins' study for Woman Taken in Adultery (which I took a snap of, see above). I was surprised by the fear and degradation of the image and realised those themes rarely come out of the story in John's Gospel. I hope Hicks-Jenkins keeps that oppressive feeling in his final version of the work for the collection.
Comment (1)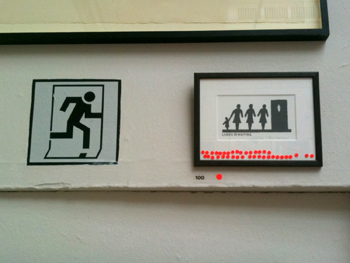 Picture perfect
Posted on 20 June 2010, 16:59
Went into London on Friday to see the Royal Academy summer show: 14 rooms filled with beautiful, intriguing, baffling and unexpected art. I didn't see anyone else laughing at it, but in the corner of one of the rooms, above an exit door, the picture hangers had placed Work 100 to perfectly align with the exit sign. The print, Ladies in Waiting by Tom Karen, shows three symbol women waiting in line to use a female loo, and judging by the red dots, 38 copies of the £110 work had already been sold. No red dot next to the exit sign, though.
Comment (1)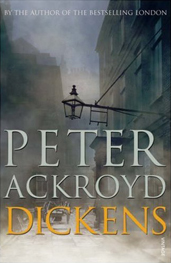 Dickens reads himself
Posted on 08 May 2010, 18:31
Reading Peter Ackroyd's biography of Dickens, I'm struck by his description of how Dickens reacted to seeing his fiction in print for the first time.
In 1833, Dickens (aged 21) was working as a journalist, writing reports of parliamentary debates for a London paper. But during the down time of the parliamentary recess he wrote a comedy story, his first attempt at fiction, called 'A Dinner at Poplar Walk' and dropped it off one night in the letterbox of a struggling magazine.
A few weeks later he bought a copy and was stunned to find his story in its pages. He wrote: 'I walked down to Westminster Hall, and turned into it for half an hour, because my eyes were so dimmed with joy and pride that they could not bear the street, and were not fit to be seen there.'
In this small moment, his life turned around.
Comment (0)