Category: Facebook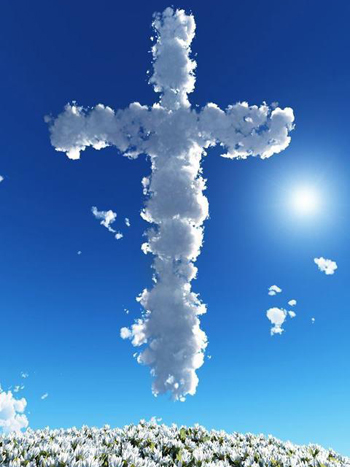 Piety builds audiences
Posted on 07 June 2012, 6:56
Which generates more social engagement: vacuous tweets by celebs with tens of millions of Twitter followers, or motivational tweets by religious leaders with followers in the thousands?
According to On Twitter, God is Greater than Glitter, a New York Times story, it's the religious tweets which win out, with huge numbers of retweets and favoriting. All of which must be making the angels cheer while Lady Gaga and Rihanna slink back to their gilded hotel rooms sick with envy.
However, when you read the detail of the story, it quickly hits you that the religious tweets are really nothing to tweet about. Here's Rick Warren's offering, for example, which apparently gained a huge number of retweets…
Growing older is automatic. Growing up is a choice.
Meanwhile, Joyce Meyer opines…
God's timing is perfect; He is never late…
Rick and Joyce may have 626,000 and 993,000 followers respectively, but on this evidence they are sending their followers tweets straight out of The Book of Well, Duh. (In fairness to Rick, not all his posts are this saccharine.) At least Lady Gaga's tweet, which revealed that she glued pearls to a mask on a flight to Korea, was personal and intriguing, even if it didn't raise a storm of retweeting.
But Rick and Joyce are not alone. You don't have to search very hard on Twitter to find its deep stream of piety, with people happily announcing 24/7 that God never closes a window without opening a door (which frankly makes him sound a bit OCD), that they're not looking for a hole in the ground but a hole in the sky, and that the Lord never sends us burdens greater than we can carry – an observation coined in the days before God gave us suitcases on wheels.
But out cliché-ing everyone else in social media is Jesus Daily, a Facebook page with approaching 13 million likes. Founded by Dr Aaron Tabor, an anti-aging skincare specialist, Jesus Daily was crowned most engaging page on Facebook in 2011, smiting Justin Bieber and Real Madrid into 5th and 8th places respectively.
Jesus Daily builds its incredible social engagement by posting platitudes, questions with 'right answers' and kitschy pictures of puppies, kittens and crosses in clouds (see above), all with the relentless invitation to LIKE. For example…

LIKE if everyone should be able to read the Bible!

LIKE if you believe ALL THINGS ARE POSSIBLE WITH GOD!

LIKE if you thank God for great mothers! We love you.

LIKE if JESUS is your BEST FRIEND!

That last example received 241,328 likes, 4,163 comments and 19,959 shares, which makes the Jesus Daily brand a Facebook success by any measure. But its easy piety, offered every day to its 'me too!' audience, is like shooting ichthus fish in a barrel. The page's creators know exactly what to say and show to manipulate their followers, and the truthlets they peddle are so worn down by mindless repetition that the main thing they do is make people feel nice about their faith.
That, of course, is what piety always does. It pressures you to agree with its simple beliefs and then reassures you that you – along with 241,328 others! – are an accepted member of your religious tribe. Praise the Lord! Clicking that LIKE button tells me I'm among the countless saved, rather than the damned!
It reminds me of that joke: 'Eat shit. One million ants can't be wrong.'
Piety is a fake form of faith, as it can never be true to the messy experience of people who live as fallen human beings struggling in their journey to God. Jesus always resisted piety and instead said awkward and difficult things which were not designed to build audiences. He was the polar opposite to Jesus Daily, with its oppressively positive tone, not to mention its pictures of Jesus with shampooed hair, dirt-free fingernails and rugged good looks.
I know I've gone for the negative in this post, but for me piety has always been one of the big enemies of faith. I take from it all the challenge of communicating a truly human faith in the different online worlds we live in.
Comment (6)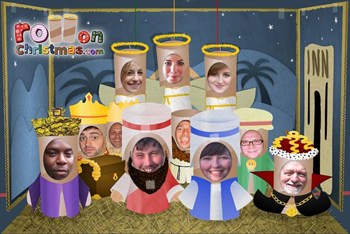 Roll on Christmas
Posted on 24 September 2011, 5:26
Some Ship of Fools news… Steve Goddard and I have been working with the UK's Bible Society over the past year to create a Facebook app in time for Christmas. Roll on Christmas is a two-minute movie in which you cast your Facebook friends in a nativity play, with their faces appearing on animated characters made from toilet rolls.
I don't want to post any plot spoilers, but suffice it to say that the traditional nativity story quickly goes down the toilet, with the enthusiastic help of bungling angels, a dastardly King Herod and some inappropriate gifts.
We're working with interactive agency Complete Control of Bath for design and animation magic, and Brandmovers of London for the social media wizardry, and the whole thing has been made possible by a generous grant from Jerusalem Productions, who funded The Ark back in 2003. It's our biggest project since then and we're hoping it'll create a similar splash.
Our launch is set for the end of October.
I'll post more on this shortly, but for now, if you want to be among the first to support Roll on Christmas, do Like us on Facebook and follow us on Twitter. For more about the project, see this Ship of Fools feature.
Comment (2)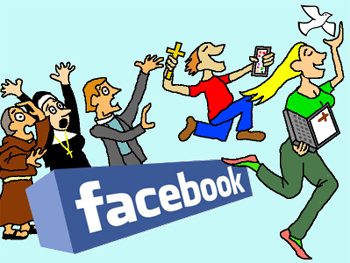 First Church of Christ Zuckerberg
Posted on 07 May 2011, 5:54
I went to church last week, which is rare for me these days, but then it was the 'don't even have to get out of your sofa' church experience of St Pixels, the online church.
St Pixels has been around since 2005 (when it took over from Church of Fools), but it's always been a website based community. Last week was different, though, as the church is flirting with the idea of moving its live services off its own sacred IP address and on to Facebook. This is rather fascinating, as I don't think anyone's tried it before.
Unlike the experience offered by online campus churches such as LifeChurch, which broadcast their services on the Net to a passive audience, St Pixels offers something potentially more satisfying and Web 2. Everyone who checks in for a service can see and chat with everyone else. And that makes the whole experience – including a cascade of typed prayers as well as rude asides during the sermon – a lot more human and churchlike.
On the down side, the readings at St Pixels are accompanied by pictures of puppies, sunsets and snowy trees, enough to make the hardened designers of Hallmark cards weep. But then that's just like church too, or churches fixated on PowerPoint, anyway.
After the Facebook service, where I joined 22 other people for bells, prayers, readings, a sermon and a corporate typeathon of the Lord's Prayer, I spoke to Mark Howe, a leader at St Pixels and the chief mover of the software side of things, about the Facebook initiative, which has been beta testing and launches properly next week at the Christian Resources Exhibition.
These days, he said, you need a multi-million dollar budget if you want to launch a new virtual world from scratch. But Facebook offers the chance to do something really effective and at low cost, because the infrastructure is all there.
'There are already lots of people on Facebook,' he says, 'and there's an open model of how to communicate with them. You write your code, plug it into Facebook, and amazingly it works. It's the complete opposite of getting apps into the Apple Store.'
Who else is doing this? 'I don't think anyone else,' says Mark. 'Christians are setting up Facebook groups, of course, or micro-blogging about their ministry, but there's only a limited amount of synergy and interaction.'
And looking at the wider commercial scene, no one is really offering a real-time experience where lots of people can interact at the same time. 'If you look at the big Facebook games, such as Farmville, they only offer an individual experience. They're not offering "I'm online, you're online, we're here together" – which is what we're doing.'
Mark thinks the demand for what St Pixels is doing could be quite high. 'Facebook users will be just two clicks away from joining a St Pixels service,' he says. That's a big change from what we currently offer, where you have to go to the website, find the right page, register, download the software and then log in for the service. We think people will like the idea that they can simply say to their Facebook friends, click this and come to church.'
The launch services on Facebook are next Tuesday, 10 May, at 1 and 3pm. But beta testing is continuing at the moment – check the St Pixels app on Facebook for details.
Comment (0)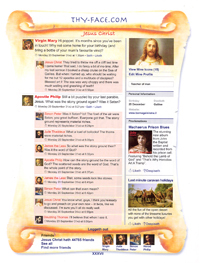 Lazarus hath changed his status to risen
Posted on 10 November 2010, 14:41
I've reviewed new comedy book Jesus on ThyFace here, and my interview with the UK authors, Denise Haskew and Steve Parker is on Ship of Fools. In the interests of keeping it short there, I cut part of the interview, so here's the authors' account on how they wrote the book…
Steve Parker: I'd like to say we were keen to take a satirical look at the Bible, but the idea came from the other direction. I came up with an idea for a whodunnit/thriller based entirely on the social networking pages of the principle characters, and I asked Denise what she thought. She said it was probably the worst idea she'd heard in a long time.
Denise Haskew: There was the germ of an idea there, though, and I suggested retelling a classic, familiar tale using the characters' social networking pages – something like Pride and Prejudice, War and Peace or Wuthering Heights. I thought that might work. This was last Christmas, and we were on our way to a Christmas party in London. On the way, we sat on the train chucking out suggestions. It was clear that for a book like this to work, we needed something that was familiar to as large a number of people as possible. "What's the best selling book of all time?" we mused. Then, just like a scene from the movies, the idea hit us both at exactly the same time: 'The Bible!'
Steve Parker: I remember Denise saying, 'Lazarus hath changed his status to risen', then she reached into her bag and pulled out a pen and pad. We were pretty poor company at the party – we just sat in a corner giggling and writing down gags.
Denise Haskew: When energy flagged, we turned to alcohol. I remember one particularly thorny problem working out how to best tell the story of John the Baptist's beheading. I was looking forward to getting to this, as I thought Salome would be such a great character. As the Paris Hilton of her day, she was in many ways the ideal subject. But when we got to that bit, we couldn't get the story to work. So we went down the pub and had a couple of pints of Winter Warmer, and then hit on the solution after just one pint: the story was much better told from Herod Antipas's point of view. Herodias and Salome were plotters, whereas the luckless, conceited Herod was taken for a ride. Obvious, but it needed beer to bring it into focus.
Read the rest of the interview on Ship of Fools.
Comment (0)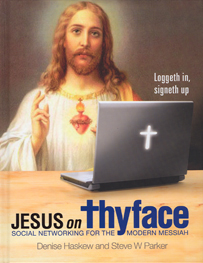 Jesus on ThyFace
Posted on 10 November 2010, 6:08
Jesus Christ joins ThyFace.
Jesus Christ and Virgin Mary are now friends.
Jesus Christ rejected a friend request from Jesus H Christ.
So beginneth this new book, Jesus on Thyface, published last month, in which Jesus and his mum, joined by the regular cast of the New Testament (including well known Bible character Derek the Leper) get into social media. Satan's ThyFace wall is also included, and it's heartening to see the update…
Satan and Philip Pullman are now friends.
There are a number of ways this book could have gone. An earnest Campus Crusade author could have written the WWJD Teen Guide to Facebook – come to think of it, that's probably already in print, complete with a free chastity ring with every copy. Or there could have been a badly produced gift book with leaden humour and available at every Tesco checkout.
Instead, Jesus on ThyFace is a slim and handsome hardback, printed in full colour, with every right hand page in familiar Facebook format. The writing is laugh-out-loud funny, surprisingly accurate in its retelling of the four Gospels, and highly inventive in mining the comic potential of sacred story meets social networking. It's not a book you'd want to give for Christmas to your evangelical aunt, unless you wanted to trigger an early meeting between her and the Lord, but for tweeting Christians of a liberal bent who aren't offended by jokes about Jesus, this is close to perfection.
For more info check out the Jesus on ThyFace Facebook page, where the latest joyous news is that the book has just made it into the Book Depository 1000 top sellers, at number 666. And who says God has no sense of humour?
I've just done an email interview with the authors, which I'll post here tomorrow.
Comment (5)




Talking online community
Posted on 31 August 2010, 4:20
Had a very enjoyable and sparky 90 minutes at the Online Community discussion at Greenbelt last night. I was one of the panel members, sitting alongside the journalist Andrew Brown, who edits Cif belief on the Guardian, and episcopal priest Karen Ward, who curates several online communities, including Anglimergent. Keeping us in order was Kester Brewin, founding member of Vaux whose new book Other was published in the summer. I didn't take any photos, but found the picture of Karen (above) on the Net.
Just a few personal highlights from the session, which is already available as an MP3 download from the Greenbelt site…
Talking about Anglimergent, Karen says the community requires members use their real names and give their real diocese and parish to prove they are genuine. 'I actually investigate everyone who joins. Once you get over the 1,000 mark you become a target for all sorts of malicious, false people joining, so now I have to moderate membership, and I can pretty much spot a fake in five seconds.'
I (of course) enjoyed Andrew's remark, when asked if there is an online community in Cif belief: 'I wouldn't remotely say that we had a community half as successful as Ship of Fools, for a number of reasons, but the simple reason is that we don't have a rule against crusading, in the way that they do, so that people feel perfectly able to come in, make the same point, take no notice and bugger off.'
Karen also runs an offline church, the Church of the Apostles, which uses online tools to facilitate community. When people can't come to their Vespers service on a Wednesday night, they tweet prayers with the church's hashtag, which are collected for the service and read out.
Kester asked us about the positive and negative impacts of social media on us. My negative was the incredible fragmentation of attention as you keep checking Facebook and Twitter every 15 minutes to see what's new, which Karen said could become addiction: playing Farmville all the time, or sleeping with your iPhone next to your ear.
But on the positive side, I talked about the way Facebook in particular connects us with friends who are geographically distant: 'Being able to have a casual laugh at something they've said, or make some clever comment – to have this frivolous contact, which you might have if you worked in an office with them, I like that a lot. When I see them next, which might be months or even a couple of years, there'll be a continuity of relationship happening on that level.'
Andrew responded: 'I was struck by what Simon said about it being like working in the office with someone, because I do spend quite a lot of time in the office with people, and it's amazing how I will be sitting two chairs down from someone and reading her twitterstream because she no longer talks to the people immediately around her.'
And he continued… 'The really big change that technology has brought about is how much easier it is to fall in love with people that you've never met. We live at a time when the physical and visual image of sexual attraction is everywhere, but online, people fall in love with each others' minds, and they find it easier to do so than ever before. And that's a very curious fact, and probably rather a good one.'
Comment (1)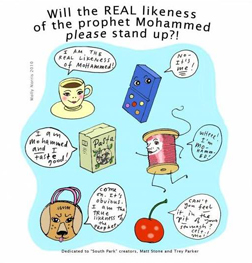 Mocking Muhammad
Posted on 22 May 2010, 18:07
It's hard to know what was going on in the mind of Molly Norris, a previously little-known cartoonist in Seattle, who casually proposed celebrating 20 May as Everybody Draw Mohammed Day on her blog back in April (complete with her own cartoon, above). Presumably she's never attacked a hornet's nest with a large stick. Her post was a protest at Comedy Central's decision to edit sections of an episode of South Park showing Muhammad dressed in a bear costume.
Norris's proposal sparked a Facebook group campaigning for the event, under the banner of freedom of speech, which was quickly countered by other Facebook groups attacking it. Under a rain of angry emails, Norris withdrew her proposal, but by then the juggernaut was rolling. 'It's been horrible,' she said in an interview. 'I'm just trying to breathe and get through it.'
When I checked on the morning of 20 May, the Facebook group had 77,000 members and 6,000 images, most of them of the sort that would make the calmest imam delve into his filing cabinet for the section called fatwa. Looking at the brutality of the visual humour, I was reminded of a comment in Boccaccio's The Decameron, where one of the storytellers says that 'the nature of wit is such that its bite must be like that of a sheep rather than of a dog, for if it were to bite the listener like a dog, it would no longer be wit but abuse.'
By that point, Pakistan had blocked the whole of Facebook, and followed that up by blocking YouTube, which was carrying video contributions to the campaign. Later in the day, after the group soared past 100,000 members, Facebook removed it, presumably under pressure from protesters.
Out and out mockery of people's deeply held beliefs has a long and undistinguished history. One of the earliest images we have of the crucifixion is a piece of graffiti scrawled on a wall in Rome showing Jesus with the head of a donkey. That public attack on the Christian faith is mild compared with the savagery in the images collected on Facebook, and it's surprising that the event hasn't roused the mass demonstrations which followed the publication in 2005 of the infamous Muhammad cartoons in Denmark's Jyllands-Posten. Five people died then in the riots in Pakistan.
All religions, but especially the ones in the monotheism brand, need to find ways to take the piss out of themselves, since they have always been so brilliant at taking themselves too seriously. Religions with no sense of humour play especially badly in the western world where irony is in the very air we breathe. If religions can't or won't do this, they open themselves to cultural attack, and social media now make this possible in a fast-moving and extremely uninhibited way.
It takes just a few minutes to make an image trashing someone else's deeply held beliefs, adding shock in the form of bestiality, paedophilia or whatever else comes to hand, and then posting it from the comfort of your laptop. But added to that is the high of performing on the Facebook stage, of knowing that my joke or insult will succeed in amusing or enraging thousands of others.
We're suddenly living in the age of mass satire, where poorly-considered but deadly insults, barely clothed in humour, are published instantly and made available to a global audience. In the social furnace of Facebook, such rapidly accumulating insults create the visceral mood and momentum of a mob. Reading the wall comments of the 'Everybody Draw Muhammad Day' group, with posts pro and anti, is like hearing the bigoted chants of two opposed gangs burning with hatred for each other.
There has been an unexpected moment of redemption, though. In the run-up to 20 May, atheist and humanist students in the University of Wisconsin-Madison chalked stick figures on the ground of their campus, captioning them 'Muhammad'. The Muslim Student Association found a witty way of responding, not by erasing the images, but by adding boxing gloves to the figures and the word 'Ali' after 'Muhammad'.
Maybe if South Park had gone for the same visual gag, the whole thing might never have happened.
Comment (1)