Category: politics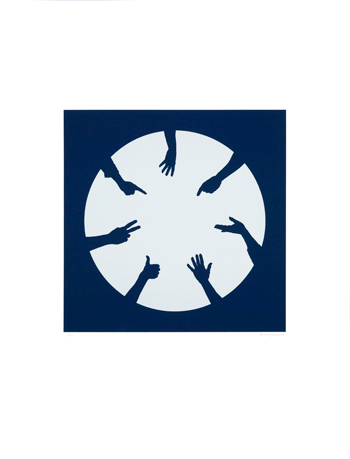 In Seven Days…
Posted on 18 February 2013, 1:26
A feature I wrote on the artist Nicola Green was published in the Church Times this week. I visited Nicola, a portrait artist, at her north London studio a couple of weeks ago and had a fascinating conversation with her about her project In Seven Days… in which she shadowed Barack Obama during his 2008 campaign to become president. She created seven icon-like works out of the experience.
No one has ever been artist in residence to a US presidential campaign before. Nicola visited the campaign six times over the course of several months. She sat in the front row and sketched as Obama made speeches; she talked to staffers behind the scenes, citizens in the crowds and Obama himself at key moments in the campaign; and she collected magazines and ephemera along the way.
Throughout, Nicola took on a trappist-like vow of silence about the project, talking only to her husband and parents about it all. Back in her studio, after Obama's inauguration in 2009, she distilled all those sketches, photographs and conversations to produce images which reflect on the impossibility of what Obama set out to do.
'In Seven Days…' is current on show at the Walker Art Gallery in Liverpool.
I was especially struck by the first of the images, 'The First Day, Light' (seen above). It came from the moment in August 2008 when a crowd of 70,000 people was waiting in a giant stadium in Denver, Colorado, to see Barack Obama stride out onto the Democratic Convention platform and accept his party's nomination as candidate for the US Presidency. In the moments before he arrived, the crowd, electrified by the significance of the event, erupted into a Mexican wave, with everyone leaping to their feet.
Nicola told me that she leapt up with them, but commendably, she kept her artist's head in the intoxicating atmosphere. In the speeches leading up to this moment she had sketched the expressive hands of people around her. And as the wave cascaded through the crowd she photographed the hands as they waved, pointed or reached up in expressions of joy and praise.
Says Nicola: 'The seven hands represent the 70,000 people, but also the fact that everybody around the world was watching this story. It was also a clock and about the timing of this moment.'
For more, see the Church Times piece (you have to subscribe to see it online). Or visit Nicola Green's website. I'm hoping to talk to her again sometime when her next project is completed.
Comment (0)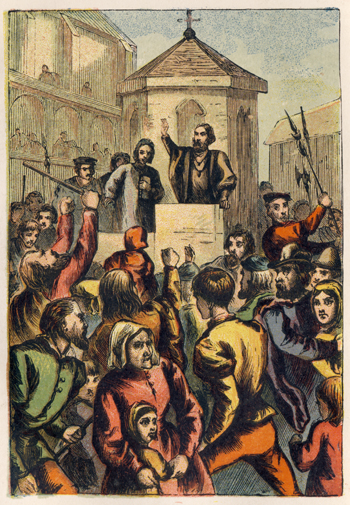 Crucible of debate and dissent
Posted on 03 November 2011, 6:54
Yesterday afternoon I took the tube into London for a first look at the Occupy London protest camp. Walking with the crowds from the station to the cathedral, I fell in with a group of older men with posh accents, joking with each other.
'Have you got your camping stove?' asked one. 'Have you brought the champagne?' laughed another.
One of them quickly waded into the camp, loudly asking any young protestors who caught his eye why they weren't working and how dare they desecrate this hallowed place.
But to my eye, the cathedral has never looked better, with colourful tents lapping up against the steps of the great west front, and with an impromptu community of young people bringing warmth and life to Wren's often chilly looking building. I've posted my pictures of the camp on Flickr. Despite its hippy feel, the camp is highly organised, with tents for information, first aid and food, notices posted by the protesters' assembly strictly banning alcohol from the site, and even disinfectant handwash dispensers gaffer-taped to a pole in the waste recycling area.
Everywhere I went, I was never out of earshot of debate. Capitalism, poverty, Jesus, the Kurds, freedom of speech, the church, corporate lobbyists, and much more, discussed loudly and quietly, passionately and rationally. I really love hearing debate on the streets of London. It reminds me of something from the days when the early church was debating the trinity, and a Greek theologian complained how the arguments had spilled out onto the streets:
'If you ask a shopkeeper for change he will argue with you about whether the Son is begotten or unbegotten. If you inquire about the quality of the bread, the baker will answer, "The Father is greater, the Son is less." And if you ask the bath attendant to draw you a bath, he will tell you that the Son was created out of nothing.'
Seeing large crowds milling around cathedrals was once a common sight. In medieval times, fairs were pitched around them, festivals were celebrated here and they were places of news, debate and entertainment. St Paul's is a highly appropriate place for people to gather, protest and argue the big issues of the day, because that's how it was for centuries. St Paul's always was the cathedral of London's common people, leaving Westminster Abbey to do its royal thing.
Just a few yards from the eastern edge of the camp is a monument marking the spot of St Paul's Cross. Originally a stone cross where preachers stood, and later an open-air pulpit (see picture above), it was the place where Londoners gathered for several centuries in folkmoots, or general assemblies of the people.
Paul's Cross was where you heard news and announcements and took part in debate and dissent. This is where victories were cheered, heresies condemned, Papal Bulls proclaimed, and where the people were sometimes required to swear allegiance to the king. Copies of Tyndale's New Testament – the first section of the Christian scriptures to be printed in English – were rounded up and burned here by the Bishop of London in 1526. At Paul's Cross, people who had fallen foul of the church or state were made to do fearful public penance.
But as well as being a place of propaganda and control, it also witnessed popular protest and new ideas. The revolutionary doctrines of the Reformation, which overturned the established Catholic faith, were first argued here before large and noisy crowds. London was converted to the Protestant faith at Paul's Cross by anti-Catholic preachers. They made it the most famous pulpit of England.
In her book, Politics and the Paul's Cross Sermons, Mary Morrissey says that access to the pulpit was controlled by three authorities: the Crown, the Church and the Corporation of London. Each of them had their own agendas and sometimes used the pulpit to attack each other. So it was here that the people of London were educated in conflicting ideas and interests and learned to make up their own minds.
It's fascinating that the area where the protesters have camped is still owned by two of those authorities: the Church and the Corporation. Both were threatening to evict the camp, but the Church has now apparently dropped that approach, leaving the protesters to the all-powerful Corporation, which runs the City. George Monbiot gave an excellent exposition of its unrivalled powers a couple of days ago. It is a formidable foe. Even the government bows before it.
On my way back home, I stopped at the lonely monument where Paul's Cross and all its tumult once stood. It's in the cathedral churchyard and I have never seen any activity around it… until now. On the side of the monument is this inscription:
'On this plot of ground stood of old "Paul's Cross" whereat amid such scenes of good and evil as make up human affairs the conscience of church and nation through five centuries found public utterance.'
As then, so now. I hope St Paul's Cathedral keeps its word and wholeheartedly embraces its young protesters, welcoming them to this home of English debate and dissent, and seeing their presence as an opportunity for well-argued mission. It's a big ask for an established church to welcome dissenters, but this is also an invitation to engage in a highly visible way with the biggest issues of the moment.
Picture: Foxe's Book of Martyrs
Comment (3)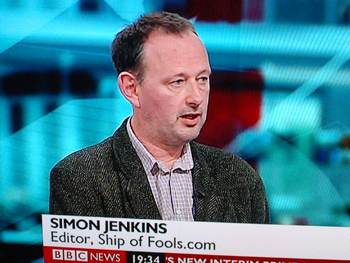 St Paul's loses the plot
Posted on 01 November 2011, 3:54
I know the workings of the BBC are utterly mysterious, but when I got a call late this afternoon from the BBC News channel asking me to get into a studio and talk about the implosion of St Paul's Cathedral, I was left wondering why they had chosen Ship of Fools for comment.
Bishop Nick Baines has helpfully blogged today about why the UK's bishops have taken an oath of silence on the matter which even Tony Soprano would admire, and my guess is that since the media can't get a cleric to talk, they've had to resort to lesser fry like me.
The request from the BBC was a bit urgent, since a third clergyman threw himself off Chris Wren's famous dome today, careerwise. I think the Occupy London camp would have considered it a result if their protest had prompted a few bankers to leap to their deserved doom off the NatWest Tower, but the cathedral resignations have probably been as much a surprise to them as to everyone else.
As far as I can discover, Graeme Knowles is the first Dean of St Paul's (and there have been a lot of them, including the poet John Donne) to resign. Many of them have moved on to become bishops and even archbishops, and it will be fascinating to see what job the C of E rustles up for him next. Will the church reward failure in the same way as the banks?
St Paul's has lost the plot. Their PR, which for Byzantine reasons is run from the obscure town of Brough in East Yorkshire by Rob Marshall's 33rpm, was taken to the cleaners in PR Week a few days ago. Their fake concern about health and safety was exposed as a ploy to get the protesters out in the New Statesman. But worse than that, St Paul's has lost the Christian plot, the whole reason it is there.
What happened two weeks ago on Ludgate Hill is that people came to church. The protesters turned up at St Paul's by accident and decided they wanted to stay. There, on the cathedral's doorstep, they set up camp. And in doing that, they gave the church a new congregation. Here was a fabulous opportunity for St Paul's to shed a bit of pomp and hauteur, to bring the faith out of doors, to do some services outside, to be a bit spontaneous, to provide the protesters with some spiritual nourishment, to rediscover a connection with ordinary people, to have a conversation.
Lucy Mangan, the Guardian columnist, wrote about this fantasy version of the cathedral with real feeling last week in her piece, St Paul's – embrace your new flock. 'These are your people,' she told the cathedral.
But instead of rising to the occasion, and to huge disappointment, the cathedral's instinct was to shut up shop and get in the lawyers. It's hard to think of anything more negative and dispiriting than St Paul's actually shutting itself down. Christians around the country of all traditions have been left banging their heads against the wall in frustration at the sight of the church behaving so badly.
What makes it worse is that church leaders don't seem to understand just how epically they are screwing up. ('Screwing' isn't quite strong enough, but this is a family blog.) There was no word in this direction in Dean Knowles' resignation statement, which was instead full of personal and institutional self-pity. And as Nick Baines knows, the silence of other C of E leaders is a huge let-down for Christians across the country. It's actually a betrayal in the name of not rocking the boat. The bishops have lost the plot too.
It is hard to imagine Jesus in the Deanery, sherry in hand, consulting his lawyers. On the other hand, it is easy to imagine him in the camp, sitting in a tent, talking to the people who have no voice but who want to find it and be heard.
But beyond Jesus' compassion and engagement with ignored people, there's something else. Jesus threw the money changers out of the temple because they filled their own pockets by ripping off the poor. He was angry with them and treated them like the dirt they were. The Occupy London protesters are making the same point about the bankers, but the church, the advertised followers of Jesus, are telling them to shut up, pack up and go home.
With the welcome departure of Dean Knowles, St Paul's now has an opportunity to reconsider its position and find not merely 'new leadership' as the Dean put it, but a new direction. Is it too much to hope that a cathedral could start taking some creative risks for the gospel? If St Paul's fails to seize the moment, then its mission is lost, and its inspiring building an empty icon.
I've always loved St Paul's – ironically, the church of the tentmaker. I've found it a place of wonder and mystery ever since my first visit to London at the age of nine. I believe it can recover its mission, but only if it dramatically changes course. Whether the people now in charge of this glorious architectural Titanic have the imagination and strength to steer it through the icebergs remains to be seen. They deserve our prayers.
Comment (23)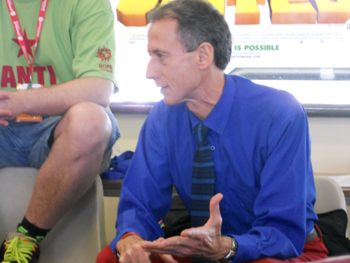 Peter Tatchell, the Pope and the Archbishop
Posted on 28 August 2010, 23:02
At the Greenbelt festival, I've just been at the press conference with Peter Tatchell, who's speaking here on the spread of homophobia in Africa, which in many cases is supported by the churches and underpinned by Christian proof-texting. In the conference he was asked about the Pope's state visit to Britain, which he is protesting at a public debate next week, and at a march and rally from Hyde Park Corner on the day the Pope arrives in Britain.
He said, 'Britain doesn't give state visits to the Grand Mufti of Mecca or the Chief Rabbi of Jerusalem, so why are we giving it to the Pope? Most of the events in his visit to the UK are pastoral or are about proselytising for the Catholic Church, so why should the taxpayer fund it? In addition, the Pope holds harsh, extreme and intolerant views on a range of moral subjects, including women's rights, gay equality and the use of condoms to prevent the spread of HIV.'
Asked if he would try to arrest the Pope, similar to the citizen's arrest he made on Robert Mugabe in 1999, he said, 'I don't think it's going to be possible, much as I would like to.'
I asked him if he was at all sympathetic to the dilemma of Rowan Williams in trying to maintain Anglican church unity over the issue of homosexuality. He flatly answered no.
He said, 'Rowan Williams is a lovely man, but he's deeply compromised. He fully supports gay equality and human rights for LGBT people in private, but hasn't got the courage to say so publicly. At the drop of a hat he will denounce Bishop Gene Robinson, but won't say a word about the persecution of gay people around the world by his fellow Christian leaders. He's gone to great lengths to reassure out-and-out homophobes such as Akinola and Orombi, and has criticised the appointment of gay bishops in the US.'
'He's been compromised by holding high office. What's the point of being Archbishop if you can't hold on to your beliefs?'
Comment (1)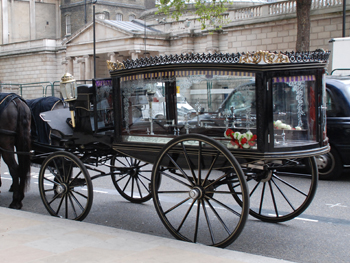 Death on Whitehall
Posted on 12 May 2010, 5:11
I was in London for lunch anyway today and couldn't resist walking down to Westminster to smell the transfer of power. At the top of Whitehall I ran into this Victorian horse-drawn hearse parked up on the side of the road. Can't imagine why it was there on standby.
Comment (0)



The really really Christian party
Posted on 08 May 2010, 22:15
One of the truly surreal moments on election night was hearing the Returning Officer for a constituency in Wales reading out the results. In among the party names of Labour, Conservative and Liberal Democrat was the trying-too-hard name of 'Christian Party Proclaiming Christ's Lordship'. Great way to get a bit of preaching into the name of your party, though.
I've since checked them out on Wikipedia and find they've registered that name (along with eight other non-preachy ones) with the Electoral Commission. They even have an exclamation mark as part of the registration, so that's what you see on the ballot paper: 'Christian Party Proclaiming Christ's Lordship!' I wonder if there have been any glorious conversions as a result in the privacy of the voting booth?
The party's policies are predictably fruit and nut: pro death penalty and smacking, pro chastity teaching and creationism in schools; anti abortion and anti use of addressing women as Ms, and enthusiastic about taxing beer, wine and spirits at a stratospheric rate. But I notice with disapproval that they've fallen away from the biblical gold standard by not insisting on death by stoning for violating the sabbath (Exodus 35:2).
Personally I'm beseeching the Lord for some keener brethren to come along and take them to task for their liberalism. Please pray with me for the launch of the 'Christian Party by Grace are Ye Saved by Faith and that Not of Yourselves, it is the Gift of God'.
That's the party we really really need.
Comment (4)



Election embarrassments
Posted on 08 May 2010, 1:59
Er… didn't we all agree to vote Lib Dem? Feel like I've turned up as agreed in clown costume at school, but no one else has. The Lib Dem surge has been about as exciting as counterfeit viagara.
Up til 5 this morning glued to the election results as they rolled in on TV. Ed Balls escaped his rendezvous with Portillo's ghost, but Lembit Opik lost his seat to the rising blue tide. He was interviewed minutes later by Paxman in full steamroller mode, and looked sick.
Not long afterwards, I watched as first Jacqui Smith and then Charles Clark had to eat their failure to win in public, and realised how rare and amazing it is to see people lose their jobs and have their careers ripped up on live TV. Why do they do it and what does it cost them?
Comment (0)



Portillo moment
Posted on 06 May 2010, 16:19
The last time I was so energised by a General Election was the 1997 Labour landslide, for which I stayed up late into the night. I needed to get to bed, but kept telling myself, I'll just wait up to see Michael Portillo lose his seat, and then I can go to bed happy.
If Twitter had been around then, I would have realised that thousands of other armchair politicians were delaying bed for the same reason. This time round, watching TV and following Twitter is going to give that extra, hugely entertaining, dimension.
I've been idly wondering, the past week or so, who will provide the Portillo moment tonight. So it's good to read in the Guardian this morning that Michael Portillo himself has chimed in and confirmed the person I'm hoping might just do this. Commenting with disarming honesty that 'my name is now synonymous with eating a bucketload of shit in public,' Michael says…
'I would regard Ed Balls as my worthy successor, for a Portillo moment should lead to national jubilation unmatched since the relief of Mafeking, and I stand ready to light tonight's first bonfire and launch the first rocket.'
Comment (0)